eCommerce tips to help your small business sell more online
If you have a small retail business with an online presence, whether you know it or not, you're part of the ever-growing eCommerce world. And like all retail businesses, on and offline, you'll want to grow your sales as much as you can.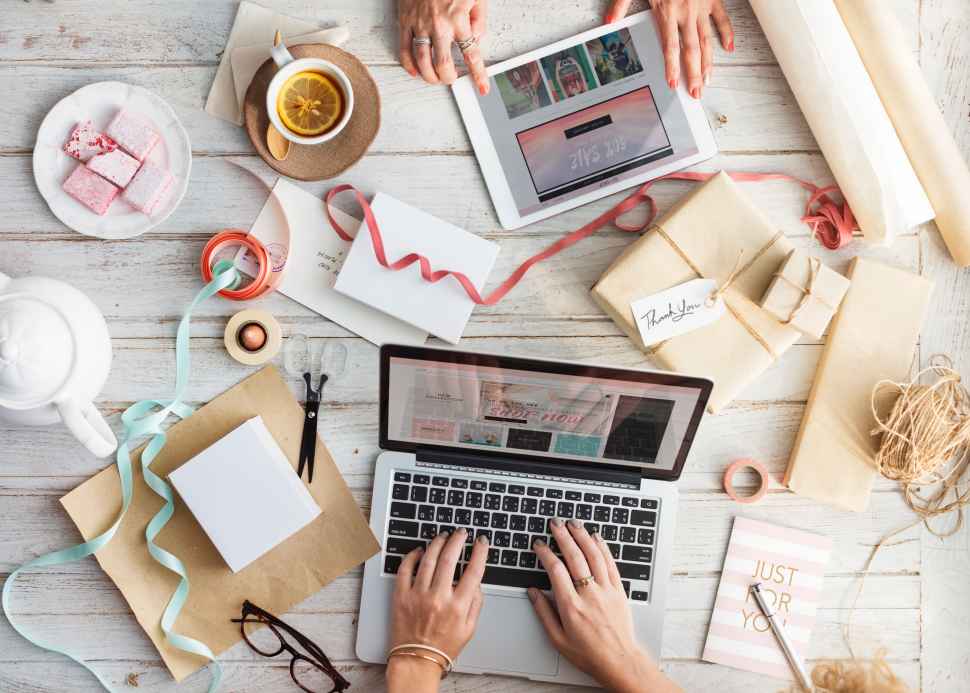 This is a selection of eCommerce tips to help you sell more products online.
Using eCommerce to sell more

ECommerce is, put simply, the act of selling things online.
Depending on the model of your online business and the products that you sell, you'll have a series of goals that you want to achieve. If you're just starting out online, your eCommerce goals might be quite straightforward.
For instance, one of your first objectives might be to find the best way for your customers to transfer money to your company at the point of purchase. Adding payment services, like PayPal, to your website make online payments easy for customers and aren't difficult to install. You'll probably also want to offer facilities for credit and debit cards because these are equally popular payment choices.
If you're new to eCommerce you might want to build your website with an off-the-shelf service like Squarespace or Wordpress. Not only do they accept online payments, but they also offer templates that allow you to start small but add product pages easily, perfect for growing your website in line with your business.
Another level up from these are customised eCommerce services like Shopify and Magento. They come with a selection of very useful features like a checkout, product search, customer accounts, inventory management and order management.
Improving your customer's eCommerce experience
The best eCommerce sites seem to replicate, if not improve upon, the shopping experience in the offline world.
Some aspects of selling a product in a physical shop can be easily mimicked online. In the offline world, customers can walk through the door of your shop, browse around the different rails or shelves and take a casual look at the various products displayed in-store. When they come to your online shop, customers should be able to see those very same products by clicking and flicking through the pages of your online shop or by using the search functionality to find what they're looking for.
Because people won't be able to touch, feel and smell your products you should compensate for this by including photos from multiple angles, a magnifying tool, detailed descriptions, customer reviews and, if possible, product videos. By using high-quality imagery and well-crafted content you can close the gap between the retail and online shopping experience.
Analyse to improve
You can also use web analytics tools in different ways to help continually improve your customers' eCommerce experiences.
For example, your analytics tools might inform you that people are visiting your homepage but not looking at any of your products. This might be because your site navigation isn't working as well as it should. The best navigation tools are easy to use and let customers effortlessly browse your online store and find the products they need. Remember to include an easy-to-find search functionality to help those customers who prefer to find products specifically by name.
Use your analytics data to see how your customers enter and leave your site. If you see that a lot of people are using their mobiles to view your products but don't actually buy anything, you might need to consider optimising your website for all devices. By adding a responsive design element to your website, it will adapt to the user's different screen size and improve their experience of your online store.
You can also use your customer accounts data to help improve their eCommerce experience. Your analytics tools might show that when your customers shop they put products in the cart, but leave before completing their purchases.
By encouraging them to create an account, and also store their shipping, billing and payment preferences, you'll streamline the purchasing process and make future purchases far easier. Smart shopping cart solutions now also include features that allow you to reward your loyal customers with offers and discounts that are tailored to them.
A customer's past purchases, recent searches and recently viewed products can also give you further information that will enable you to make specific recommendations.
Retargeting for eCommerce
Because your eCommerce website can track shopper behaviour you can use this information to dynamically advertise to your customers even after they've left your store.
This is called product retargeting (or remarketing) and it allows you to try to convince customers to buy a product you know they're already interested in. Say someone puts a product in the shopping cart of your online store but doesn't buy it, what can you do? Using retargeting ad campaigns you can follow them around the web and ask them to reconsider your product, but with the added incentive of, say, a 20 per cent discount.
This can be achieved with