5 ways to nail the delivery experience for your customers
More Australians are shopping online with 1.7% year-on-year growth in online goods spend in 2022. And the more they shop online, the greater their expectations around the delivery experience. Here's what online retailers can do today to meet those expectations.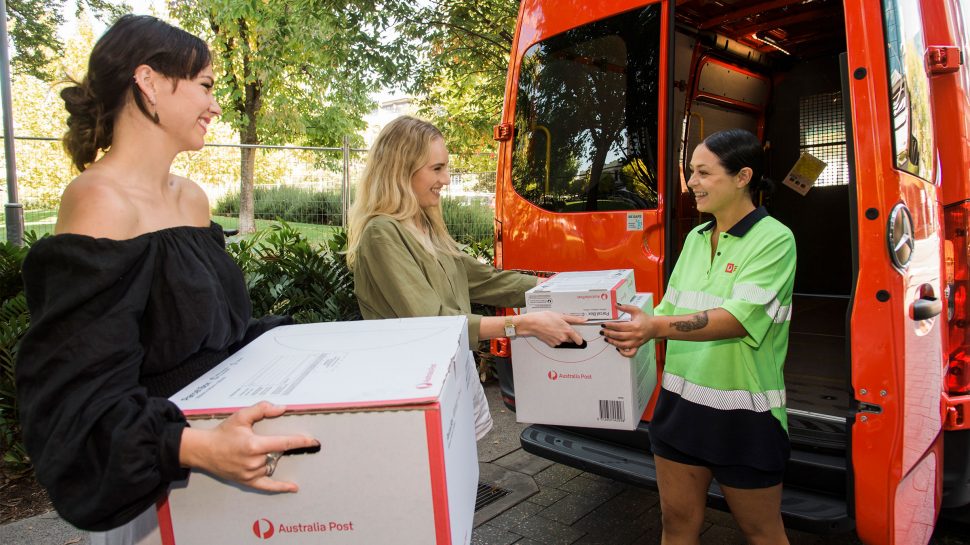 Key points
A positive delivery experience helps build long-term relationships with loyal customers
Australia Post uses customer data to recommend ways for online retailers to deliver a better experience
From offering more collection points to enabling tracking, you can improve your delivery processes before peak season 

Last year, 9.4 million households in Australia shopped online. Of this number, 5.6 million households did so at least once a month. 
As Australians get more comfortable shopping online, they also become more discerning and will compare each retailer's delivery experience. The gold standard is on-time, first-time delivery—getting the parcel into your customer's hands the first time.
Here are five easy ways to nail that expectation around the delivery experience.
1. Offer more Collection Points 
Shoppers love the convenience of collecting their parcels where and when it suits them—particularly if they work full-time or live in an apartment.
Providing access to additional Collection Points—like 24/7 Parcel Lockers, Post Offices and PO Boxes—can add towards a positive delivery experience. In fact, 73% of shoppers want to know their parcel collection options before making a purchase.1
Here are some tips for offering more Collection Points:
At checkout, make it clear you use Australia Post so customers know they can choose to collect at a Parcel Locker, Post Office or PO Box. 
Consider removing the requirement for signature on delivery–or at least for items or carts under a certain value.
Consider offering 'safe drop' for deliveries that don't require a signature. (We'll need the customer's contact details for this service.) 
Encourage apartment dwellers to use the AusPost App to set their preferred Collection Points. 
Provide Collection Points as an alternative those who feel uncomfortable having parcels left on their doorstep.  
2. Promote the AusPost app
Our data reveals that one in 10 shoppers track their purchases multiple times a day, and one in two check up on their parcel more than three times before it's delivered.2 
The easiest way for customers to track their parcels is via the AusPost app. We've now updated the app to include a two-hour estimated delivery notification for most parcels so your customers don't have to wait around for deliveries. And our "on time" predictions are over 85% accurate.
One of the key benefits of the app is that deliveries can be automatically added into the app so customers don't have to find or remember their tracking number. 
By putting delivery information in your customer's hands, you'll reduce the volume of calls to your customer service team. Our analysis has found a 35% reduction in contacts when a customer receives four tracking notifications.3
Here are some quick ways to promote the AusPost app to your customers:
Add a link to the app on your website. Pop it on your FAQ page, your delivery page, or your contact page — essentially, wherever customers might go to find out about shipping. 
Include a link at checkout. This is a great way to target customers at the time of purchase. 
Share the link in your confirmation email. Your customer will be eager to check the status of their delivery, so this is a good spot to promote the app.
Include information about the app in your marketing emails. This is another opportunity to mention the app and shipping with Australia Post to your customers. 
3. Make returns as easy as possible
Returns are a big part of the delivery experience. And consumers will be quick to shop elsewhere if your returns policy isn't simple or free. In fact, customers rate free returns as the most important feature of a returns policy, followed by a clear and simple process.4 
But here's the thing–many online retailers still aren't delivering what customers want when it comes to returns. While 57% of businesses that sell products accept returns, only 29% offer free returns. 
Customers are quick to shop elsewhere if returns aren't up to scratch and it's no wonder three in every four businesses wished they'd made changes to their returns policy prior to last year's Christmas rush.5
Here's how you can use your returns policy to enhance the delivery experience:
Extend the returns timeframe or offer free returns depending on what's important for customers.
Clearly communicate your returns policy on your website and at checkout to make it as easy as possible for customers to return unwanted items.
If it's not financially feasible to offer free returns, then consider other options, like encouraging in-store returns (where applicable), paid returns or no returns in instances where the item value is low.
Learn more about returns solutions for your business. 
4. Choose the right packaging
Make a great first impression by putting some extra thought into your packaging. We recommend you strike for 'best-fit' packaging — that is, the best packaging to protect items from damage and move through the network easily, while also meeting your customers' expectations for sustainable packaging and making a strong first impression.
To meet customers' expectations around packaging, consider these tips:
Try a 'box in box' method. Wrap individual items and use an environmentally friendly filler between boxes. Put cylinder poster rolls in rectangular boxes to stop them rolling around. 
Don't overfill satchels and place your label in the middle of the satchel on a flat surface. 
Separate small and large parcels so each goes to the right facility with a machine suited to its size. 
Avoid using glossy or slippery packaging that can slide off conveyor belts and are harder to read by sorting machines. 
Choose packaging suitable for the shape and size of the item. Boxes are sturdy and their flat surfaces make labelling and scanning easy. 
5. Pay attention to parcel labelling and address accuracy 
Labels that are hard to scan can cause tracking difficulties and potential delivery delays.
Watch this video or read this article if you need a reminder about labelling best practices.
And it's no surprise that an incorrect address also causes delivery delays. In fact, accurately labelled parcels spend one day less in the network than those with issues.6
Here's how to get parcels to customers faster:
Print labels on matte white paper with black ink and make sure the barcode and address are clear and visible. 
Make sure your label is flat with no damages or wrinkles. 
Stick your label on the largest, flattest surface of your parcel or satchel – don't wrap it around edges or over a flap or seam. 
Separate Express Post parcels from Standard Parcel Post or metro from interstate. 
Use full address validation (not just postcode validation) to improve address accuracy and the user experience at checkout. 
Want to save money on parcel sending?

The more you send with MyPost Business, the more you save. In fact, you can save up to 40% off domestic parcels and up to 35% on international parcels.