How integrating Shopify with MyPost Business can boost business efficiency
One of the easiest ways to manage and boost shipping efficiency is by integrating your Shopify store with your MyPost Business account. Here's what that means, how to get it done and the benefits of an integration.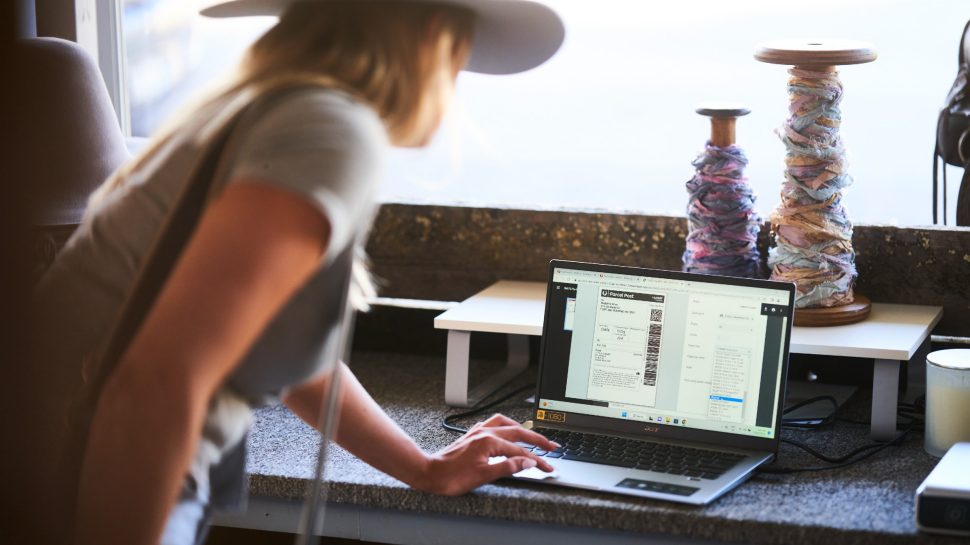 Key points
Integrating Shopify with MyPost Business enables you to automatically generate shipping labels and send tracking details to customers
Depending on your chosen eCommerce Partner, you could also enjoy extra integration benefits like shipping automation and reporting
An integration can speed up your shipping workflow, giving you more time to grow and scale your business

Helping small businesses get parcels out the door faster
When Virginia Reynolds, the Scone Post Office Manager, saw Laura Hall handwriting labels for her stacks of parcels, she knew the PHYLLi Designs founder hadn't yet integrated her MyPost Business account to her Shopify store.
In Byron Bay, Jo O'Connor, the Suffolk Park Post Office Manager, watched the same scenario unfold with her new business customer, Oak Meadow.
Under Virginia and Jo's guidance, both PHYLLi Designs and Oak Meadow easily integrated MyPost Business to their Shopify stores.
Automating the management and fulfilment of their online orders sped up their shipping workflows and helped them stay on top of the growing orders.
What's an integration?
An integration creates a connection between two online platforms that allows information to flow from one to the other. In this case, from your Shopify store to your MyPost Business account via a shipping platform.
This lets you process orders from your Shopify store, pay for and print all your shipping labels automatically at one go and access your MyPost Business savings–all from one platform.
Tracking details for each newly printed label can then be automatically sent to the respective customers.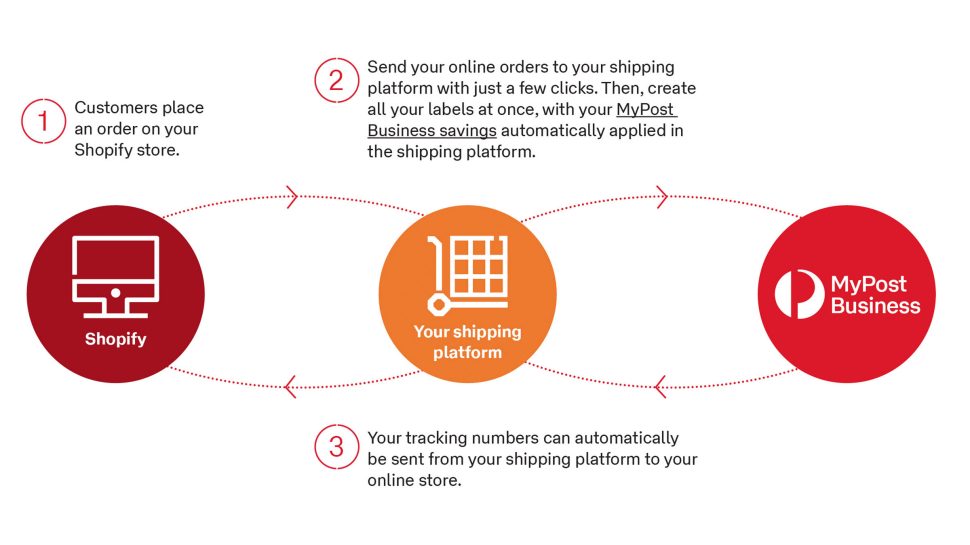 Laura Hall, founder of PHYLLi Designs, says, "Since integrating MyPost Business with our online store, we've been able to speed up the time it takes to ship our products. Every parcel has a trackable link which is so important to customers."

Madeleine Lee, founder of Oak Meadow, adds, "Integrating Shopify with MyPost Business was so easy especially for someone who isn't tech-savvy like me."
How to integrate Shopify with MyPost Business
There are three simple steps in the integration process.
Choose a shipping platform that integrates with Shopify (PDF 3.0MB), like Addition, Sellerdash, ShipStation and Starshipit.

Integrate your chosen shipping platform with MyPost Business. Follow the steps in this integration guide (PDF 3.0MB) or watch this video. This process takes about 10 minutes.
Then integrate your chosen shipping platform with your Shopify store using the instructions provided by that shipping platform.
Tip: Before choosing a shipping platform, find out whether it integrates with your other digital platforms, e.g. accounting or inventory management software. Also consider any advanced features you may need. You can check this with the shipping platform.
How integrating Shopify with MyPost Business can help your business grow
Streamlines your fulfilment process. Being able to generate, pay for and bulk print shipping labels helps gets parcels out the door faster and lets you comfortably scale up as your business grows. You'll also be able to automatically send customers their tracking number.
Maintains savings on sending costs. Integrating with MyPost Business means having savings automatically applied to every order with a shipping label. And the more you send, the more you save.
Provides more business insights. Shopify's analytics and reports, combined with a shipping integration, provide an overview of your store's performance, a summary of your shipping activity and transactions, and customer insights. This information can help improve your operational efficiency, shipping cost analysis and understanding of your customers.
Integrating Shopify with MyPost Business is a game changer for small businesses looking to make sending easier, scale up as orders grow and build customer satisfaction. 
Smarter sending tools for your eCommerce business

Thousands of eCommerce businesses rely on MyPost Business to save time and money when sending. Sign up for free and start sending smarter today.