How to post a package with Australia Post: the dos and don'ts
Here's a quick checklist of dos and don'ts to keep in mind when planning how to post a package for your eCommerce business.

Key points
Items like perfume, essential oils and batteries have specific rules when it comes to sending by post.
Planning how you'll package and send your products will save you time and money.
We share how to avoid common mistakes when it comes to posting packages.
How to post a package
You need to get a product from your store or warehouse to your customer's door, so you pop it in a box or satchel, write the address on the front, pay the postage and send it on its way. But sometimes, depending on what you're sending, there may be a few more things to consider.
Did you know, for example, that perfumes, essential oils and even some types of lithium batteries can't be sent by air transport? Or that some irregularly shaped boxes, or those over a certain length or weight, can't be posted? It's important to do your research and then manage your customers' expectations around the types of shipping they can use for their purchases.
By planning ahead and really thinking about your packaging and shipping strategy, you could end up saving valuable time and money. Not only will packaking items correctly help avoid costly damage or returns, it also ensures a smooth delivery process – which leads to more happy customers and, hopefully, more business.
To help wrap your head around the basics of posting your online store's packages, here are some common dos and don'ts.
Do
Research the rules. Look up the shipping regulations for every item you plan to sell in your online store. To start with, check out Australia Post's dangerous and prohibited goods guide (PDF 1.1MB), which spells out all the products that you're either not allowed to send at all, or can only send with certain restrictions in place. If there's anything you're not sure about, you can call us on 13 76 78.
Safeguard valuable items. If you're selling more expensive items (such as jewellery, high-end electronics or precious stones), then it pays to protect them while in transit. Insurance gives you peace of mind that you're covered if the item is lost or damaged. For example, our Extra Cover provides protection for items up to $5,000 in value1.
How to post a package like a pro. When you're packing your items, make sure you cushion them carefully to prevent damage. Also, make sure to choose the right type and size of packaging for your item. Follow our top packing tips for things like glasses, artwork, perishables and sharp items.
Validate customers' addresses. Use a real-time address validation tool at checkout to make sure your customers are entering the correct address. This helps ensure your parcels reach the right destination, so you can avoid excess print and delivery costs.
Label your parcels correctly. If you're using MyPost Business, it's easy to generate your shipping labels online. Then, it's a matter of affixing them clearly to your parcels and making sure they're scannable (so, don't wrap a label around an edge or seam of a box, and don't partially cover it with tape or strapping). Need help? Watch this video on labelling.
Manage your customers' expectations. If you're sending perfumes, for example, you'll need to make it clear at the time of purchase that there are volume limits for each parcel containing perfume, and that it needs to travel by road (which might mean a slower delivery if the package is crossing the country).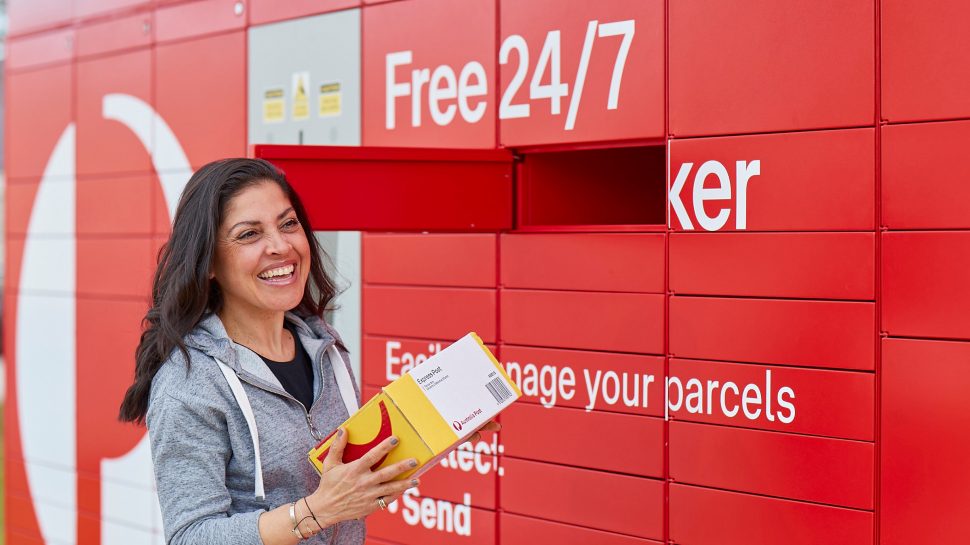 Don't
Don't rely on writing 'Fragile', 'Handle with care' or 'Do not bend'. While you can be reassured that the people delivering your items will handle them with care, there can be some risk when the parcel is in a mail bag or being processed through our sorting facilities. Pack fragile items carefully, wrapping each item individually and using the box-inside-a-box packing strategy to keep them protected. If you want to keep artwork or posters flat, then package them appropriately, using thick, unbendable card on both sides.
Don't send perishable items without checking. You can only send perishable items like fruit and chocolate in certain circumstances. Refer to the Dangerous and prohibited goods packaging guide (PDF 1.1MB) for a comprehensive rundown. If it's allowed, wrap the product in a sealed plastic bag and use plenty of padding.
Don't use ribbon, string or rope on the outside of boxes. These are a potential hazard for sorting machines, and there's the risk that your parcels will get entangled or damaged. If you want to make your parcels stand out from the competition, consider investing in your own branded packaging that's purpose-built to withstand transport.

Want to save money on parcel sending?

The more you send with MyPost Business, the more you save. In fact, you can save up to 40% off domestic parcels and up to 35% on international parcels.