Take the guesswork out of promotional mail
With customer insights and mapping features at your fingertips, you'll identify your target audiences and locate them with precision.
Self-serve your campaigns
From finding customers to mapping and booking, Campaign Targeter lets you do it your way. So your communications hits letterboxes on time and on budget.
Simply register your business account to get started. It's free.
Free access to prized customers insights
Use valuable psychographic and behavioural data to get to know your target audience. Not just where they are, but who they are. And what makes them tick.
Helix Personas®
Target customers by lifestyle, attitudes, behaviours and values, using consumer segments by Roy Morgan Research.
Select from 56 Helix Personas® to locate and view target customers while mapping your campaign.
Consumer behaviours
Pinpoint your target audience based on their specific buying habits, with Activities and Interests data — also by Roy Morgan Research.
Find out who regularly reads their promotional mail, for starters.
Census demographics
Cast the net a little wider by targeting customers based on their age, gender or household income range.
It's all captured in the latest ABS Census data.
Pinpoint your customers on the map
Increase effectiveness by specifying exactly where your mail should be delivered. Target suburbs, postcodes and electorates. Even a single postal round.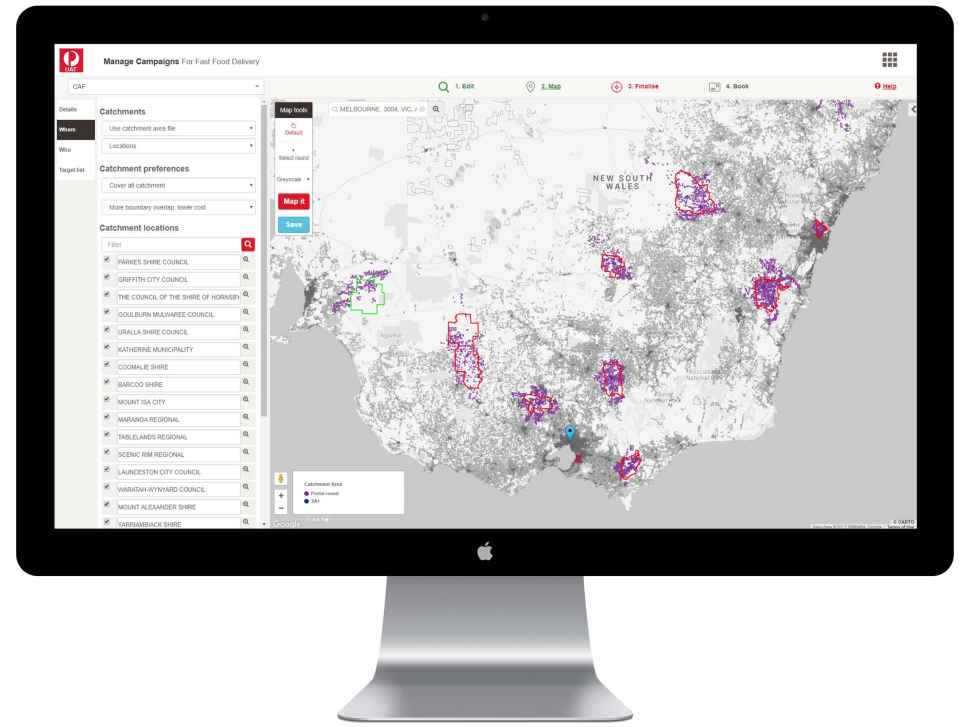 With our flexible and easy-to-use mapping features, you can:
Drop a pin and nominate a radius

Draw a custom boundary

Use a reference layer (e.g. postcode, suburb, electoral boundaries)

Upload your own location shapefile
Then choose from our reliable bulk mail options
Manage cost versus coverage, using our great-value mail services. Go for the cost-effective delivery of Unaddressed Mail, or target right down to 400 households with Acquisition Mail.