About the gift card
Fees
Get started
Support & FAQs
Card balance and transaction queries
Australia Post and Mastercard take security very seriously and have a series of measures in place to protect our customers.
You can login or register your card to check your balance and transaction history anytime. We urge anyone with suspicious transactions to contact Customer Care immediately on 1800 549 718 with your card details. Alternatively, you can download a disputed transactions form (PDF 249kB) online.
Give the gift of choice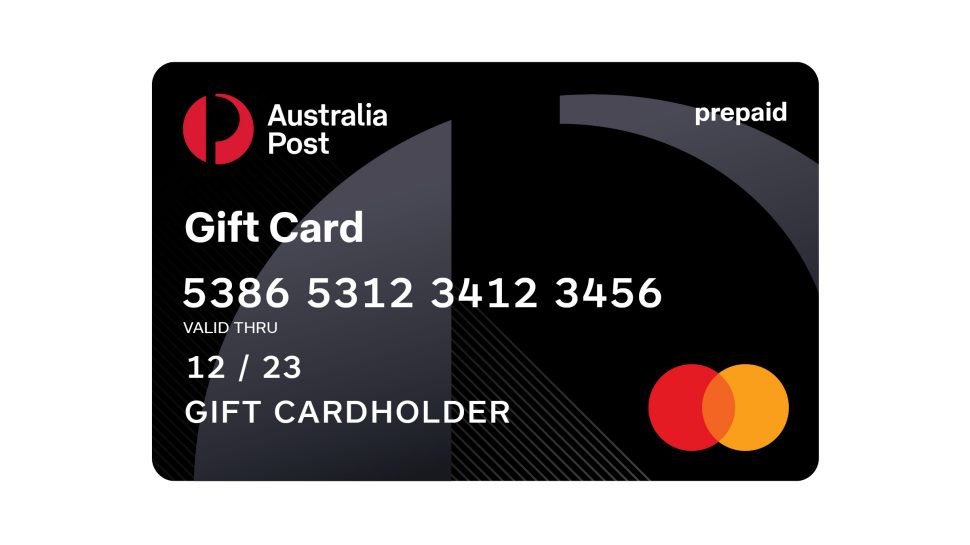 The Australia Post Gift Card by Mastercard® is a great way to say thank you or treat someone special. Use it for shopping in store, over the phone, online wherever Mastercard® is accepted2.

Features & benefits
Use it wherever Mastercard® is accepted2

Purchase a gift card online to have it delivered, or pick one up from a participating Post Office

Extra security with an activation code when you buy online

Customer support is available between 9am and 9pm Monday to Friday AEST (excluding national public holidays). Simply call 1800 549 718

You can check your balance online or by phone

Choose an amount between $20 - $500 to load onto your gift card
Buying your card online?
For extra security, the Australia Post Gift Card by Mastercard® is sent deactivated, so you'll need to choose a six-digit activation code which we'll confirm via email.
If the card is being delivered to you: You'll receive the confirmation email with the activation code. Make sure you provide the code to your recipient.
If you're sending the card directly to your recipient: Enter their details on the order form instead of your own, but enter your own payment details to complete the purchase. The card will be sent straight to them and they'll get the confirmation email that includes your chosen activation code.
Need to buy multiple gift cards?
Bulk orders require a minimum order of 20 cards. If you'd like to purchase gift cards in bulk, please email gift card product support with the following details:
Quantity of cards
Load value on each card (between $20-$500)

Company name
Address order is to be sent to
Contact person's number
It's important to note that:
Payment can only be accepted by Electronic Funds Transfer (this will be provided on your invoice)
Orders will be processed after payment has been received
Orders may take up to 10 business days to be processed
Your order will be posted free of charge to a single delivery point.

Looking for an order of under 20 cards? You can purchase the Australia Post Gift Card via Mastercard at any participating Post Office. In-store, you have the option of making payment by cash, debit card or credit card.