Sending food or fragile items? Read our packaging guidelines first
There are certain rules around shipping food or fragile items to your customers in Australia. Here's what you need to know about our packaging guidelines.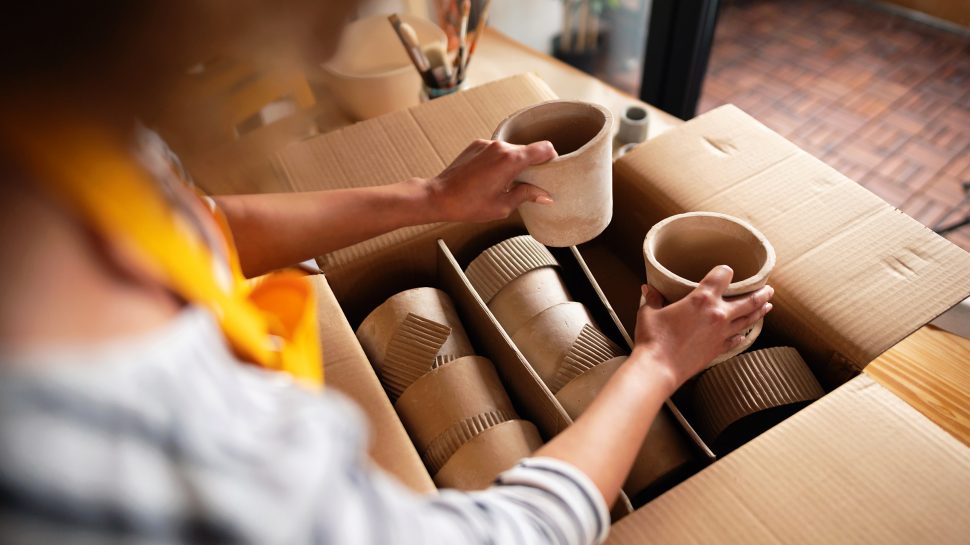 Key points
You can send certain food by post, as long as it is carefully packed according to Australia Post packaging guidelines.
There are tight regulations on where you can send fruit and vegetables, and how to pack them.
Fragile items need to be packaged up with extra padding and protection.
Planning perfect postage
When you're planning to send food or fragile items to your customers, it's important to take a little time to plan for delivery. Following Australia Post packaging guidelines can help to make sure your items arrive safely and on time.
To help you nail the packaging for those trickier items in your online store, here are some of the main considerations to be aware of.
How to post food and perishable items
Whether you're a regional producer of robust relishes, a chic inner-city chocolatier, or a baker delivering homemade cookies across the country, you'll need to plan how to get your delicious produce from your kitchen or store to your customers across Australia in one piece.
To send food and perishable items, you must follow some strict rules with your packaging. In fact, sending perishables by mail is prohibited unless you follow the packaging guidelines spelt out in our Dangerous and Prohibited Goods Packaging Guide (PDF 1.1MB). It's up to you to ensure that:
given normal transit times, the food will be usable by the time it arrives,
the food is packed in a way that no smell will escape, and
the packaging is rodent-proof.
When packing your items, take care to protect the goods inside. Glass jars could break; cookies could crumble. See our packaging hints and tips for advice on how to carefully package up your customers' orders. You also want to consider which shipping speed you use. Sending packages containing food using Express Post could be the best way to ensure they arrive at their destination sooner.


How to post fruit and vegetables
To help prevent the spread of pests and diseases, there are tight limits on the types of plants, fruit and vegetables you can send interstate, and the regions you're allowed to send them to. The quarantine regulations differ from state to state and can depend on what you're sending.
If you're only planning to send fruit and vegetables to customers within your own state, or you've got the all-clear to post to another state, then you'll need to carefully pack your produce in waterproof material and place it inside a rigid outer container with a tightly fitting lid. The goal here is to prevent any liquid escaping, which could damage other parcels or cause an offensive smell.
For a breakdown of all the rules when posting fruit and vegetables interstate, refer to the Australia Post Dangerous and Prohibited Goods Packaging Guide.
How to post fragile or delicate items
To prevent photo frames from cracking, camera equipment from breaking or ceramics from chipping, it's important to wrap and pack delicate items extra carefully. A little effort when packaging can make all the difference to your customer's experience when opening their parcel at the other end.
During postage, parcels inevitably experience knocks and bumps – such as when they're in a mail bag during transit. And simply writing 'Fragile' or 'This Way Up' isn't a fail-safe method; even though Australia Post always takes reasonable care to look after your parcels.
It's why we have packaging guidelines about posting fragile items. According to our Guide (PDF 1.1MB), items such as glass, crockery, electronics or camera equipment should be wrapped individually – for example in tissue or newspaper – then placed into a snug-fitting box made of a rigid material. Things like strong plastic or corrugated cardboard work well to protect the goods inside. This box can then go into a sturdy mailing box; it's called the box-in a box method. To prevent movement of the items inside, the use of additional cushioning is recommended. An eco-friendly wrap, shredded or tissue paper, felt pads or cotton wool work well. Now your parcel will be able to absorb any pressure, while still keeping the items inside secure.

Framed pictures have unique packaging guidelines, too. If you're sending these, protect the front and back using a strong rigid material, for example a board or strong plastic which is larger than the frame. Use a cushioning material such as felt or corrugated cardboard between the frame, the recessed surface of the picture and the protecting boards. You may also want to remove glass from framed pictures to avoid damage to the picture if the glass breaks.
Taking the time to wrap and secure your items correctly at the start of their journey will help to keep them secure during transit, resulting in the best experience for your customers. And for added feel good factor during unboxing, let them know the best way to reuse or recycle the padding and packaging you've used. They'll appreciate the care you've taken with their goods and trust you for future deliveries.
Want to save money on parcel sending?

The more you send with MyPost Business, the more you save. In fact, you can save up to 40% off domestic parcels and up to 35% on international parcels.