How to style clothing for sale
When you're selling online, first impressions count. With so many competing online sellers in the clothing and accessory space, it's important to know how to make your photography stand out.
With a little planning, this can be a simple process. Chelsea Thomas from I Heart Bargains shares some tips to help you get started.
Hi, I'm Chelsea from I Heart Bargains. I'm going to show you how to take pics, upload them, just like a pro, on a small business budget.
Firstly, you want to make sure the garment fits right, and it's really well presented. There's nothing worse than creases, so get the iron out and you'll be ready to go.
Play around with the garment by rolling up the sleeves, tucking in a corner of the shirt and then pulling up the collar.
A little bit of a trick that I like to do is bulldog clipping the back of the garment to create some really nice shape.
When you're taking your photos outside, make sure you look for some shaded areas. That way, the shadows won't interfere with your shot and then you can always lighten them up later on before uploading them.
You want to get out and find some interesting landscapes so you get some real variety into your photos.
Look for some really interesting textures on walls, find an urban landscape or laneway, find a garden and bring that real edginess to your photos.
Just remember to match your landscapes to your style of product so it's relevant.
Shoot your images on different angles and get your model moving; different poses will ensure you have a variety of images that will make your social feeds much more interesting.
And if you don't have a model, that's cool, you can flat lay the product or you can hang it around your home.
Lastly, use filters and editing apps to brighten your photos, ready for posting. I really like to use the filters within Instagram; they're simple to use and your photos will look great - but there's heaps of other things out there if you need.
And there we have it, five simple steps to shooting like a pro in no time.
Preparation is key
Choose no more than ten garments that you will photograph in one day. Source some shoes and accessories that will work well with the pieces, so that you can style them as a full outfit.
If you have the budget, book a model and ensure they have the right look for your brand. Ask yourself if they are the right demographic, and whether you think the garments will suit them. This decision may affect sales of the collection. If you can't afford a model, ask a friend to help you by letting you take pictures of them wearing the clothing you want to showcase.
If you're alone on the shoot find a space in your home, or at the shoot location, where you can hang long garments. If you don't have a clothes rack, try hanging the garment on a hook or a door frame.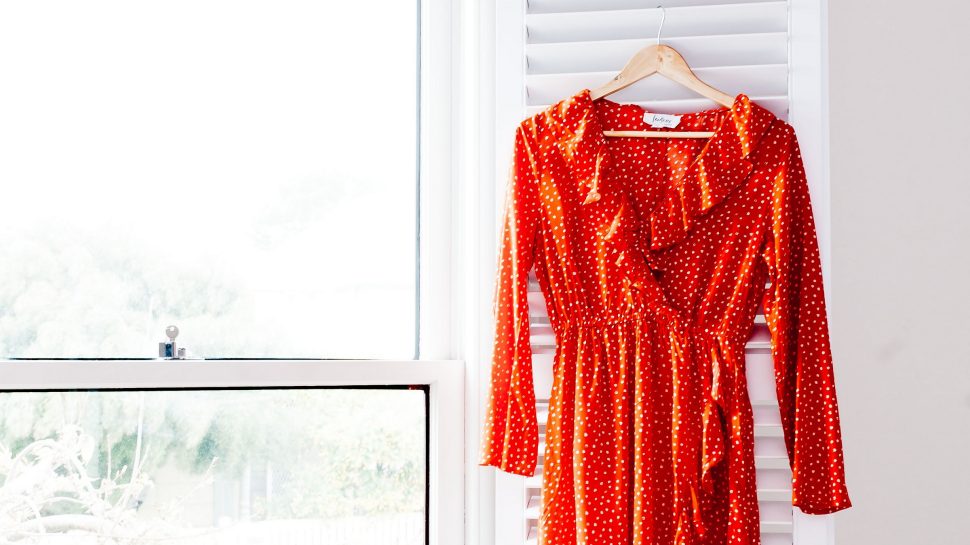 When your garment samples have arrived ready to be photographed, make sure you note all the names of the garments and the order in which you're going to shoot them. To make it easy on the day create a run sheet with the list of garments or outfits you intend to shoot. That way you can hang the clothes in this order, and the day will run smoothly.
Set a whole day aside so you can give yourself space to calmly take pictures of each garment and not rush the process.
Get the iron out
Make sure the garments you're photographing fit your model properly, and iron out any creases so that you're showing off the clothing in the best possible way. Bull dog clip the back of the shirt or dress if it's a bit big, and create a nice shape on your model. Good fitting garments always sell better. To complete the outfit, add some accessories.
If you're shooting a flat lay with your pieces, ensure the surface is wiped clean and the garments are neatly presented.
If you gain some confidence, try relaxing parts of the flat lay, like the example below.
The end result will be perfect for Instagram. 

Lighting is everything
When taking photos outside, look for shaded areas and make sure your model is standing completely in the shade. That way, shadows won't interfere with your shot. You can always lighten your photos by editing before uploading them.
If you're shooting indoors, make sure your model isn't standing in direct sunlight. Positioning them against a white wall will work best if you're in a home. It is much easier to shoot on white backgrounds so the colours of the garments 'pop' in your photos. Stand directly opposite the model when you're taking the photo, and try to compose a shot that captures the whole outfit.
Never shoot directly into the sun. When you discover which angle works best for lighting, shoot a couple of different garments in that spot.
Location, location, location
Look for interesting landscapes that you can use as backdrops for your photoshoots to inject some variety into your images.
If you're planning a shoot in the future, you might want to keep an eye out for interesting looking locations in your local area. A unique setting can give your photos a real edge, so look for different textures on walls, interesting urban laneways, or nice gardens that you can easily access while you capture your images.
Think about where your customer would potentially wear that garment. If the outfit suited for summer, why not head to the beach for your shoot?
Get your model moving
There are no set rules with how your model should stand. However it is smart to think about how the garment will look in different positions when it comes to styling.
Have fun with different poses and don't get too serious. Hands on hips, looking to the side, or walking down the street are poses and positions that always seem to work well. Help your model to feel relaxed and comfortable by suggesting some moves, if they're unsure about what to do. Don't forget to encourage them to move their feet because that changes the way they stand.
Once you gain some confidence, walk with your model (keeping a good distance between the two of you) and encourage them to smile, play with their accessories, dance or twirl. The more movement they show in the photos, the more options you will have when posting your images on social media.
Remember to get some shots of the garment from the sides and the back, especially if you're shooting for a web page. Customers like to see every angle of a garment they are considering purchasing.
Learn simple composition
When you create the frame for your photo, you should consider ways to position the camera so that you create a nice central focal point. Use the 'rule of thirds' concept when you're taking a picture, it will help you to divide the images into clear sections that you can use to draw the viewer's eye to a specific piece of detail.
If photography is a new skill for you, start by keeping the model in the centre of your shots. Once you gain confidence, you can experiment with different angles and compositions.
Capture the fine details
Once you've completed your long and wide shots (which show off the model's entire outfit), find a space to work so you can zoom in and shoot some details and close-ups. Focusing on elements such as the lace detailing on a dress, or the additional accessories that make up the outfit can be fantastic for Instagram.