The passion for travel continues to drive this home-grown label
Established in the 1970s, The Scarf Company is a Melbourne-based label that travels the world to bring only the finest quality fashion, accessories and homewares back home for its dedicated customers. We speak to Karen Kent and Sahil Nayyar about their eCommerce journey and how they keep their business growing decade after decade.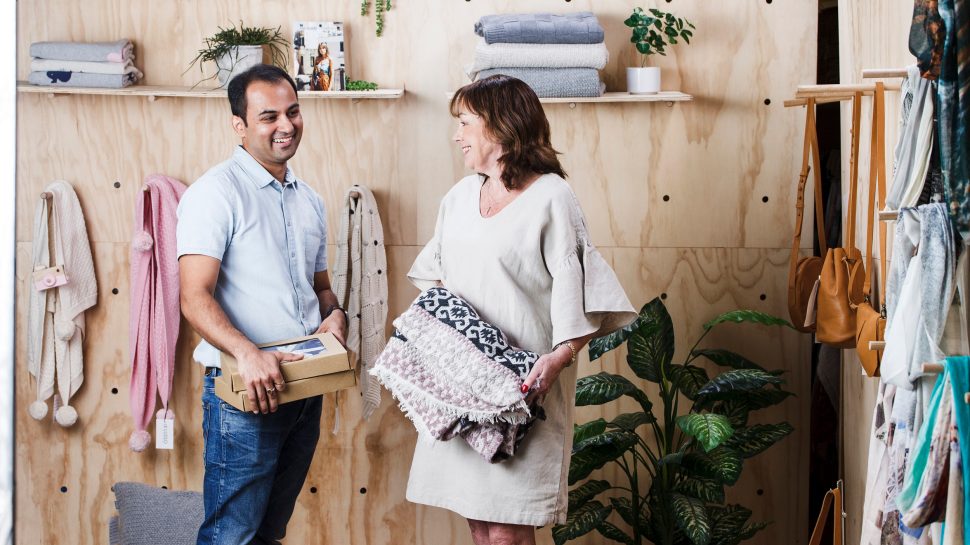 30 years in the making
For over 30 years The Scarf Company has designed and imported fashion scarves and textiles for the Australian market. Inspired by seasonal colours and international trends, Karen and Sahil design original products and contemporary patterns here in Melbourne, before having them manufactured overseas.
"My love for travel and exploring exotic places all around the world was channelled into searching for beautiful products for the modern woman. Our extensive research and passion inspires new designs and sets new trend directions for each collection," says Karen.
In recent years, their eCommerce business has expanded into a broader range of products including more fashion, accessories and homewares. The brand has launched a line of leather goods and a new label, Di Lusso Living, which includes a catalogue of throw-rugs, cushions, blankets and more.
"The new label aims to introduce a touch of luxury into everyday living, which has been very exciting and we are looking forward to growing this range within our customer base," says Sahil.
The Scarf Company is founded on providing creative, innovative and authentic product ranges for fashion-forward women. The team reflects these values in the work they do to deliver their designs and bi-annual seasonal ranges. In 2015, Sahil joined the small team as co-director. The business started small with a simple focus on selling scarves - but with the growth of the company and the expansion into different kinds of products, Sahil and Karen have worked hard to keep their business relevant in the modern retail landscape.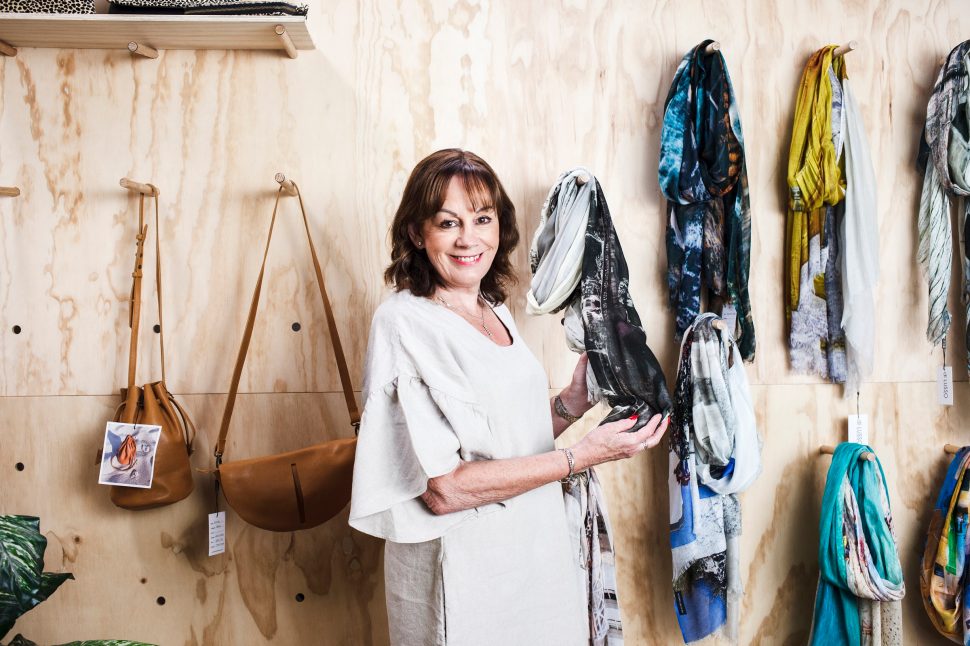 "Adapting our business to the changing needs of the industry has proven to be challenging at times. With growing competition from other brands, we felt a need to introduce new products that complement our brand and range, as well as maintain our exclusivity. With the introduction of new products, we have been able to acquire a number of new stockists who now hold our entire range," explains Sahil.
Between travelling internationally, working remotely and the increase in demand for their products, Karen and Sahil now employ casual staff to "help out with day-to-day operations in the office", and also offer internship opportunities for people with an interest in eCommerce and fashion. The support provided by these staff members has allowed Karen and Sahil to focus on the more strategic elements of planning their business' growth. Australia Post was also able to support Karen and Sahil through their expansion with the launch of a bigger range of products and a constantly growing customer base.
"Using Australia Post has greatly helped us grow our online business. We use the Send and Save service to send parcels to our online shop customers. Customers receive their orders in a timely manner and are able to track their order, creating a pleasant customer experience overall," says Sahil.
Ethical manufacturing overseas
Karen and Sahil travel around the world multiple times a year to stay ahead of seasonal trends and styles; to explore new sources of inspiration; and to visit their suppliers and manufacturers. In the current retail environment, consumers are savvier than ever and many are placing more and more importance on ethically sourced, environmentally-friendly products over hip-pocket costs.
While bigger retailers can often offer bigger discounts to customers, the expertise that The Scarf Company can offer opens up doors to customer relationships that cannot be rivalled. The hand-selected product range are sourced from the highest quality overseas manufacturers, paired with decades worth of knowledge, is what keeps customers coming back. "We source our products mainly from India and Italy," explains Sahil.
"We think even though we're running a small business, we do have a big role in maintaining ethical socioeconomic environments. When partnering with people from developing countries, we ensure that the suppliers follow all their local laws. We only work with small, family-operated suppliers and visit them when we can. By working closely together with them, we share a strong bond and they understand how significant ethical working and sourcing is for us."
Karen and Sahil have made a point of communicating their ethical sourcing standards to their customers on their online store and through their branding. Not only is it an important cause that The Scarf Company is committed to upholding, it allows them a competitive edge on some of the bigger retailers as supporting ethical businesses becomes imperative to Australian consumers.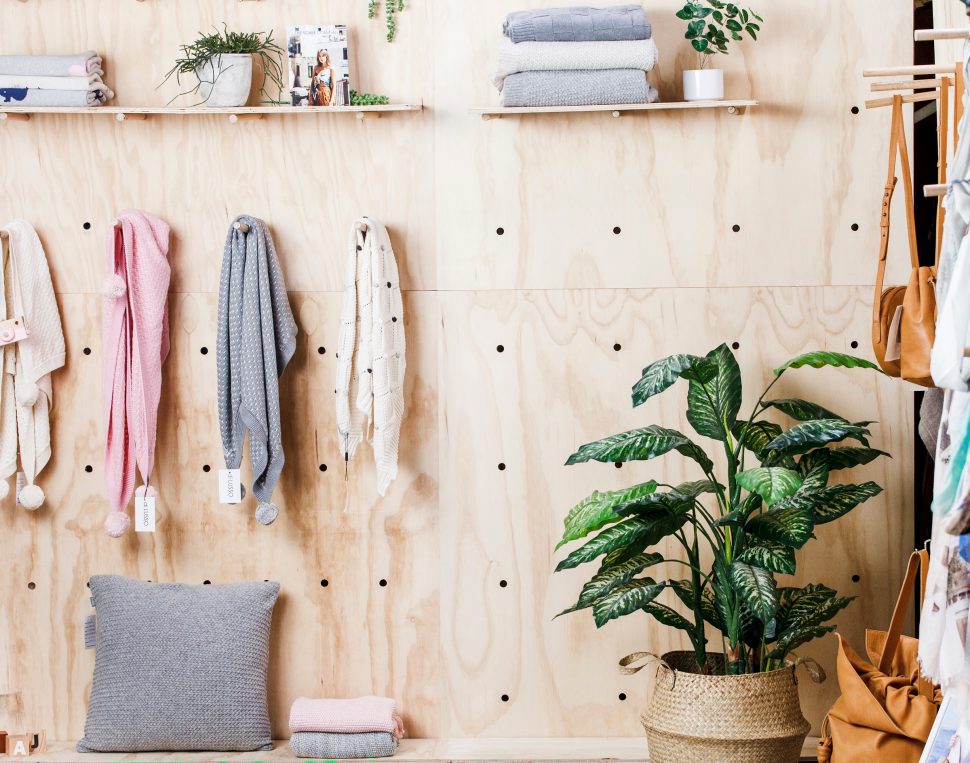 "Our passion for local design and independent, ethically sourced fashion has created a brand of enduring value. We believe that the relationships that small brands have with their customers are so much stronger than those that can ever be achieved by big brands," says Sahil.
The challenges of overseas production
Working with international partners can also have its own set of distinctive challenges. Sahil explains that language barriers, learning about local customs and laws, and having to communicate unique aspects of the Australian market have been some of the most difficult encounters to overcome. Not to mention logistics.
"While working with overseas suppliers, one of our biggest challenges is getting them to consistently meet our deadlines," says Sahil. "As production can sometimes be a very complicated process, suppliers sometimes struggle to meet deadlines, which in turn can impact our relationships with our customers."
Challenges with production are often out of the hands of small business owners. Incidents happen that can impact sticking to schedule, so remaining honest and transparent with customers is key to keeping them informed and happy. Australian consumers are likely to forgive minor mishaps to continue supporting small businesses and ethically sourced products.
Adapting to a changing market
Brand loyalty, agility, and getting to fly around the world are some great perks of being small. But, being typically a two-person operation can also have its challenges.
"As a small business owner, we wear several 'hats' on daily basis. You are a designer, social media marketer, customer service representative, production manager, bookkeeper…" says Sahil. "Managing all these roles and making sure you are on top of things can be very challenging sometimes."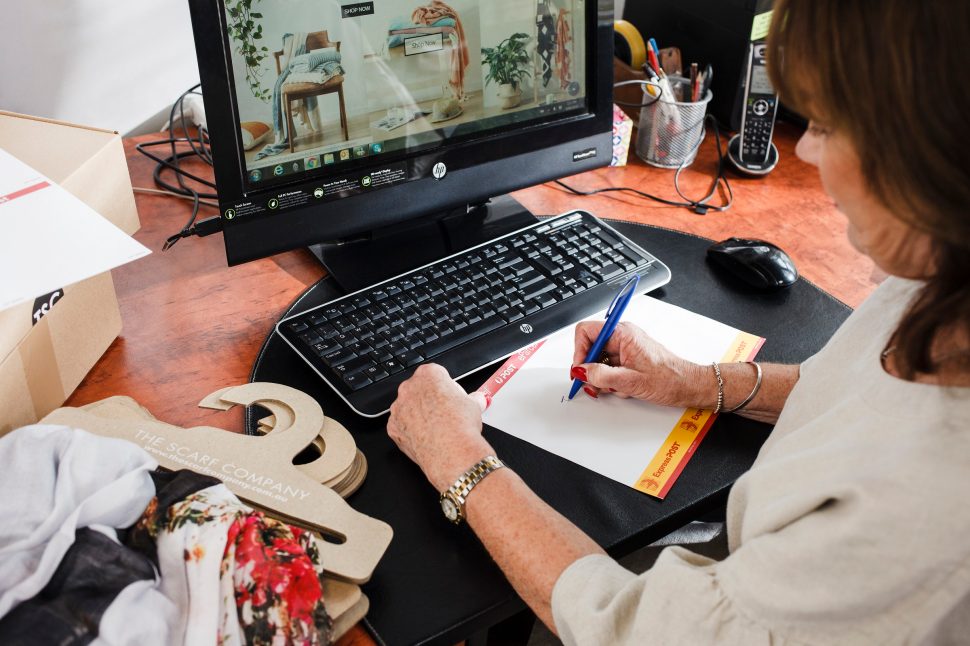 The Scarf Company was founded long before Instagram and Pinterest, so there have been some educational hurdles for Sahil and Karen to overcome. In addition to some self-taught skills and hacks, the pair have discovered some handy apps and tools that help them save time and keep everything running smoothly.
"We use a lot of cool apps within our business that make our business life easier. Tools like Handshake, Later, Canva, Postie, Xero, Plan and MailChimp all make our day-to-day so much simpler", says Sahil.
Of all the technology that Sahil regularly uses, he says that his top three lifesavers are Handshake for B2B sales, Ampjar for eDM creation and management, and Canva for effortless graphic design. In the broader scheme of things though, social media marketing has helped The Scarf Company greatly with their expansion.
"We run marketing campaigns through various channels to achieve sales and bring in new business, and we actively promote our business on Instagram and Facebook. Social media marketing has greatly helped us to promote our brand to new customers. Through social media channels, we regularly receive a lot of new business enquires and new stockist requests."
With a major in accounting and a strong knowledge of textiles, it was natural progression for Sahil to take on the finance and production side of the business. However, the marketing side of working in eCommerce was certainly a bit more of a challenge for him. Sahil explains, "The marketing side of the business was challenging initially, especially coming from a completely different background. Thanks to our Clik Collective Kensington collective community, I have learnt a lot from people around me. Attending various workshops has helped me a lot."
Keeping up with the Clik Collective
The Scarf Company is one of dozen Australian businesses that call the Clik Collective in Kensington, Victoria home. Having been in the co-working space for a few years, Karen and Sahil have become well acquainted with their business neighbours and consequently, their networks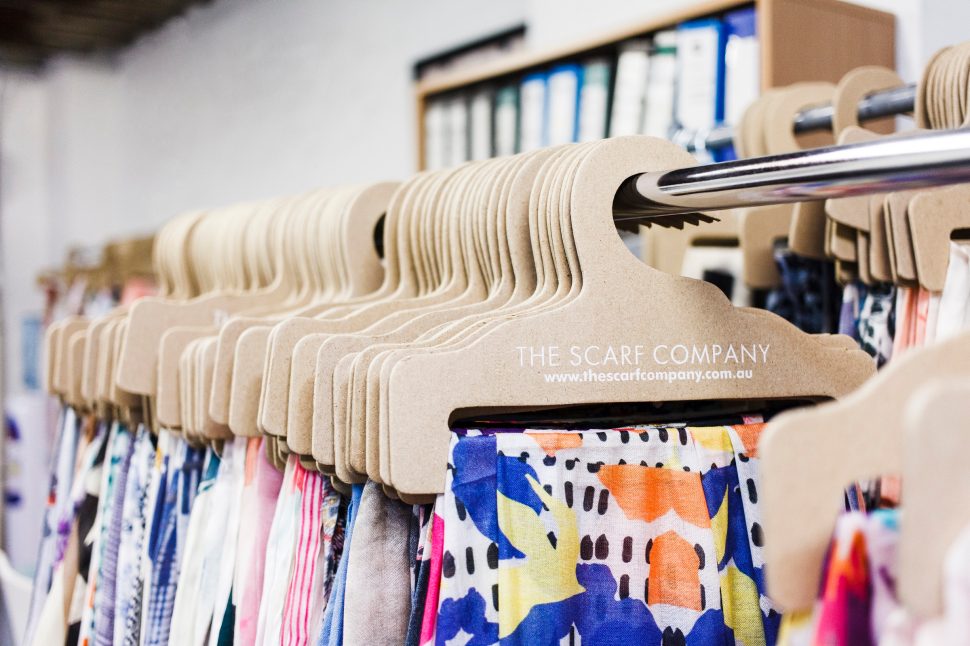 "Clik Collective was referred to us by one of our business colleagues. Working in Clik Collective inspires and motivates us to create beautiful ranges every season. As a collective, we interact with so many like-minded creatives and entrepreneurs on a daily basis and learn from their experiences and contribution to the world of fashion."
Being surrounded by fellow small business owners has sparked friendships for many of the people from the Clik Collective. Experiencing similar highs and lows and being able to share knowledge and stories creates a vivid sense of community, one of the many sweeteners of working in a co-working space.
Another is the accessibility and opportunity for training and mentorship that such a space provides. Sahil explained how working in such close quarters has allowed for collaboration between The Scarf Company and other small businesses in the office.
"It's been almost four years since we moved into this space. We have collaborated with many businesses in one way or another. From Instagram giveaway collaborations to fashion shoots and campaigns. We have learned a lot of insights about the fashion and eCommerce industries by attending several meet-up workshops organised in this space, be it be regarding social media marketing challenges or selling online".
Throughout his business journey, Sahil has learned a lot from others in the eCommerce community and received a lot of advice. His words of wisdom to anyone beginning their small business journey are, "I truly believe that if you want something, work hard and you will achieve it. Follow your passion and plan your success."