Celebrating 100 years of air mail: Qantas and Australia Post's iconic partnership
In November 2022, we celebrated 100 years of Qantas and Australia Post connecting Australian people, post and parcels with the world.

Video: A stylised red stamp features the logos of Australia Post and Qantas. Text reads, "1922-2022. 100 years of partnership." In an oval postmark, a map of Australia contains the text "02/11". 'Australia' and '2022' appear around the map. The stamp and postmark appear on a colourised photo of a woman and two men in old-fashioned flying gear standing before a biplane. In a black and white photo people holding a mailbag pose by a biplane.
Yellowed documents are titled, "The Queensland and Northern Territorial Aerial Services Limited General Air Mail Information." They are part of a museum display. Several mannequins placed before a large wall map model uniforms of different colours and designs. Another display features a poster, envelopes, labels and a mailbag Schoolchildren holding 100th anniversary flags pose in front of an aircraft with a pilot and Australia Post staff member who are holding a mailbag labelled, "Charleville, Cloncurry, Aerial Mails." The pilot wears an old-fashioned helmet and goggles.
Audio: Man: In 2022, November 2, 2022, it is 100 years of the Qantas-Australia Post partnership. And for 100 years, Qantas has carried Australia Post's airmail, continuously.
Video: Footage of a modern aircraft with a Qantas logo on the tail fades into sepia footage of a biplane trundling away from a Qantas hangar. A pilot spins a propeller by hand. A sign on a hangar reads "Q.A.N.T.A.S Ltd Air Services." A man with a white beard is interviewed. Text: "Richard Breckon, Team Leader, Philatelic Archives, Collector Services, Australia Post." In monochrome footage, people check the biplane. A man leaning over a camera watches the plane trundle through an outback field.
Audio: Richard: So, Qantas, which was then the Queensland and Northern Territory Aerial Services Ltd - that's where the Qantas name comes from - gained an airmail contract with Australia Post, which was then called the Postmaster General's Department. The first flight on November 2 carried 106 letters. And that's where it all began.
Video: At a large desk, Richard shows stamps and postcards arranged in an album. The stamps feature a range of aircraft, personnel and logos from over the years. An Australia Post staff member sorts mail. Envelopes are emblazoned, "Qantas-Australia Post Partnership: 100 Years". Sheets of stamps are placed in plastic covers.
Audio: Richard: Well, we have 12 stamps here. These are what Australia Post calls MyStamps, because they are customised stamps. In this case, Australia Post produced this for the...to celebrate the centenary of the Qantas-Australia Post partnership. And the images are of significant events in Qantas's 100-year history of carrying mail. All the stamp photos were supplied by Qantas. I 
refer to the wartime flying boat service between Western Australia and Sri Lanka, over the Indian Ocean. And this image shows a flying boat at that time. And you can see it's quite close to the water level. It was necessary in case they encountered enemy aircraft, and they had to be able to land on water fairly quickly.
Video: A stamp features the old-fashioned photo of the woman and two men standing before the biplane.
Audio: Richard: This stamp here reproduces a photograph from the inaugural 1922 flight. And it features a woman, a passenger, who I think has the distinction of being the first fare-paying passenger of Qantas.
Video: A black and white logo features a streamlined kangaroo with long wings that mirror its body and tail. Its long legs point at a wireframe globe. A modern logo doesn't have the wings or globe. The flying kangaroo logo and the word 'Parramatta' are emblazoned on the cockpit of a plane. A pilot waves from a window.
Audio: Richard: This is the first Qantas logo of...involving the flying kangaroo. That dates from 1947, a couple of years after the Australia-to-England kangaroo route air service was established, and...which, of course, carried mail. The logo was inspired by the jumping kangaroo on the one-penny coin.
Video: A colour stamp features an aerial photo of a large aircraft on the tarmac. In fast-motion footage, the Australia Post logo is painted along the side of a plane. An Australia Post plane is loaded with freight. A plane taxis.
Audio: Richard: Well, I like the last stamp. We've got the most up-to-date one, which features one of Qantas's Airbuses converted to a freighter, and it bears Australia Post livery. And I believe there are three of these operating today, because, of course, it's mainly parcels that are carried around Australia by air.
Video: The Australia Post logo appears in white on a red background. 

Rooted in a shared commitment to keep Australians connected, Qantas and Australia Post have become part of the fabric of Australian society—a role that both companies take very seriously.
From the days of delivering mail humbly on foot and horseback, to our great leap forward with the dawn of air mail, we've strived to keep communities connected through parcels, postcards and letters from loved ones. Now, through this pioneering partnership, we're able to reach even further into Australian communities and across the globe to help millions of people and businesses stay connected every day.
Learn more about the origins of our air mail service and how these two iconic Australian companies are looking to the future.
The beginning of commercial aviation and air mail in Australia
On 2-3rd November 1922, Qantas began its first regular air mail and passenger service between Charleville and Cloncurry, Queensland, in an open cockpit FK8 biplane.
The pilot for the first leg to Longreach was Paul McGinness, along with Qantas engineer W. Arthur Baird. The trip from Longreach to Cloncurry was flown by decorated World War I hero, Hudson Fysh, with the first official Qantas passenger, Alexander Kennedy.
Only two days later, Fysh accompanied the first female Qantas passenger, Ivy McLain, whose father paid for her to fly from Cloncurry to Charleville to save time on train travel when she moved to Brisbane for work1.
Fysh, McGinness and businessman, Fergus McMaster, are credited as the aviation pioneers who founded Qantas, with their legacy still living on today.
Richard Breckon, Team Lead of the Philatelic Archives at Australia Post, recalls this momentous occasion, which has been immortalised in a series of collectable stamps to commemorate the 100-year history.
"Qantas, which was then the Queensland and Northern Territory Aerial Services Limited, gained an air mail contract with Australia Post, which was then called the Postmaster General's Department," said Richard.
"The first flight on November 2nd carried 106 letters and that's where it all began [for the partnership]".
The first scheduled Qantas air mail route on a dusty, Queensland outback airstrip heralded a new era for travel and communications, connecting people physically and via the eagerly awaited post. 

Centenary of Australia Post-Qantas Partnership MyStamps Pack ($15.50)

Delivering mail across the pond
It was only a matter of time before the prospect of an international air mail service became a reality.

In 1932, Charles Kingsford Smith and Charles Ulm's Australian National Airways and Norman Brearley's West Australian Airways pursued a joint Australian air mail operation to partner with Imperial Airways.
Disagreements led to Qantas approaching Imperial Airways and becoming the sole Australian carrier for the new United Kingdom to Australia passenger and air mail service2.
Eventually, the first Qantas air mail service between Australia and Singapore took to the skies in 1935 and travelled onward to London with Imperial Airways.
It wasn't until the following decade that Qantas reimagined its celebrated 'flying kangaroo' logo, which is featured on one of the twelve Australia Post collectable stamps.
The kangaroo logo, based on the Australian penny coin design, first appeared in 1944 on the Liberator aircraft used on the Kangaroo Service across the Indian Ocean. The kangaroo grew wings in 1947 for the new Kangaroo Route from Sydney to London via the eastern hemisphere.
"[This logo] dates from 1947, a couple years after the Australia to England Kangaroo Route air service was established, which also carried mail," Richard explained.
How things have changed
There have been many developments in the aviation industry since the inaugural 1922 flight carrying those 106 letters.
These days, we're used to world-class chef, Neil Perry, curating exclusive menus for our national carrier. However, 100 years ago, there was little on offer by the way of inflight refreshments.
In fact, Qantas customers were provided with tea and toast prepared by the pilot at the hotel prior to departure. Sometimes, sandwiches and fruit would be served in the plane hangar during refuelling stops—a far cry from the boutique wines and seared ocean trout we can expect now.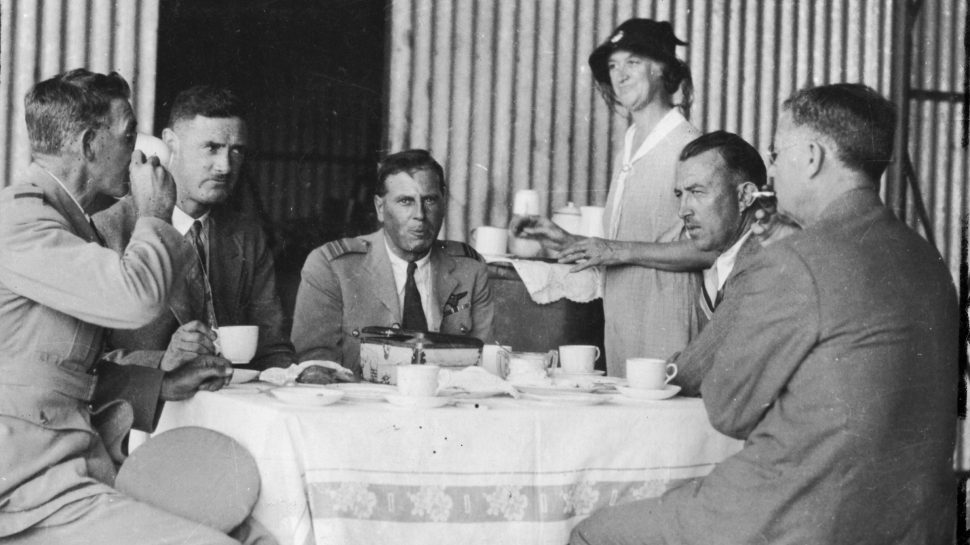 Historic image of Qantas pilots enjoying refreshments in the aircraft hangar.

But growth and modernity has not only steered the aviation industry. From the world's first mechanical mail processing centre being introduced in Australia in 1967, to the machine learning used in our operations today, Australia Post also continues to innovate our products, solutions and customer experience. 

Looking to the future
What began as a small airline flying mail around rural Queensland now carries 100,000 passengers and 1,000 tonnes of freight each day around Australia and globally.
Mark Davies, General Manager of Premium Services and International Network Operations at Australia Post, joined a small group of Qantas and Australia Post team members on a special flight in November 2022 to commemorate the occasion.
"The support of key partners like Qantas has been pivotal in enabling us to deliver for our customers," Mark said.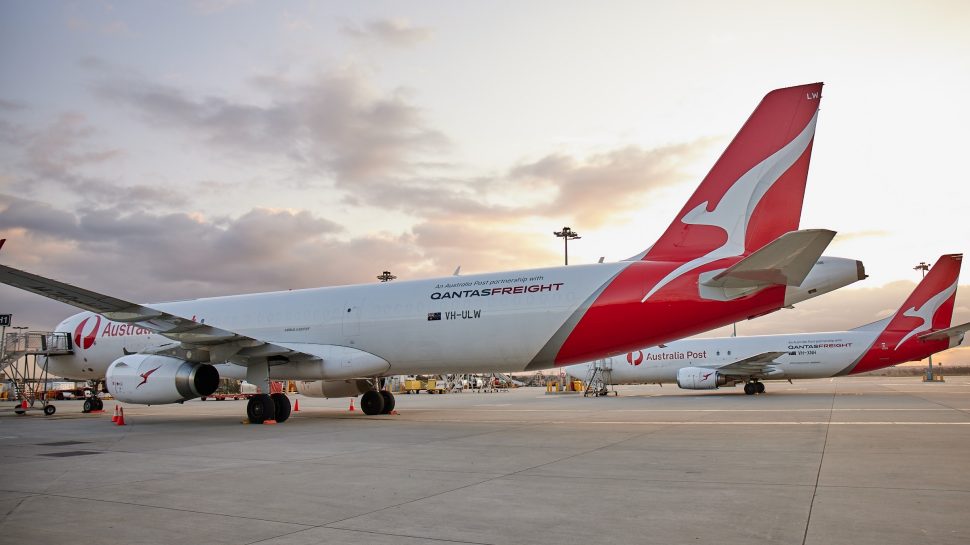 Qantas and Australia Post carries 1,000 tonnes of freight each day around Australia and globally.

In 2023, Qantas plans to convert one of its A330 widebody passenger aircraft into another dedicated Australia Post freighter—just another way these two iconic companies are delivering for Australia.
Mark continued, "The great thing about history is we make it every day. Qantas and Australia Post are both here, doing what we do, which is delivering for Australia and delivering for all our communities." 

Take home a piece of history today

Our special release MyStamp Pack features significant moments over the past 100-year partnership between Australia Post and Qantas.