The Haus that Kristy built: The Indigenous designer turning heads with her bright and bold jewellery
Kristy Dickinson first started selling her handmade jewellery at the Bondi markets. She had no idea it would one day turn into an internationally recognised venture known as Haus of Dizzy.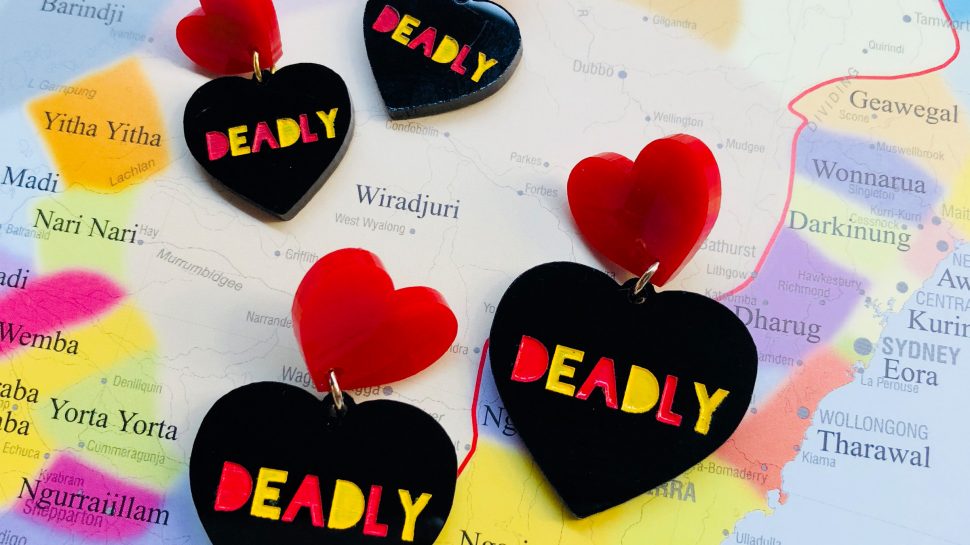 There are glittery palm tree cut-out earrings, an 'Indigenous Pride' range in the colours of the Aboriginal and Torres Strait Island flags and the popular hand-painted 'Deadly' range. Kristy Dickinson would like to welcome you to her Haus of Dizzy.
Kristy, a Wiradjuri woman, has been making jewellery for the past 16 years. She has also acted, modelled and designed clothes. Haus of Dizzy began when she was between jobs and wondered whether traditional work life was really for her.
"I was sick of working for other people. So I began taking all my old clothes to the Bondi markets to sell them and save up enough to start my own business," she remembers.
A few months later, she bought jewellery-making tools and materials and started selling her creations alongside her clothes at the markets. As sales grew, she faced her first business challenges.
"It was tough in the beginning as I didn't want to overcharge the customer or undercharge myself. I was setting prices based on the cost of materials and not the time it took me to make the pieces."
"Then I started dealing with retail stores and getting the wholesale costing right was another challenge. I spoke to a lot of small business owners and asked my wholesalers for advice to eventually get my prices up to par."
In 2015, Kristy finally decided to go full time with Haus of Dizzy. Over the last few years, she has created a range for Marcs, another for the PE Nation's first runway show at Mercedes-Benz Fashion Week and had her jewellery sold in multiple stores across Australia, including the Museum of Contemporary Art Australia and the Melbourne Museum.
In December 2018, she represented Victoria in The First Peoples Fashion Exhibition at the International Design Week in Hong Kong.

A self-taught creative
Although becoming the Queen of Bling at an internationally recognised design venture may have once seemed like an impossible dream, Kristy says she has always loved fashion and jewellery. She adds that her mum is her source of inspiration.
"My mother had amazing style. She would make little pieces of jewellery or collect beautiful necklaces from places she would visit. She always reminded me of Whitney Houston. I always wanted to be like her and dress like her."
"I love anything from the late 80s to all the 90s fashion. I base all my jewellery on memories of my life, like toys, TV shows, and 90s hip hop and R'n'B music."

Haus of Dizzy's jewellery is bold, whimsical and mischievous. At the time of writing, she has just over 26,000 Instagram followers, is an online fashion phenomenon and counts celebrities among her customers.
Haus of Dizzy creations are worn by actors, singers and fashion influencers – Miranda Tapsell is a fan – but Kristy doesn't get too carried away by celebrity approval.
"I love seeing my jewellery on everyone, famous or not. I saw someone in the deli section the other day wearing my earrings and just kept looking at her. I think I was a bit too weird!"
Although Tapsell and other well-known people occasionally feature on Haus of Dizzy's Instagram, Kristy's biggest marketing tool by far are "our gorgeous friends from around the hood."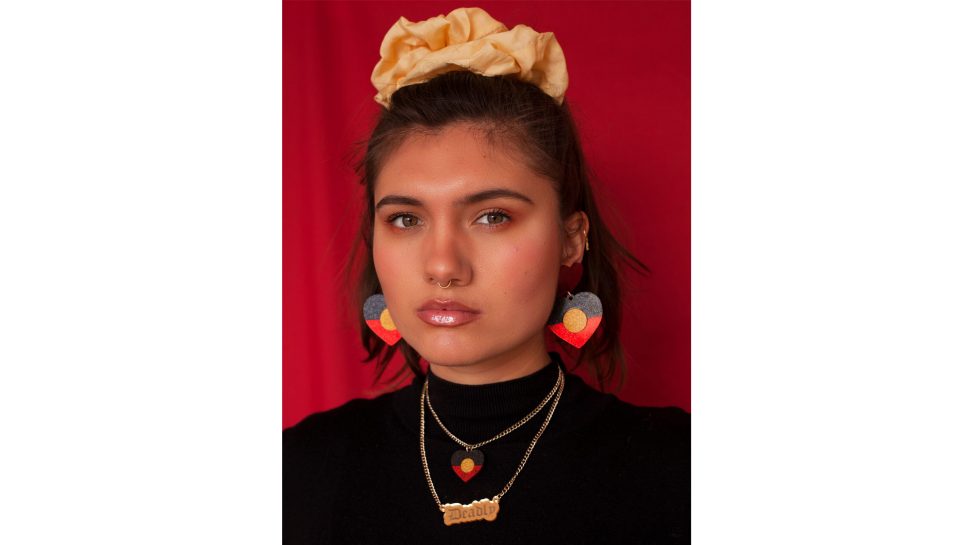 From Australia with sparkly love
Kristy now gets orders from across Australia, New Zealand, the United States and Europe.
"I received an order from Rio De Janeiro the other day so that's pretty cool - the Brazilians are getting into Haus of Dizzy!"
Australia Post, she says, has been essential in helping her run and grow her business in these markets. While the logistics expertise and support are important, it's engaging with the people behind the organisation that Kristy enjoys most.
"I love going down to my local post office and having a yarn with the lovely people there. They are always so helpful and so eager to see what earrings I'm wearing."
When asked about her future plans, Kristy says she eventually wants to move from online to bricks and mortar. "I want to have my own stores in Sydney and Melbourne. It will be called Welcome to DizzyLand!"

4 business lessons from Haus of Dizzy
Embrace the judgement – "It's always tough putting your work out there," Kristy says. "You never know if people are going to like it or totally hate it." That, however, is the nature of business, especially one involving creativity.
Preparation is crucial – Kristy emphasises the importance of being ready for busy periods months in advance. For example, Haus of Dizzy customers start placing Christmas orders in October so she starts preparing for this in September.
Make the most of your network – Kristy has built a group of friends and connections that are happy to lend their skills at Haus of Dizzy. "I lived with a photographer who had a makeup artist sister. The three of us would work on photoshoots together using our friends as models. I also know a lot of people in the music and film industry, and getting them photographed wearing my jewellery makes for great social media content."
Spend proper thought and time on branding – Kristy says that when she got the branding and logo for her company right everything suddenly became "so real" and she hasn't looked back since. "It took a bit of time but I think the right branding is crucial to any business.