Pantry to Plate: Melissa Murat's wholesale change earns her an ORIAS Unsung Hero Award
When COVID-19 disrupted Pantry to Plate's plans to open its first flagship store, co-founder and COO Melissa Murat found new ways to grow her spice business. In a year of creative initiatives in the face of uncertainty, her efforts earned her the inaugural ORIAS Unsung Hero Award for small retailers.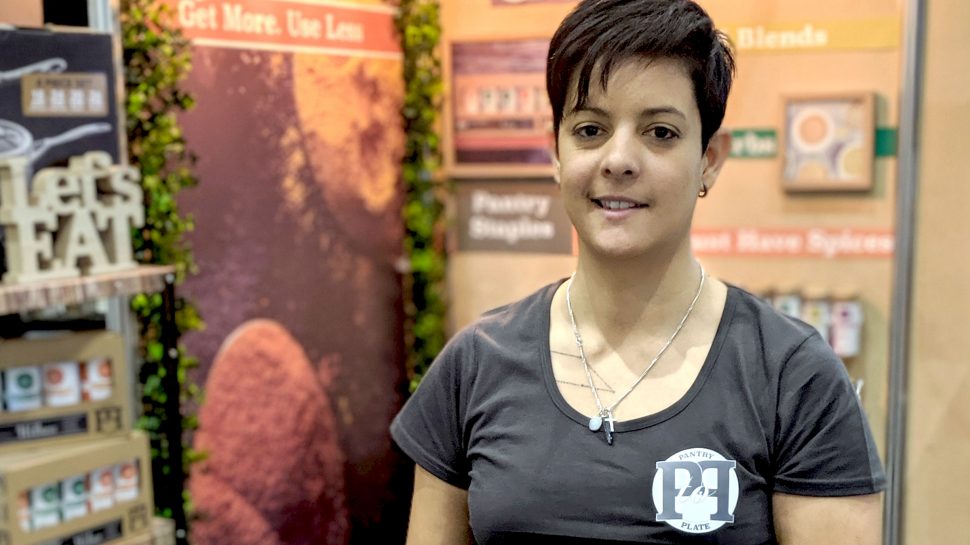 Key points
Artisan spice producer Pantry to Plate was set to open its first flagship store in March when COVID-19 hit.
Co-founder and COO Melissa Murat developed a new business plan to wholesale products into hundreds of retail locations.
To manage this sudden increase in business, Mel taught herself about warehouse management, fulfilment and supply chain logistics – all in six weeks.  
Co-founders Melissa Murat and Ghada Turner were ready to take the next step in the Pantry to Plate journey. In March, they were about to finalise a lease for their first store in Chelsea, about 30km south-east of Melbourne's CBD. The plan was to sell their own herbs and spices, as well as coffee and takeaway food. But, like so many other small businesses around Australia, Pantry to Plate saw its plans upended by the pandemic.
"Once COVID hit, it was clear the retail store just wouldn't be an option," co-founder and CEO Ghada says. "We didn't know what this disease meant for our families, our finances, our business, our future."
"It was a huge slap in the face – we'd been so excited," admits Melissa. "Our families were involved, we'd been designing the layout, doing graphic design work, looking at furniture, finding a partner who would make coffee.
"It was depressing, it felt like the end of our dream."
The coronavirus pandemic hit small businesses around Australia hard. After a year unlike any other, it's important to recognise those whose hard work helped Australian retailers find new ways to succeed and deliver on their promises to customers.
"It's been a tough year, and every business has had to change how they do things in a very short time so they could continue serving their customers," Australia Post Executive General Manager Business, Government and International Gary Starr said at the online ceremony.
"It's been no small feat, and we felt that this was something worth celebrating."
As one dream ended – at least temporarily – for Pantry to Plate, another was about to begin. Melissa's ability to quickly transition her business from a direct-to-consumer model to a wholesale model in a matter of weeks ensured that not only did Pantry to Plate survive. It grew exponentially – earning her the first ORIAs Unsung Hero Award for small business.
A spoonful of adaptability
Best friends since high school, Melissa says she is more logical of the pair, while Ghada is the emotional anchor. So it's no wonder it was the former who got back on her feet sooner rather than later.
"A few days after we decided not to sign the lease, I went to bed feeling depressed," Melissa says. "But then I woke up and I said to myself, instead of shopping bags for consumers, we just need shipping cartons for warehousing."
The two had built the backbone of the business – the idea, product, brand and social presence – over the previous two years. All they needed to do was get it into a store. So instead of their own, why not use established retailers?
"Instead of us footing the bill for overheads and worrying about location and foot traffic, we realised we could just start hitting the pavement and talking to people. We could be a lot bigger than we'd ever anticipated if we do this right," explains Melissa.
From house to warehouse
Melissa developed a business plan to present to retailers, using figures and testimonials from sales at markets and their online store. But she also needed to work out how to ship product – everything from packaging to storage and delivery.
Like many small business owners, Melissa wears several hats – her responsibilities include operations, product development, graphic design and analytics. But she had to quickly add to that to do list to get Pantry to Plate spices into stores.
"We had been working out of Ghada's house, loose jars everywhere on cheap shelving."
Once they won their first contract with Coles Local, with an order for a pallet a week, Melissa knew they'd needed to scale up logistics. They found an empty 150sqm space in Carrum Downs and went to work outfitting 'P2P HQ' with offices, shelving and processing space.
Melissa had worked as a picker-packer in the early 2000s, so she had a rudimentary understanding of warehousing. But that's where her knowledge ended. In just six weeks, she taught herself what it took to scale up distribution. That included warehouse management, fulfilment and supply chain logistics, including new invoicing and inventory systems, stock management, product and packaging procurement, customs and freight management.
"There were a lot of sleepless nights," she says. "We didn't even know where to get pallets from, or how to use a forklift. There was a lot of online research and calls to the Department of Health and Human Services to make sure we followed COVID guidelines.
"We just took it on the chin and said, hey, we need to figure this out, and kept going."
Pantry to Plate is now sold in hundreds of stores along the East coast – from North Queensland down through New South Wales, South Australia and Victoria and into Tasmania. The line of herbs and spices is carried in Coles Local, regional and metro IGAs, artisan grocers, Ritchies Supermarkets, Hill Street Grocers and Foodland SA locations.
And until this year, Ghada and Melissa weren't turning enough profit to pay themselves. But since opening the doors to their warehouse on June 1, business has boomed. In the 2019 calendar year they generated $6,000 in revenue. They are forecasting $70,000 in revenue by the end of 2020.
From that low-point in the early days of COVID to incredible growth in a matter of months, Melissa says flexibility has been key to Pantry to Plate's success – and will continue to play an important part in the company going forward.
"You have to be open to being agile and go with the flow. No matter how well you've planned, something will always turn up.
"I'm proud of us for being able to be open to new ideas. It's such a huge change from what we were going to do. We'll take that mindset on board for everything we do going forward."