From start up to 'smoothie' sailing: A small business adventure
Leena Van Raay worked as a medical scientist for 10 years before she founded Bike n' Blend at the beginning of 2011. Until that point, she had dedicated her professional life to researching stroke and epilepsy treatment at the University of Melbourne's medical research department. But she was looking for a lifestyle change, and an opportunity to focus on preventative health practices and ideas, rather than cures.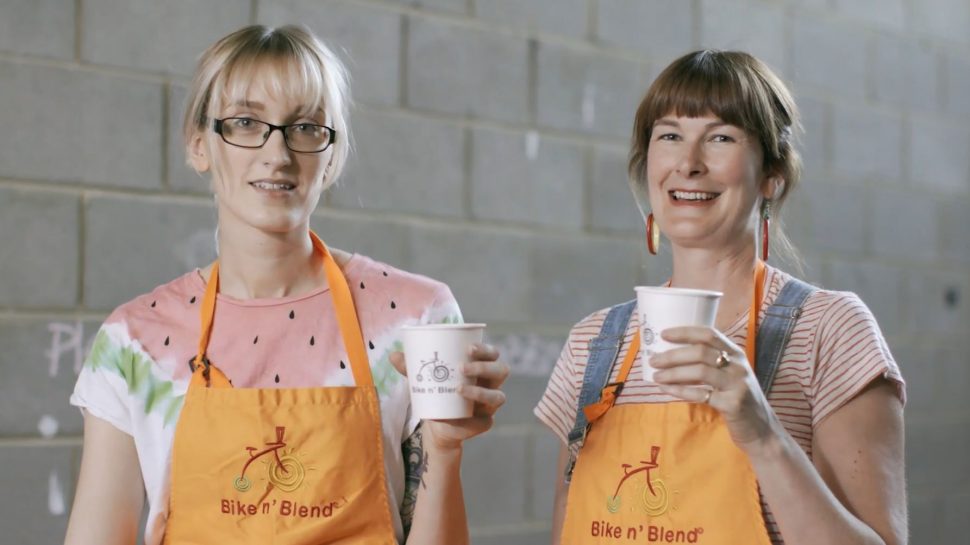 That change came in the form of a static bicycle, a blending container and some delicious, fresh smoothie ingredients.
It might sound a million miles away from the world of medical research, but Leena saw a connection, as well as an important distinction.
"I was working on the side of curing disease, but I really felt quite passionate to work on the preventative side. I just saw how many diseases you could have a bigger impact with by preventing them in the first place," Leena explains.
Leena, who has been an avid cyclist for many years, came up with the idea of a pedal-powered smoothie. She began to trial the bike – and the drink – at farmers' markets around Melbourne. Almost immediately, she and her partner Gil could see that they had a hit on their hands. The concept was unique, it was fun and there was a practical side to it; people flocked to her market stands.
Video: People ride exercise biles with blenders mounted on the front. As they pedal, their blenders mix fruit smoothies.
Audio: Lively music
Video: A dark-haired woman is interviewed in a garage full of exercise bikes.
Text: Leena van Raay, Founder of Bike n' Blend.
Video: At different events, people ride blender bikes.
Audio: I always get a buzz when I see bikes at an event. It just brings me a lot of joy, watching people cycle, and then they get this delicious, healthy smoothie.
Video: On 'The Circle' Leena rings the bell of a blender bike.
COLIN LANE: Yeah! Yeah, a little two-tone.
YUMI STYNES: Your smoothie is ready.
Video: In photos, smiling people use the blender bikes at markets and festivals.
LEENA VAN RAAY: Yea, I just feel like I have created something really fun and unique, and everyone smiling, and that's always a nice feeling.

Video: Video projected on the garage wall shows people in suits riding blender bikes.
LEENA VAN RAAY: One of our favourite events, it was a few years ago, the International Diabetes Congress. Even the CEO of the congress had a ride. Yeah, being just the centrepiece in the entire conference was such a highlight for us.

Text: Small Business Story.

Video: Leena opens the garage door, revealing the van parked outside. The wheels of the bikes are decored as fruit slices.
LEENA VAN RAAY: I am Leena van Raay, the founder and creator of Bike n' Blend, the pedal-powered smoothie company.

Video: In a lounge room, Leena looks through an album of old work photos.
LEENA VAN RAAY: So, before Bike n' Blend, I was working at Melbourne University in a research lab for about 10 years, but I just felt that something was missing. I wanted to work amongst a community, like, work in the health prevention aspect, and really engage with people about cycling and health and sustainability. It was a really good transition but, yeah, definitely a big change.

Video: Leena and her partner put their toddler son in a bike seat. they ride through a park. Lena rides a blender bike at a market.
LEENA VAN RAAY: Cycling's always been a big part of my life. Bike n' Blend just gave me everything I wanted in that aspect.

Video: Leena loads a bike into the van. She drives through town. Photos show smiling children and adults riding blender bikes at different events.
LEENA VAN RAAY: Our first customer was Port Phillip Council. They booked us for Ride2Work Day. And I just saw that there were lots of cycling events or health and sustainability events that we could be involved in, and it really did snowball from there.

Video: Leena joins a blonde woman in an office. Leena works at her desk. In photos, staff wear orange aprons.
LEENA VAN RAAY: Now we're in different cities, in Queensland and Brisbane and Sydney. Having access to temp staff when we need, for large events, is extremely helpful. When we vet and train people at different locations around Australia, we use a lot of online training programs and resources that we have written ourselves.
Video: Leena is interviewed in her garage.
Text: Customers may be required to visit an Australia Post outlet to complete Working with Children Checks and Police Checks.
LEENA VAN RAAY: Working an event, you do need your staff to have police checks and Working with Children Checks more and more these days. It's becoming a lot more common. We do this through auspost. It's easy. It's all online.

Video: Leena visits Australia Post and uses a Parcel Post satchel.
Text: Please visit auspost.com.au for Express Post service conditions.
LEENA VAN RAAY: So using Australia post helps us to simplify things and have different staff in different locations. So it's easy for us to post things that they need all the time, like special documents that need signing that we can track to different bike parts. Quite enjoyable to go to the post. It breaks up your day a little bit. It's great knowing that Australia post is reliable, and it gives us great reassurance that everything will happen smoothly.
Video: Smoothie ingredients are arranged on a bench. Leena puts them in a blender.
Audio: Well, I'm about to make my favourite smoothie, the Tour de France. This is about 130 mils coconut water and a little spinach. About a third of a cup of your strawberries and a whole fresh banana. Pop the lid on.
Video: Michelle rides a blender bike. Leena and Michelle hold up smoothies.
LEENA VAN RAAY: Alright. Presenting the Tour de France smoothie, prepped by Leena and blended by Michelle. Thank you. Cheers.
MICHELLE: Cheers.
Video: Leena's family ride on playground equipment. In the garage, Leena organises bikes.
LEENA VAN RAAY: I'm really excited about the future of Bike n' Blend, 'cause we are quite set up now, that we can choose to focus more on sustainability, using more local products. We can afford to compost our cups now that that service is available. We've really spread the health word for a long time now. We think we're going to focus more on sustainability. Getting people cycling, obviously, is a key passion of ours.

Video: The Australia Post logo appears on a white screen.
Text: auspost.com.au/smallbusiness
Audio: Lively music
Starting up the hill
After some time finessing her market stall strategies, the next stop for Bike n' Blend was the Royal Melbourne Show. But a single bike wasn't going to cut it. Leena bought an additional seven, as well as an old van. She also hired two casual staff to help her run the stall. Even with their assistance she found herself working 16 hours a day over the two weeks of the show.
By the end of that first year she knew she had an extraordinary idea with enormous promise, but while the feedback was positive and the potential was thrilling, Bike n' Blend couldn't yet be called "a success". In fact, Leena wasn't even covering the costs of the farmers' markets.
It was time to turn the whole thing from a fun new project into a more serious business venture.
A change of gears
In 2012 Leena stopped attending markets, realising that she would run herself into the ground if she kept attending up to three events a day - especially with so little financial reward. She began to focus on packages for small community festivals and school fetes, corporate clients and major events (like business conferences and university open days). But she needed help, so she turned to the gig economy and the market full of temporary staffing solutions.
"Back when I started it was a lot harder to get ad hoc staff. The service wasn't really available, and because of that I did everything myself and got burnt out. And as soon as that became available, I got addicted to getting help and delegating."
She also hired more permanent team members; including someone to help with bookings and another person to help with events. That gave Leena more time to work on the business model and important marketing elements of the business such as the website.
"Our first customer was Port Phillip Council. They booked us for Ride to Work Day and I instantly saw that there were lots of cycling events or health and sustainability events that we could be involved in. And it really did snowball from there," Leena says.
Riding interstate
Although Bike n' Blend began and remains based in Melbourne, it now has staff that run Bike n' Blend events in Sydney and Brisbane. Leena says that wouldn't have been possible without the ability to hire and train good people.
"It really allowed me to grow into different cities and do to different parts of the business that I wanted to do because there are people that are available and trustworthy."
"When we vet and train people at different locations around Australia we use a lot of online training programmes and resources that we've written ourselves. And then we give them an online quiz just to check that their knowledge is complete. And that just gives us the peace of mind."
Reduce, reuse, re-cycle
For Leena, the benefits of expansion are as much about spreading her company's messages about sustainability, health and fun, as they are about the commercial success of her company.
"In terms of sustainability we've built awareness around less plastic, not using straws and taking a stance on that. We've donated mainly to UNICEF recently. We want to grow that. We are reaching to help people overseas, something I'm quite passionate about myself."
"I still pinch myself every day to realise this is what I do. It truly is a dream job."