Taking men's style to the world – The Salty Fox success story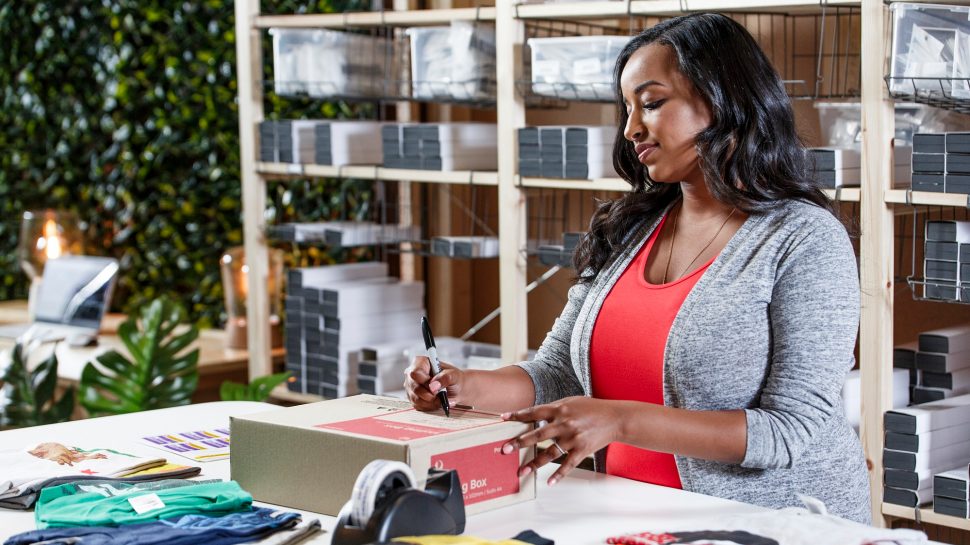 When Hangatu Wyld started her small business, she was using her kitchen pantry as a stock room. Ordering her first products from suppliers and storing them in the only available space in her home was the starting point for the online store that she was developing outside of her day-job as a marketing coordinator. It's a story that many small business owners can likely relate to when they think of their first few months of trading. But a lot has changed since those early days, and Hangatu's eCommerce business thesaltyfox.com.au is now a successful retailer of men's accessories in Australia and beyond.
As Hangatu started selling more online, she needed more space and moved her business' operations into her mother-in-law's spare bedroom; then into a 3PL (third party logistics) warehouse; and then into her own warehouse space amongst a group of other eCommerce businesses at a co-working space called Clik Collective in Kensington. The Salty Fox is now a full-time project for Hangatu, and she has been able to employ her first full-time staff member too – her little brother Gutu. It's a family run business that is going from strength to strength, and is even about to start selling internationally in 2018.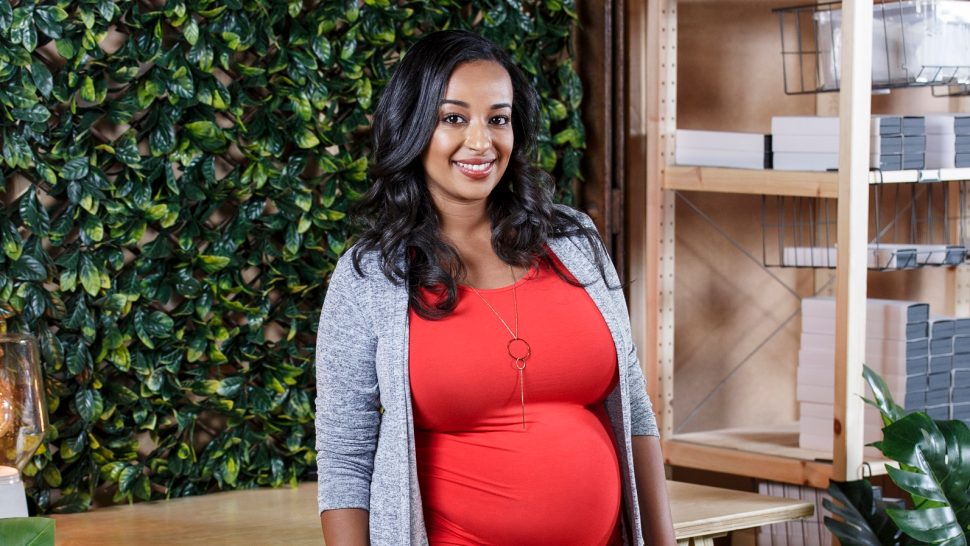 Hangatu Wyld, Owner of thesaltyfox.com.au
Taking first steps, and making sales
Hangatu was working and studying when she started to feel as though she wanted to take a different career path. After a trip overseas where she was able to take some time to think about her future plans, Hangatu realised she needed to make a change in her life. The entrepreneur finished her university course and received her degree in marketing, and moved to Geelong where she made the leap and set up The Salty Fox. 
"It was always bubbling in the back of my mind that this is something that I wanted to do and it just felt like the right time to dip my toe in the water " says Hangatu. "I just thought 'what's the worst thing that could happen?' … If the business wasn't successful I would have just had to apply for another job".
The idea for The Salty Fox came to Hangatu when she was preparing for her wedding with her now-husband Sean. She says, "I wanted to do men's accessories because Sean and I got married in 2015, and finding his suit was easy enough but finding all the little accessories that go with it was actually quite difficult. I really struggled with searching for stuff online."
After deciding upon a direction for her business, Hangatu was guided by Australia Post's services while choosing the first items she would stock in her store. "I always kept the postage packaging rules in the back of my mind when I was selecting products," Hangatu says. The first items listed on thesaltyfox.com.au were chosen for the online store because they would easily fit into a 500 gram Express Post satchel, and would allow Hangatu to easily and cost effectively send the products to her customers.The very first item stocked on The Salty Fox shop was a pair of steampunk cufflinks. And with a Google Adwords marketing strategy in place for the site's launch, Hangatu's first sale was made within 48 hours of going live. 
Nowadays, Hangatu uses different research methods to help her choose new items to stock in her shop. Before ordering new items to sell, she will consult Google keyword research tools to see search volumes for different products; as well as looking at what other competitors are selling and so on.
She says, "Sometimes it does feel like you're using a Ouija board. But you do have to take risks, so I mitigate those by seeing what else is out there, and by initially purchasing smaller quantities of stock so I can soft launch something".
Another key product strategy Hangatu has defined is to make sure that The Salty Fox stocks items that complement each other so that they can be sold together to increase customers' cart volumes in the store.
"We also offer additional cart discounts to people, because we already had to pay through marketing to get those people to the website, and they are already going to make a purchase… so it's in your best interest to do whatever you can to get them to increase that cart size and that cart value while they're there."
Maximising time and resources
Before launching The Salty Fox, Hangatu had studied and worked in the marketing industry, but even with that experience under her belt she knew that she would need a really strong marketing plan to help her build her brand.
With the help of her husband, Sean, who had previously worked at Google, Hangatu set up a high performing Google Adwords campaign to target customers who were already online and searching for the types of products she was starting to sell. She knew that to get an audience of potential customers onto her site she needed to tap into the existing demand for unique cufflinks and men's accessories.
By using the Adwords tool that targets users who are looking for products like the ones listed on The Salty Fox, Hangatu was able to automate a large part of her marketing strategy and free herself up to work on other parts of the business that required more of her attention.
"I wanted to be as hands off as possible for some of the things that I felt weren't my best area of expertise, so I automated as much as I could. Even basic customer service emails that go out to people during the order process like order confirmation and shipment notifications – they were all things that I wanted to have automated," says Hangatu.
"Having these little parts of the marketing and customer service process set up to run automatically allowed me to work on the business on my own, without employees for a long time. It just frees up time to let you focus on other things that need you to be more hands-on."
Getting product to customers quickly, and making sure customers are happy
Initially, The Salty Fox was built on a Shopify template because of the ease that the platform offered to help Hanagatu set up things like managing customer order lists, shipping labels, and integration with other websites. Being able to link an Australia Post account to the online store to enable easy shipping was another big reason to use the popular eCommerce platform.
Gutu, Hangatu's brother is the one who does most of the order handling these days. He runs The Salty Fox warehouse space in the Kensington Clik Collective space where Australia Post does a daily parcel pickup service, which allows the team to make sure that customers' orders are being sent out on either the same or next day after a purchase is made.
Knowing that orders are packed and shipped within a very short amount of time and can be sent via Express Post is something that The Salty Fox's customers really value.
"We have a lot of 'last minute Larry' customers whose weddings are approaching quickly, and they order their accessories pretty close to the big day. They really appreciate our fast shipping!" says Hangatu.
The Salty Fox offers free Express Post shipping for orders over $50 which allows more customers to choose the faster sending method, and also helps to encourage shoppers to buy more in each order.
"The offer to get people to spend $50 or more to qualify for free shipping was designed to increase cart value, so rather than someone purchasing one pair of cuff links at, say $39, and then paying shipping… perhaps they'll purchase two items," says Hangatu.
Although Hangatu is working to expand her business to sell internationally, the first three years of operation have focused on selling to Australian online shoppers. But she was surprised to learn that a large percentage of her customers were based interstate – many of them in Western Australia.
With the distance between metropolitan Melbourne, and cities in Western Australia, it's important for Gutu and Hangatu to have an efficient shipping process – and they find that it works so well that interstate customers are often pleasantly surprised by how quickly they receive their orders. It's something that generate positive feedback for the business on a regular basis.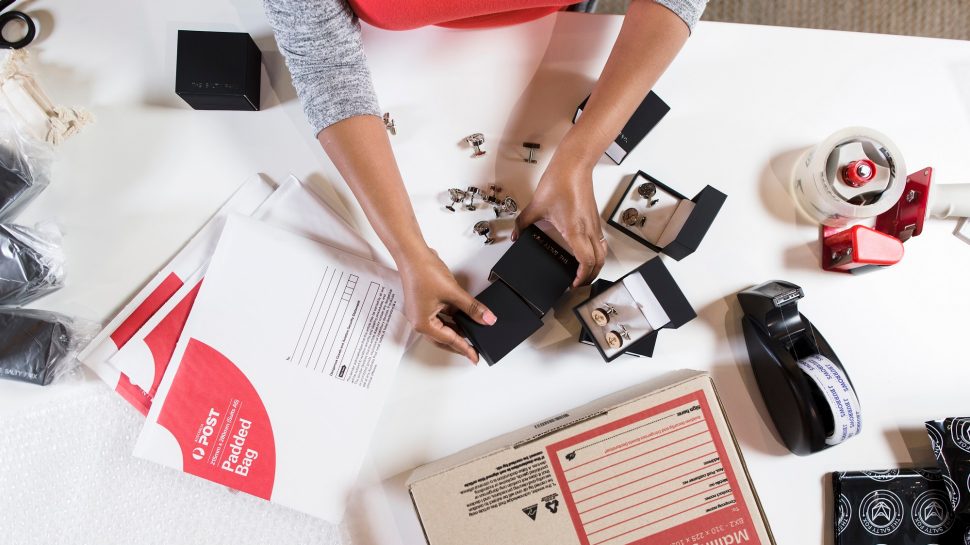 Hangatu put a lot of work into her business' branding and focused on custom packaging and the unboxing experience as a part of that strategy. She says she wanted to minimise the number of change-of-mind returns that customers would send back to the business. Research told her that often a reason for customers sending online purchases back to the retailer is because they perceive the value of the order to be less than the price they paid. Hangatu says that creating a high quality brand experience for customers receiving and unwrapping their orders helps them to perceive the goods they've received as something that's a little bit luxurious and well worth the money they've spent on them.
Ready to take on the world
Although Hangatu is expecting her first child in 2018, she's got no plan to slow the growth of her online business. As well as raising her baby, Hangatu will be launching The Salty Fox as an international business by the end of this year.
This expansion strategy is largely based on insights that Hangatu gained from digging into her online store's analytics metrics and looking at where her site visitors were located. She noticed a fairly high percentage of traffic to her online store was coming from web users based in other countries.
Her store didn't have shipping options set up for these would-be customers, so she wasn't able to sell to them – and this is something that Hangatu spotted as an opportunity to capitalise on.
After doing a lot of research to find out whether the shipping process for different countries was different to what she'd been doing for Australia-based parcel sending, Hangatu decided to soft-launch her business into the international marketplace by starting selling into New Zealand.
"Just because we weren't accepting orders internationally, doesn't mean that people weren't asking us about it. Our site just wasn't set up yet to take the orders," says Hangatu. "This year we started accepting orders from New Zealand - I just wanted to get the logistics right around returns and exchanges and that sort of thing first with sending to one country, before we send our products out further internationally."
Hangatu says that sending to New Zealand hasn't been too much of a different process for The Salty Fox – she says it's required a little bit more paperwork than they've had to do for domestic sales, but it's a manageable process for the small business.
In terms of an international launch strategy – The Salty Fox won't be taking a region-by-region approach to selling overseas. Once Hangatu and Gutu have found a comfortable rhythm and process for managing their customer orders for New Zealand, they will open up to the rest of the world all at once by adding international shipping for all countries to their shop's checkout.
Soon enough The Salty Fox will be helping men all over the world to find the right accessories to add a touch of style to their outfits.
Ready to take on the world?
Read our Insights paper on the Australian small businesses that have gone global and begin charting your route there.