How RACQ helps to keep its members connected
When RACQ merged with Queensland Teachers' Mutual Bank, the Queensland club, which services its 1.75 million members, wanted to bring a sense of safety to banking – the same feeling of trust its famous yellow roadside assistance trucks give drivers. Michelle Winzer explains how Australia Post helps the member-owned bank provide a reassuring physical presence, right across the vast state.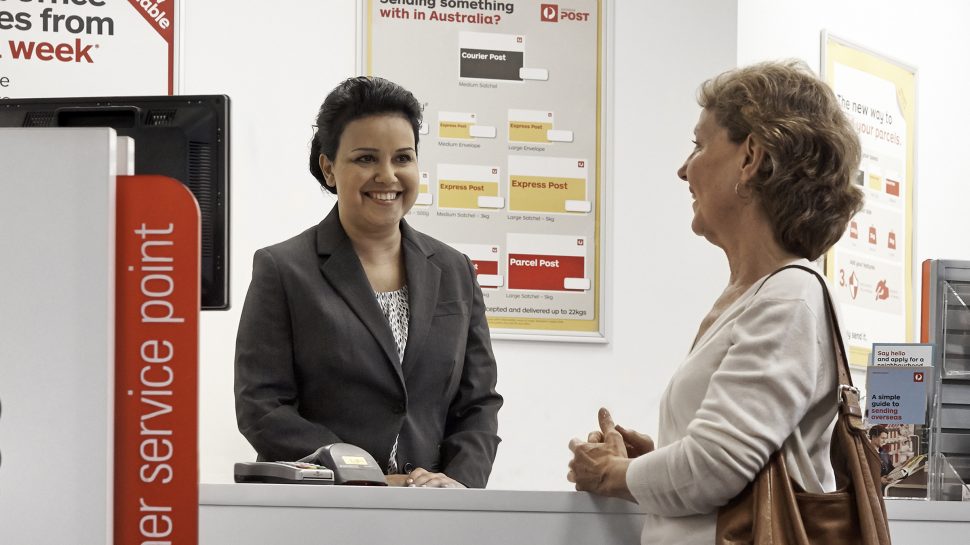 Key points
RACQ Bank's members are located across Queensland – from remote Birdsville or Mount Isa to the Gold Coast.
Their partnership with Australia Post gives every member access to physical banking services including deposits, withdrawals and identity checks.
This human connection underpins RACQ's commitment to provide confidence in accessing services – just as it does for drivers with roadside assistance.
If you've ever broken down on a lonely stretch of highway, you'll know that feeling of relief when roadside assistance arrives. Michelle Winzer, Group Executive Banking for RACQ, said it's described by her team as "that yellow truck feeling". And she wants to give that same sense of safety and assurance to every member who banks with Queensland's largest club.
But with 85,000 RACQ bank members living across the vast state, including 40% outside its most densely populated south-east corner, providing that reassuring physical presence is a challenge for RACQ's 14 stores.
That's why Michelle says the decision to leverage Australia Post's Bank@Post services was "pretty simple". Australia Post's extensive rural and regional network gives members access to banking and other services where RACQ may not have a footprint.
"For example, we have a member in Mount Isa. His nearest RACQ store is in Townsville, which is 900km away," Michelle explains. "Because we were once the Queensland Teachers' Mutual (QT Mutual) Bank, many of our members are teachers who often relocate to regional areas and need to be able to do their banking in a new location."
"It's about inclusion"
RACQ Bank has seen solid growth in its lending and deposit business since merging with QT Mutual in 2016, with the promise of a better and fairer banking alternative for Queenslanders. "Our lending book has grown about five times market, and our deposits about three times market," says Michelle.
The bank does not rely on brokers for this growth – instead, member relationships are managed directly via physical stores, digital channels and mobile bankers. Michelle says it's important to bring "the spirit of that 'yellow truck feeling' into every customer interaction" – whether members walk into a branch to discuss a home loan, phone RACQ's contact centre or open an account at the Post Office.
She says there is a surprisingly large number of RACQ in-store transactions with Australia Post.
"A lot of members make their membership payments in the Post Office, but they also do their identity checks for new accounts there and make deposits or withdrawals," she explains.
"There are still members of our community who want to access financial services in person – especially our older or more vulnerable members. It's the people who still get their dividends by cheque, or who like to send a birthday money-order to the grandkids. They still feel comfort and safety in notes and cheques, and we need to continue supporting them."
She notes some more vulnerable members also have concerns about the rise of phone and email scams, and this also makes them more likely to make transactions in person.
"It's about inclusion," she says. "It's about giving everyone equitable access to banking services. And with our origins as a road safety advocate and roadside assistance business, we see our role as looking after people and making them feel safe. That's the spirit of our banking business."
Keeping every member connected
While it may be a little early to say whether it reflects a permanent post-Covid shift, Michelle says RACQ's property lending is currently driven by the opportunity to relocate to regional centres.
"Instead of 'fly in, fly out', it's now 'dial in, dial out'," she observes. "With people able to work remotely, they can do that from the Sunshine Coast or North Queensland. Our Cairns branch is absolutely booming."
And while a lot of retail banking can be managed online, Michelle believes there will always be a need for human interaction. "Our branch and partner network may change as habits change, but there will always be a need to have a conversation face to face."
Whether they're in Birdsville or Brisbane, members have the choice to do that at their nearest participating Post Office.
"I've had the pleasure of living in regional Queensland, and I know the Post Office plays a vital role in the community," says Michelle. "For some people, it might be the only social interaction for the day, and you can't put a value on that."
She says that's why Australia Post is such an important partner in delivering that 'yellow truck feeling' for RACQ members.
"Australia Post also has a customer-first culture. People know when they walk into the Post Office, they'll get a smile, someone will ask how your day is. All those simple things that make an experience one you want to go back to."