Liquorice Moon Studios: making unique ceramics
In an era where low-cost, mass-produced items seemingly dominate the retail scene,   starting a business based on making time-consuming, handmade items may appear to be an impossible dream.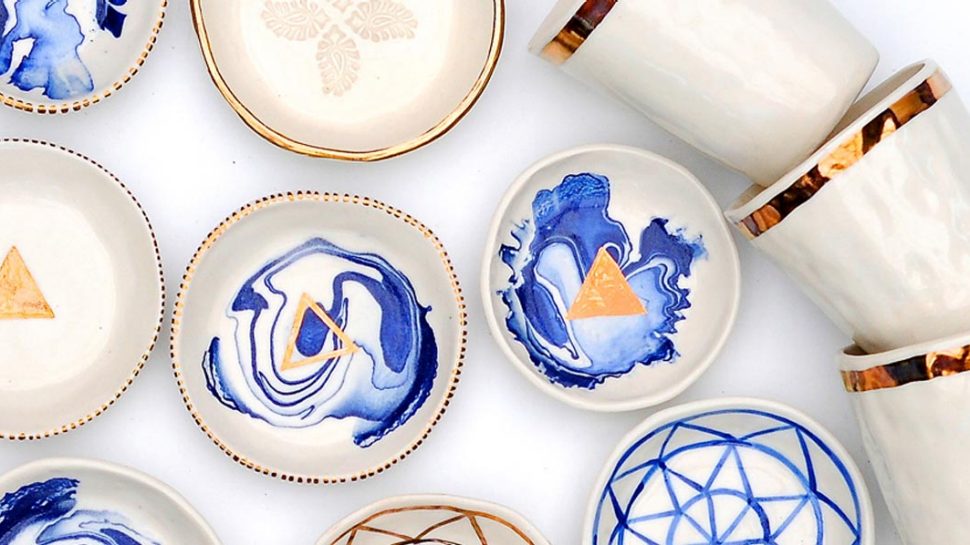 Yet Eve Simmons from Liquorice Moon Studios has proven that there's not only a market for handmade ceramics but a growing movement of people committed to buying items made with a personal touch.
Liquorice Moon Studios was born two years ago when Sunshine Coast local Eve Simmons was looking for a way to create a job that afforded her the flexibility to spend more time with her two children. With a background in other creative pursuits like face painting and photography, Eve turned to the pottery for inspiration. "I had this wild idea to teach myself pottery – had I known how difficult it was going to be, maybe I wouldn't have jumped in so quickly," says Eve.
Operating from her home studio in Buderim, Queensland, Eve soon found that working with ceramics suited her and quickly turned her passion into a business. Selling a range of bespoke mugs, bowls, plates and bangles, Liquorice Moon Studios has a cult following with people who value the unique nature of Eve's range of handmade home décor and accessories. "Pottery is quite addictive, so once you fall in love with it, it's hard to imagine yourself doing anything else," says Eve.
Selling ceramics is very different from the art of making ceramics, and with little experience in online selling, Eve turned to online peer-to-peer marketplace Etsy to reach customers. With a focus on handmade and vintage items, Etsy was the perfect e-commerce platform for Eve to sell her rustic-style wares. "Etsy has been amazingly helpful. It has allowed me to communicate with my customers easily and in a more personal way than some other websites do. Etsy really connects the maker and their story to the buyer, and this makes the online experience much more enjoyable for everyone," says Eve.
While Etsy has proven to be a boon for makers wanting to connect with a global audience, so has the explosion of social media platforms, especially Instagram. "Using social media has enabled me to reach a global audience. I now sell my pottery worldwide! Approximately half my orders come from Australia, the remainder are primarily from the USA, followed by Europe and Asia," says Eve.
But what about the fragile nature of Eve's wares? How does she manage to successfully ship breakable items all over the world? Eve believes that taking the time to pack items properly is key. After a little trial and error, Eve has found a way to ship her items so breakages are kept to a minimum. "When selling ceramics for a living, packing my orders correctly is fundamental. All my pieces are different sizes and weights, so I need to find a balance between packing them well and staying within the postage weight brackets so that I can determine the postage costs for my customer. If the occasional breakage occurs, my customers contact me and I send them a replacement free of charge," explains Eve.
As with many other small business owners, Eve works hard but also has a genuine passion for her work that carries her through the challenging moments of running a small business. This passion shines through not only in her range of homewares and jewellery but also in the finer details of her business. With each item beautifully wrapped, Eve adds a little magic to each and every one of her orders.
"To be doing what I love every day is such a blessing and I am forever grateful to those who support me. Every item I sell is gift wrapped and I always add a hand-written, handmade card to say thank you for the purchase. For larger or special purchases I often add in an extra bangle, bowl or one-off item. When buying online I feel it's the little touches that count, so I try to make each transaction as personal as I can…from my heart to their home," says Eve.
Eve's packing tips for shipping fragile items
Each item needs to be wrapped in such a way that if it were to drop from one metre high during transit, it won't break.
Wrap each piece in double-sided bubble wrap, ensuring that all sides are well protected.
Make sure that none of the items directly touch the edges of the box.
For items like mugs, stuff bubble wrap inside the handles.
Ensure items don't move around in the box by filling gaps with crushed, recycled paper.