Why we need your help

Over the last financial year (FY18) alone, there were 114 postie related motor vehicle accidents across Australia. We're asking drivers to slow down, toot their horns and be wary of posties and pedestrians by carefully checking all directions before reversing from their driveways.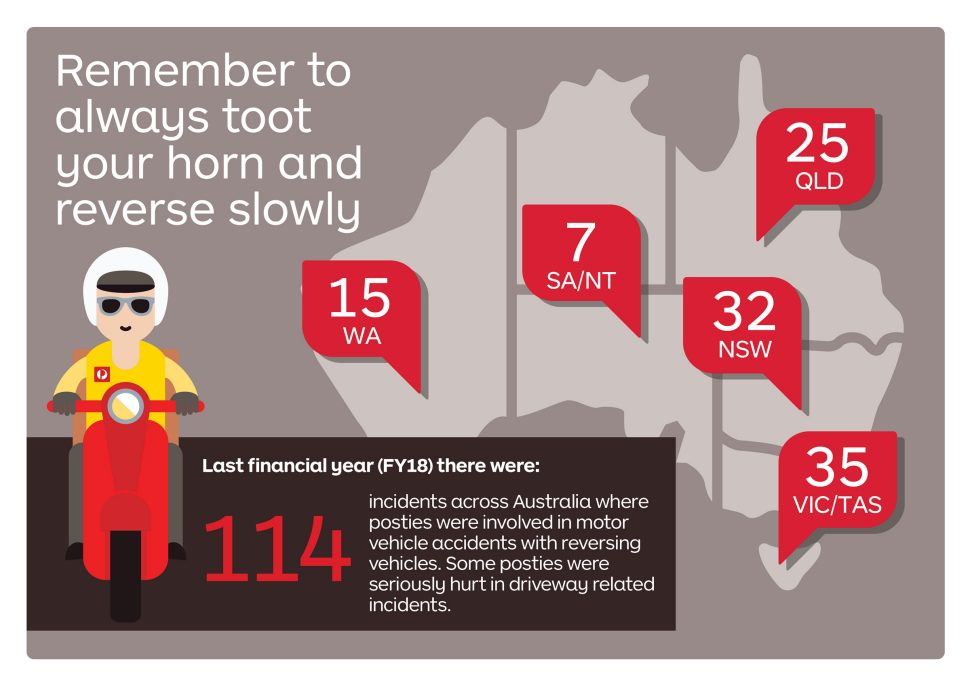 Download our Direct Mailer (PDF 1.61MB), which was distributed to more than 400,000 households in 14 postcodes identified as hot spots for incidents involving reversing cars over the past 12 months.
Keep your postie safe
More than 9,000 posties across the country deliver to some 11.3 million physical addresses each business day. Posties spend most of their working days on the footpath or the road.
Some of the biggest risks that posties face while they deliver your mail are blind driveways, roundabouts and unrestrained dogs. It's not just our posties that face these dangers either. Other people, including children and pedestrians using footpaths and cyclists on roads could be in harm's way too.
We make sure our posties have protective equipment, high visibility flags and clothing to make them easier to spot. They also undergo comprehensive safety training. Above all though, we rely on the entire community to help look after their safety.
Find out how to spot potential hazards around your house. Download an illustrated hazard spot check (PDF 585kB).
How you can help:
When you reverse from your driveway, back out slowly, toot your horn and carefully check in all directions