Being safe everywhere
Our vision is for zero injuries, zero harm to anyone and zero tolerance of unsafe acts or workplaces. And it's our reminder every day that safety starts with each of us.
For us, safety is a core value. To put it simply, we'll always prioritise safety - no matter what. And we've got robust safety programs, training, policies, management plans and plenty of other resources in place to make sure everything's covered.
Here are just a few examples of how we've got safety covered:
Our health and wellbeing program aims to help our people feel safe, well and supported in the workplace. It gives them access to:
confidential 24/7 counselling (available to eligible family members too)
discounted health cover and weight loss programs
fun, social health and wellness activities
educational events and workshops
health assessments and online resources
With over 11,000 vehicles travelling more than 350 million kilometres each year, we've got a big responsibility to everyone on the roads to drive safely.
Just a few ways we tackle road safety for our transport managers, staff and contractors include:
training programs on alcohol and drugs, managing fatigue and reducing the risk of injury
random drug and alcohol testing for drivers
education around common hazards, including wet weather, roundabouts and blind driveways
Specialised training programs have been trialled to teach posties how to read a dog's body language and safely manage canine encounters.
As a result, our posties have changed the way they interact with dogs.
Our safety leadership program helps empower managers, and inspire others, to have quality safety conversations, share personal stories, and to get involved and 'own' safety.
It's about making sure that instead of just complying with a policy, or participating in a training program, safety is firmly embedded into every decision and as a personal value of our people.
Each year we hold 'Safety Time' discussions in all our workplaces and together make tangible commitments to keep ourselves, each other and the community safe.
With annual themes like 'permission to pause' and 'I am for zero', it gives us a dedicated time to stop, speak up and make safety-related commitments that are relevant to our specific roles and workplaces.
No matter where they are or what they're doing, we're adamant about providing our people with equipment and protective gear that meets or exceeds all required safety standards.
And we make sure that safety is never compromised in the maintenance or use of any of that equipment or gear.
Through this program, we work to identify, report and address safety issues.
In particular, it has helped us work together with local councils to report hazards affecting the local community, such as potholes in footpaths or fallen tree branches.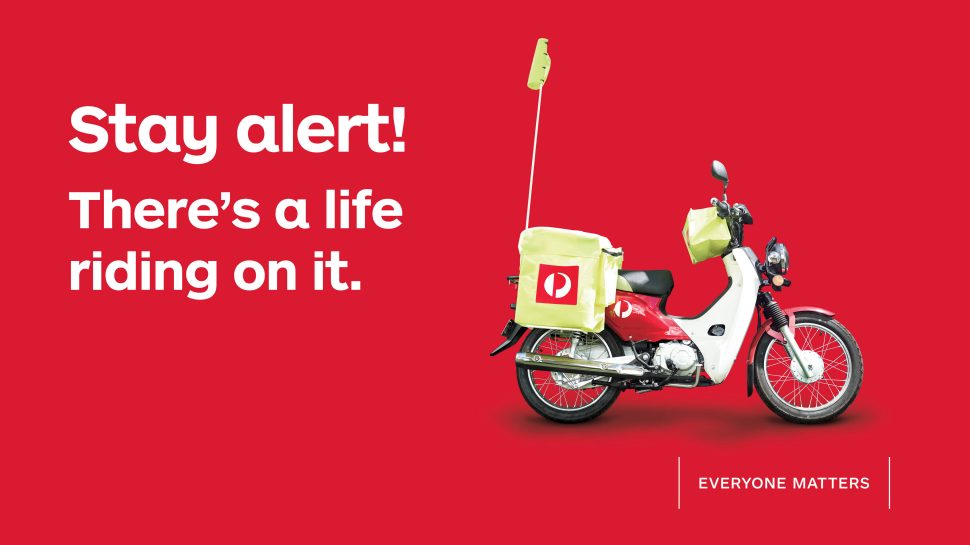 In Australia, three posties are injured in motor vehicle accidents every workday. One injury or near-miss is one too many, so we're asking the public to be alert, slow down and remove distractions when driving.
Top tips to avoid accidents:
Put your mobile phone out of reach when driving
Slow down when approaching roundabouts
Use your mirrors and check your blind sports for motorcycles and cyclists before turning or changing lanes
When reversing out of your driveway, toot your horn and move slowly
Keep your dog confined to your property
Keep your dog on a leash when off your property

More information:
Remember to always toot your horn, reverse slowly and pay attention.
And if you have a 'blind' driveway, which means that from your car you don't have a clear view of people - or posties - coming down the street (and they don't have a clear view of you), then you need to be especially careful.
Always make sure your dog is restrained away from your letterbox, gate or front door, where visitors and posties or delivery people might need to gain access.
Keep your garden path and footpath clear of things like gardening tools, bins, kids' toys, fallen branches and piles of leaves.
Make sure your letterbox is easily accessed, free of sharp or jagged edges and isn't blocked by any overhanging branches, shrubbery or slippery surfaces.
We ask our posties and drivers to follow some simple tips around roundabouts, which you might like to apply too:
Observe. Look well ahead and use your mirrors.
Anticipate. Consider potential threats and what could go wrong.
Respond. Reduce your speed or get ready to brake.
Get in touch
If you notice a safety-related incident involving any aspect of our operations that you think we should be made aware of, please let us know.
Contact us via the Customer Contact Centre on 13 11 18.