Managing the 'eCommerce Christmas' together
Towards the end of a year where online shopping well and truly accelerated, we're now in the midst of an unprecedented 'eCommerce Christmas'. This is the moment to deliver on your customer experience promise – and take the opportunity to retain a growing number of online shoppers in the New Year.

Video: In a high-vis vest, a slim bearded man views crates on conveyor belts. Surrounding the belts are rows of full bookshelves.
Seated, the man is interviewed beside bookcases laden with books.
Text: Wayne Baskin, Deputy CEO & CTO, Booktopia.
The Australia Post logo sits in the bottom right-hand corner of the screen.
Audio: Wayne: In the lead-up to Christmas, I think we're gonna see a bigger peak as we, you know, get closer and closer.
Video: Two male workers scan books. Crates move along a conveyor belt. A male worker collects a book from a shelf, places it in a crate, then moves the crate along a belt. Wayne is interviewed. Another male worker sorts books.
Audio: Wayne: We are lucky that we've got some automation that is coming live in October just before the peak hits. And we're going to be relying on that automation to double our output out of the distribution centres.
A good tip in managing these peak periods is just to take every day as it comes, to make sure that you've got your customer promise right, and that you don't try overexceed what your capabilities are.
Making sure that you're only getting the number of sales through the door that you can actually service is very important, not to disappoint your customers.
Video: Australia Post parcel boxes are stacked. A tall warehouse lifting vehicle reverses between a narrow gap flanked by high shelves.
An Australia Post truck leaves a facility. A forklift loads parcels in cages into a truck.
Wayne is interviewed.
Audio: Wayne: Providing Australia Post with our forecasts and our planning is really important, and it allows them to help us during peak periods. Letting them know the number of trucks we need, the number of cages we need, even the number of parcels that will be coming into their facilities, we find really helps them plan for our throughput.
Video: In his vest, Wayne moves through the warehouse. He greets workers. He views crates by an Australia Post box.
Audio: Wayne. It's extremely exciting - I'm looking forward to it and we're looking forward to the challenges that it's gonna throw at us, but hopefully the peaks we've seen through March, April, May, and now August, September, are gonna leave us in good stead for the Christmas peak.
Video: Workers load parcels into an Australia Post van.
Text: Delivering for Business. Delivering for Australia.
The Australia Post logo appears on a red screen above the URL: auspost.com.au/business
Audio: Female voiceover: Delivering for Business. Delivering for Australia. Australia Post.
Key points
Australia Post has increased network capacity in anticipation of further volume growth
How you present your parcels can impact how efficiently they move through our network
Over the last few years, the peak holiday shopping season has represented an annual high point for online retail.2 But the pandemic has powered an eCommerce revolution in 2020, breaking 'peak' volume records again and again.3
Parcel growth from July to September was more than the growth for the entire year just two years ago, with eight million households having shopped online, including 1 million new households since COVID began.1

The Christmas rush has come early
There's no doubt we're in the midst of yet another recording-breaking surge in demand. In October the momentum of parcel volume growth continued. There's been over 130 days this year, where more than 2 million parcels have entered our network.4

"We are hurtling towards our biggest online shopping peak ever," said Australia Post Executive General Manager Business, Government & International Gary Starr, in his opening session at Online Retailer FUSION 2020.3 "This will be a Christmas like no other."
Starr was joined by Kogan.com founder Ruslan Kogan, who was enthusiastic about the eCommerce trends we're seeing: "it's going to be an eCommerce Christmas." Having already seen volumes soar as much as 184% year-on-year for the week ending October 161, Kogan expects November to be the new December.2
Asked how his business will manage, Kogan said "We've got over a dozen distribution centres Australia wide. Many of them are working around the clock. We've had a huge focus on ensuring we build the right inventory levels to service the huge eCommerce demand." He added, "With the Kogan.com Marketplace, we're giving Australian businesses the opportunity to speak to our customers (and) we're saying to them, 'be stocked up'."
Meanwhile, Australia's largest online bookstore Booktopia has adjusted to 'peak demand' being the 'new norm' over the course of this year.
"We've been at what we call Christmas peak demand since October 2019, shipping over 30,000 units a day out of our distribution centre," says Booktopia Deputy CEO and CTO Wayne Baskin. His three-year distribution centre automation project will help them double that capacity for this Christmas, and also added another 3,000sqm in fulfilment space.
Keeping customers happy during peak demand
"Major events on the eCommerce calendar have a significant impact on our parcel volumes," says Starr. Last year, Black Friday and Cyber Monday set new peak records when that sales week recorded 31.6% year-on-year growth.2
But this year, October's events have already exceeded expectations. Vogue Online Shopping Night (October 6) volumes rose 52% year-on-year, and Amazon Prime Day (October 13-14)4 increased 53%.
For endota Spa, the two weeks before Christmas tend to be the busiest time of the year for spa product gift purchases online.
Knowing this may not meet Australia Post's Christmas sending dates, they've developed a creative solution – an 'eGift guarantee' that ensures last-minute shoppers can still share their gift at Christmas. Within endota's eCommerce checkout, customers can choose to send an email with a 'little sparkle, love and joy' to their gift recipient on Christmas Day, hinting at what is to come.
"They'll get a lovely email on Christmas morning, and then they'll get the added bonus of getting something actually delivered to them," says Alana Adkins, endota Spa Brand and Product Marketing Manager.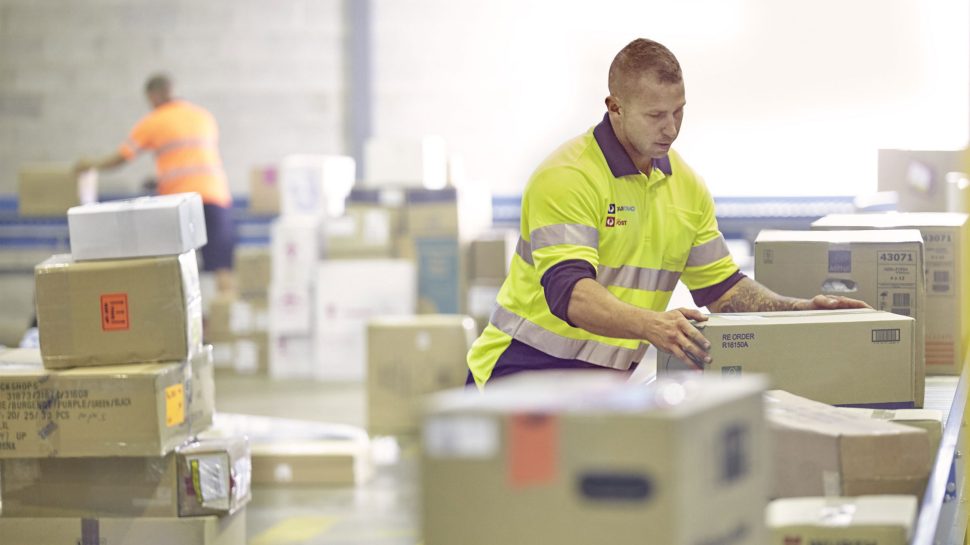 Help us deliver a great customer experience

In order to cope with a record-breaking holiday period, we've worked hard to increase our network capacity by adding:
3,000 additional road vehicles during peak, for a total of 18,000 – a 20% increase5
18 dedicated air freighters and as many as 66 delivery flights per day5
47 new delivery sites1
30 additional Post Offices1
5,000 more staff to help with parcel delivery, and assist in Customer Contact Centres and Post Offices3
New options for parcel collection1
To reduce the pressure on our parcel delivery drivers and ensure we can still deliver on your customer promise, we've also retrained 2,000 posties to deliver small parcels.7
"We're doing everything we to manage the extraordinary volumes," says Starr. "But Australia's largest online retailers can also help our network to run as smoothly as possible."
Here are four things to bear in mind as momentum continues to accelerate.
1. Separate Express Post and Parcel Post
When customers choose express shipping, they expect a faster service. But to make that as efficient as possible, it's important to separate your Express Post and Parcel Post items for pickup.

2. Flex your use of pallets and ULDs
With such a remarkable increase in volume, we're running short on the number of ULDs we can provide customers. So we're asking some businesses to use pallets instead.

"We know it's been a huge change for our customers, and we really appreciate people working around that with us," Michelle Francis, Australia Post Head of Service, Business, Intermediaries & International says. "Without that co-operation, we wouldn't have been able to flex our network the way we have. Everybody's worked really well together to do that."

3. Separate large and small items
To make the most of our network – including our 2,000 retrained posties – we've developed specialised sorting capabilities for small parcels at many of our facilities. That's why you can help us by dividing deliveries into small and large parcels, so we can automatically feed smaller parcels into the postie network.

4. Use support tools
The fastest way to lodge an enquiry with Australia Post is through the Business Support Portal. This self-serve portal can help you to find solutions to many customer enquiries 24/7, including:
Tracking information and delivery ETAs8
Recall or redirect lodged parcels9
Download Proof of Delivery documents or Safe Drop images10
Summary of your enquiries and be notified when more information is needed to progress your inquiry.11

You can also access live chat from 8am-6pm (AEST) Monday-Friday and raise enquiries to have deliveries investigated. This helps you quickly respond to customer queries, while also easing the call volume pressure on our Customer Contact Centre.
'Tis the season to be early
It's our busiest time of the year, so send your parcels as early as you can – and by the below dates – to give them the best chance of arriving time.
We'll still deliver items sent after these dates, but they may not arrive until after Christmas.

Sending within Australia
Send Parcel Post items by 12 December 2020
Send Express Post items by 19 December 2020
Sending internationally
We recommend sending by the below dates for major destinations (Standard Post):

USA, Canada, UK, and Europe: 16 November 2020
Most of Asia: 23 November 2020
New Zealand: 27 November 2020
Please note that our recommend post-by dates do not allow for customs delays, which are outside our control. International deliveries may also be affected by rapidly evolving conditions as other countries continue adapting to COVID-19.
And in case you missed it, you can download our Preparing for peaks in online shopping: A toolkit for business (PDF 6.8MB) for more insight into how you can make it as easy as possible for your parcels to move through our network.

Preparing for peaks and surges in online shopping: a strategic toolkit for your business provides practical information on best practice parcel preparation to help get parcels to your customers as quickly as possible.