Chic sheets the order of the day for Melbourne entrepreneur
The idea behind The Sheet Society is simple – design beautiful bed sheets that can be mixed and matched. Three years since launching the business in 2017, Hayley Worley has taken on the big linen giants and built a thriving online and bricks and mortar presence with a loyal customer base that has grown exponentially during COVID-19.

Key points
Hayley Worley founded The Sheet Society to create beautiful bed sheets that could be mixed and matched.
 Part of its success lies in its sustainable business practices of no plastic packaging and using natural fibres.
The Sheet Society has seen a 338% increase in sales since the pandemic began.
Future plans include moving into a bigger warehouse, a physical presence in international markets and opening a retail store in Sydney.
Hayley Worley has vivid memories of visiting department stores and feeling uninspired by the sheets sets that were wrapped in plastic packaging. All the bed sheets were also only available in sets which meant that people couldn't just buy the pieces they wanted separately.
Having worked in clothing production and design for over 10 years, Hayley identified a clear gap in the market where people's linen choices could also be an extension of their personal style. The Sheet Society launched in 2017. At the time, Hayley was still working in a day job and packing The Sheet Society orders at night.
Her mission is clear - to inject style, colour and comfort into bedrooms with everything in the range sold as separates. The Sheet Society's bed sheet range reflects trend-driven colours, designs and fabrics.
Their signature Eden Cotton sheets are made from 100% long-staple cotton and the Eve linen sheets are woven from French Flax. The brand also boasts an impressive trend-driven range of quilt covers and pillows that come in delicious fabrics like corduroy, waffle and quilted jersey. The colour palette is gorgeous with shades like Terracotta, Hunter Green, Charcoal and Rust.
"I wanted to bring a little more style into the room people spend most of their time in," Hayley says. "We've tried to fuse that feeling of wearing a new outfit for the first time with the feeling of getting into bed with new sheets. This is our idea of heaven!"
Australians fell hard for The Sheet Society and Hayley's days quickly filled up with logistics and administrative tasks, all of which she handled on her own. She hired a cheap storage unit in the city so she could grab the orders on her way to work and pop into the Post Office during her lunch hour. Soon she was working weekends and most evenings – and loving it.
"It obviously took up a lot of my time and my social life really suffered," she says. "But I was passionate about it so it didn't feel like hard work. It was also different from my day job and something I was doing for myself."
As sales steadily grew over the next two months, Hayley handed in her resignation at her day job to focus her attention on disrupting the sleep industry.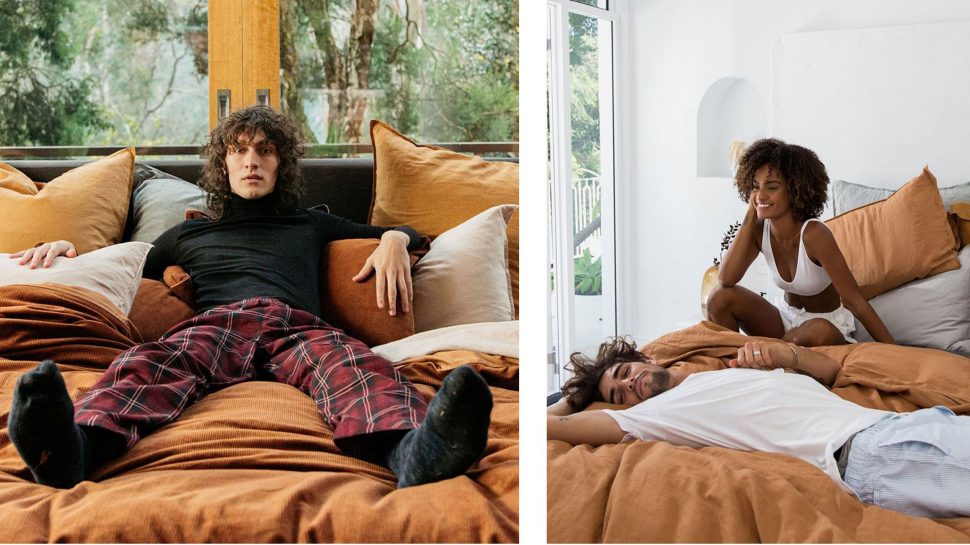 Hitting up the right customers
Harking back to her own unsatisfactory experience buying sheets, Hayley decided to aim her product at people in the 18 to 30 age group. She noticed that no other bed sheet brand was talking to this group in a quirky way so she moved to start that conversation.
Her instinctive understanding of her customers guided her to craft clever marketing campaigns that steered away from stock standards images of perfectly made beds in pretty rooms.

"Our images portray everyday guys and girls in a bed with rumpled sheets," she laughs. "We love playful and cheeky images. If I saw that image when I was scrolling through Facebook or Instagram, it would make me laugh and remind me that I needed new sheets! We've had an incredible response from that demographic."
"In fact, our biggest business win is our returning customer rate, which is a testament to our amazing product and service. We have nearly 2,000 five-star reviews with many saying, 'I'm never buying sheets from anywhere else ever again.'"
Part of that success lies in The Sheet Society's sustainable business practices. The cotton and linen sheets are farmed from natural fibres, which make them biodegradable. The sheets are stone washed to help preserve their best features and then sent to their new homes in plastic-free, recyclable packaging. According to Hayley, more Australians have welcomed The Sheet Society into their homes during COVID-19.
"We've had a 338% increase in sales since the pandemic began. Most of our customers have secure, full-time jobs and working from home has compelled them to refresh and create a new sanctuary in the bedroom. We're fortunate to be in the right product category during this time. We're now set to turn over $4.4m in revenue which just blows my mind!"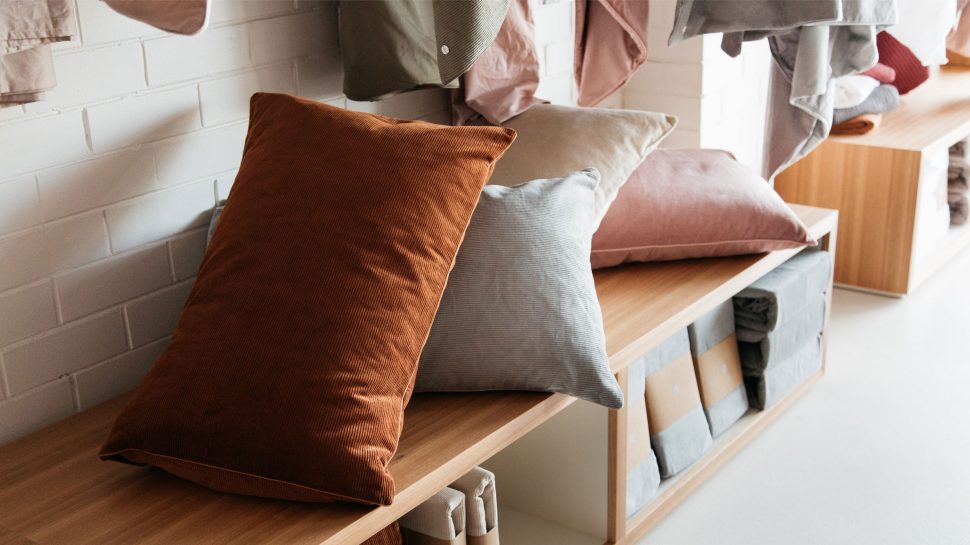 Riding the wave of demand and opportunity
The Sheet Society moved into its first warehouse and store in Melbourne early this year. The business now handles its entire fulfilment in-house and this was a crucial factor in enabling the team to adapt to the recent growth in new customers.
"We've made a huge effort to dispatch orders the same day and provide an exceptional level of service," Hayley says. "Receiving more orders meant we sold through most of our inventory so we had to switch to a pre-order process to convert the extra traffic."
The other factor behind The Sheet Society's strong customer service is its choice of delivery partner. Hayley says Australia Post has supported its journey with an easy set-up and good small business resources.
"We ship domestically and internationally with Australia Post. Keeping all our orders with one provider makes things really easy. Australia Post has also been incredible through these tough times."
"The parcel network understandably saw a huge surge in parcels but we received constant updates on performance and were told of any delays in advance. Our regular Postie was also such a trooper in coping with all our extra deliveries."
Hayley was also quick to jump on other opportunities to grow the business like targeting digital marketing campaigns to a slightly older demographic of shoppers who weren't able to shop in physical stores.
When businesses impacted by the pandemic started standing down their people or reducing their hours, she offered them project-based or freelance roles. From a senior graphic designer at well-known company to a trend director who had worked with some of Australia's best brands, Hayley says they would never have been able to work with "this calibre of people" otherwise.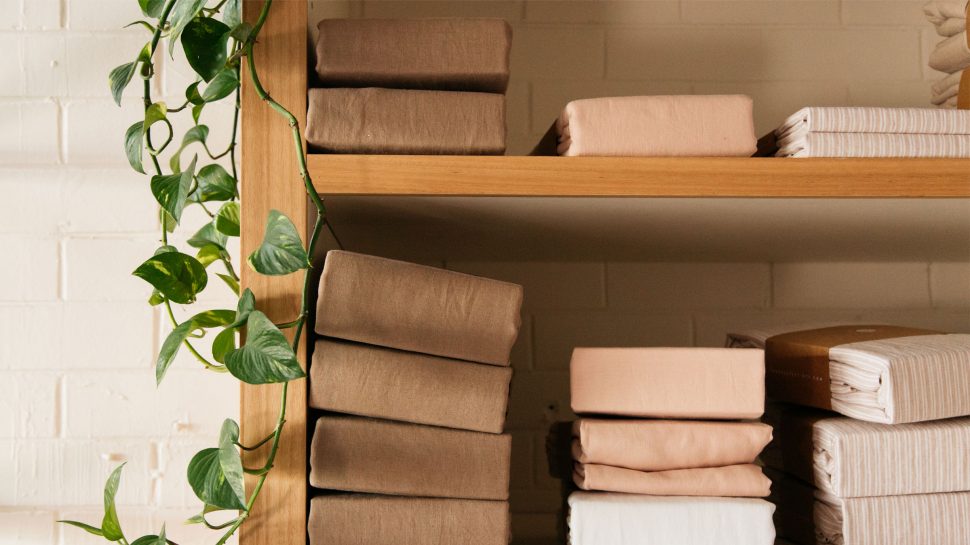 Getting back to a bigger business
The Sheet Society is one of many online businesses that have thrived during the pandemic and Hayley believes this indicates how well positioned these businesses are in meeting customer needs. In fact, she's already upgrading The Sheet Society's technology to make online shopping easier.
"We recently launched our Bed Builder online platform where customers can create their own dream combination of bed sheets. We're now working to make it possible for customers to view their creation through augmented reality from the comfort of their own bed!"
While that is in progress, Hayley is looking forward to getting back to business as usual. She has big plans to move to a larger warehouse and is the midst of planning The Sheet Society's launch in international markets.
"We already ship internationally but we're now looking to offer a more tailored shopping experience for each international location. We're setting our sights on the UK market where we're looking to warehouse and ship locally to provide a better experience."
"There's a tendency for eCommerce brands to just add on an international solution to their current operations. We're going back to the drawing board before penetrating any new markets to make sure we get it right."
"We're also looking forward to seeing our Melbourne store continuing to trade well and hopefully we'll be able to open a retail store in Sydney very soon."