Attract and retain new online shoppers
Online shopping habits changed when COVID-19 restrictions forced store closures. The ensuing eCommerce spike included an 80% year on year growth for the eight weeks following the WHO's announcement of the pandemic.1 April alone saw over 200,000 new online shoppers enter the market and Australia's biggest online shopping weekend ever.2 To attract and retain this new audience, you'll need to address traditional online shopping barriers.

Key points
COVID-19 restrictions led to significant growth in eCommerce sales.1
Many shopped online for the first time, while existing customers changed buying habits.1
Free shipping, fast delivery and easy returns can help attract these shoppers.
Online shopping numbers skyrocketed as COVID-19 forced Australians to spend more time at home.1 Unable to go to work or visit friends, family and retail stores, shoppers broke online shopping records.
Growth for the eight weeks following the WHO's announcement of the pandemic was up 80 per cent year on year (YOY).1  According to the Australian Bureau of Statistics, eCommerce saw a 26% month-on-month rise in April.3 Also in April, we saw over 200,000 new online shoppers enter the market, and a million more people overall shopping online every week when compared to the average in 2019.2
Between experienced digital consumers and eCommerce newcomers, this shift to digital purchasing looks set to stay. According to Boston Consulting Group, "a third of Australian consumers say that they will increase spend on digital purchases post COVID-19, including 34% of Millennials and Gen-Z, and 31% of Baby Boomers and Silvers."4
A recent Australia Post survey also confirmed Australian consumers expect to keep shopping online more now – and they're also looking to 'buy local'. 5 Just over a quarter (26%) of all online shoppers said they're trying to buy more from Australian-based sites and businesses than in the past, 30% are trying to buy more Australian products, and 23% are trying to buy from local businesses.5
Alex McBride, founder of online watch producer The 5TH, knows this increased online traffic brings new opportunities. "There's been a huge surge in people browsing online on their phones and computers, whether they're shopping for our products or others, that we can capture," he says.
Differentiate your online experience
McBride says communication is key to capturing and retaining the increased number of online shoppers, especially those just getting used to making digital purchases.
"Customer service is the best way we can make sure people can have a good experience," he says. "Making it easy to ask us questions, and providing a quicker response. We want to alleviate any anxiety or uncertainty in their customer journey."
As well as adding staff to support that customer service, McBride says the COVID-19 pandemic helped him put his company's operations into perspective.
"We've really tried to simplify our business," he says. "We're just focusing on the basics online – a good website experience, good photography, building an emotional connection to the product. All the things we probably should've focused on more in the pre-COVID world."
"In an increasingly crowded marketplace, it's important to plan and target eCommerce marketing activities across different channels," suggests David Cervelli, Innovation Manager for DMX, a program from Australia Post's innovation team that helps small businesses implement digital and physical marketing strategies. "You need to grow your pipeline of new customers, but also encourage repeat purchases, loyalty and advocacy."
He says regular content marketing on social channels including Facebook and Instagram, as well as combining digital with physical channels like direct mail, is a good way to help build awareness and trust with prospects. "Direct mail can be a surprisingly effective way to target and personalise messages. And it's tangible – which means mail can connect with people like no other channel, especially in times like this."
He adds, "don't forget the basics: be consistent, solve customer problems and use the channels your customers use."
If you want to replicate in-store service online, tools like Facebook Live, Instagram streaming or video calls can help you personalise the experience.6 For example, fashion retailers are streaming staff styling sessions to show off new collections, and furniture stores are using video conferencing calls to walk customers through showrooms.
Don't discount the delivery experience
Despite a huge increase in the number of online shoppers, many traditional eCommerce issues remain. Having a fantastic digital experience while browsing and purchasing is important. But it can be overshadowed by a poor delivery experience.
This is in part due to what psychologists call The Recency Effect. More recent information can have a greater impact on forming an opinion7 – and delivery is the final stage of an online purchase, making it the most recent touchpoint in the experience.
Keeping customers regularly informed with SMS or email delivery notifications and live tracking can help strengthen trust in your brand8, while the unboxing experience – including packaging and presentation – can provide a visual point of difference.9
If you want to capture a bigger share of this growing customer base and retain their loyalty, here's three key considerations.
1. Reduce the impact of shipping costs
One of the biggest issues customers still have with online shopping is the cost of shipping. In April, a national survey of 2,000 parcel recipients showed 35% of shoppers said shipping charges were too expensive.10
Delivery costs can be an especially strong sticking point for those used to making in-store purchases, where the price on the tag is the price they pay at the till.
Can you offer free shipping all the time, or establish a threshold of sales at which it becomes free? Or can you otherwise incorporate shipping costs in your pricing structures, so there's no extra charge?
2. Offer speedy, secure delivery options
Some customers may hesitate online when they worry about safe and timely delivery.
McBride says owning the delivery process, and any issues arising from it, is important to keeping customers happy. The 5TH, which consists of an online store in Australia and one in the United States, has focused on communicating with customers experiencing slow delivery times during the pandemic period.
Lodgement time is the key to optimising delivery speed. The benefits of quicker delivery options are nullified if you take too long to pick, pack and lodge the parcel. Consistent tracking notifications can also help reassure your customers at every step of the way – giving them visibility over expected delivery time when the parcel enters Australia Post's network, the day before delivery is due, and the morning of delivery.*
Australia Post's MyPost Business and eParcel online delivery solutions offer free online tracking and automated delivery notifications, for both sender and recipient. To enable recipient notifications, be sure to collect your customer's email address or mobile number with their delivery address, and pass this information on to us with your shipping information manifests/orders.*
In terms of delivery choices, customers are looking for convenience for both deliveries and returns. This includes secure lockers, timeslot delivery and no-contact options. You could enable customers to grant 'authority to leave', to reduce carding (and a subsequent trip to the post office).
Recent (March 2020) Australia Post NPS data suggests a 5-point improvement in NPS when customers receive a parcel with a 'safe drop' option and a 2-point improvement when a signature is not required.11
While 65% of Australian consumers told us recently the Post Office is their preferred alternative delivery point to their home address, 10% chose the supermarket, 9% the local newsagent and 6% a pharmacy.5
That's why Australia Post is currently adding hundreds of new convenient collection points (including supermarkets and pharmacies) across Australia through our Collect and Return network, and expanding the number of 24/7 Parcel Lockers.
3. Make returns simple
In April, a national survey of 2,000 parcel recipients showed 22% of respondents said it was too expensive to return a product.8 It's important to make the returns process as affordable and easy as possible.
As with shipping, free returns are a big drawing point for shoppers. This gives them peace of mind if they don't like a product or it's unsuitable, especially if changing their mind doesn't cost them a cent. But the process also needs to be easy. Offer convenient drop-off points, no-contact return options and consider including labels and return packaging in the delivery.
There's been a huge increase in the number of people willing to buy online.1 Now is the time to figure out how to attract and retain this new audience.
Attracting them starts with a strong first impression – how well your digital customer experience can blend online and offline elements of shopping. But that has to be supported by strong delivery that makes a lasting impression on customers.
Easing anxiety about shipping costs, delivery speed and safety and convenient returns might be the key making the most of these new opportunities. And finally, a personalised online shopping experience will increasingly depend on data.12 To encourage their loyalty, set up secure processes to capture and analyse data to tailor future communications and offers.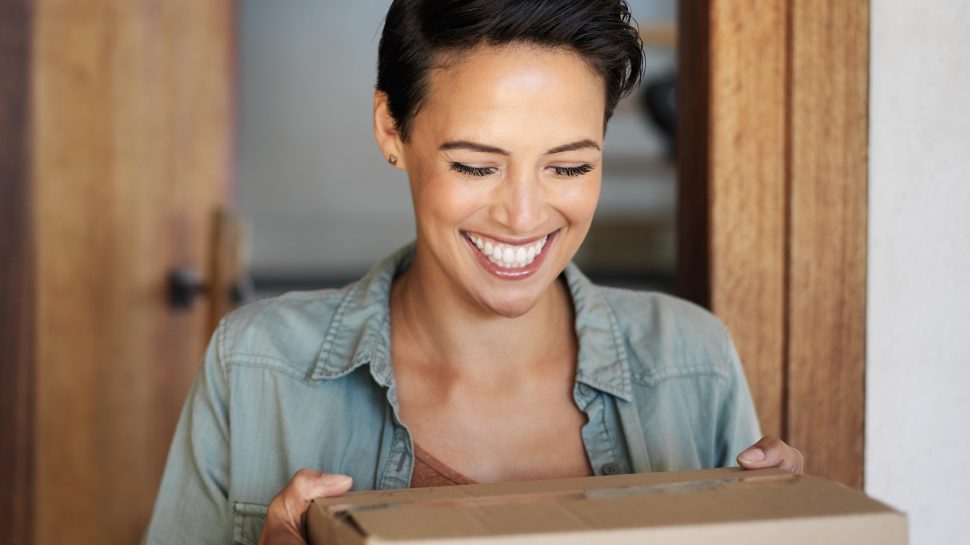 Subscribe to our Building Business newsletter

Read engaging business stories, discover new ideas, and learn about great offers in our monthly business newsletter.