How one mum's passion project grew into a thriving online business
Helle Warming's small business journey was inspired by her son, Lucas. When Lucas turned one he received a gift of a children's book that featured different types of cars and trucks – and it sparked an interest in all things car related. From that moment toy trucks and cars were Lucas' childhood passion.
"Everything he owned just had to have cars on it; all of his toys had to have wheels. He was addicted to playing with cars. He would walk into stores with me and immediately be drawn to anything that had something to do with cars," says Helle. "But the problem I had, is that often what stores had to offer with car themed toys and clothes wasn't always of a high quality – and quite often it was very expensive, considering they would not last very long."
Helle started searching high and low for toys that she could buy for Lucas, that she could be happy about spending money on. She wanted to find beautifully designed toys that would not only entertain her son, but that would also survive a toddler's play time.
A couple of Google searches later, and Helle had sought out a number of handmade and unique car toys for Lucas. At the same time she had been struck with the idea that she would like to start her own online store that would cater for the parents of kids who loved cars as much as Lucas does.
Just like that, Helle's one year old son had set in motion the events that would lead to her setting up and running her own successful small business: Lucas Loves Cars.
Seeking out suppliers
The range of toys stocked in the Lucas Loves Cars online store are made all around the world – but they're mostly produced and distributed by other small to medium sized businesses. Helle has never had ambitions to produce her own line of toys, and instead prefers to support makers who have the passion and skill to create beautifully crafted objects for children to enjoy.
"The people who are making these toys are doing an amazing job - there are some beautiful quality toys out there. I've got quite a few small Australian brands that I stock, as well as businesses from overseas," says Helle.
Since the launch of her web store Helle has noticed an increased demand for handcrafted children's toys. She says, "There are more small companies making handmade, high quality wooden toys now than there were when I started with the online store. It's really becoming something that people are understanding the value of."
But that perception of value hasn't always been at the front of potential customers' minds…
Turning away from the economy of mass production
Helle says that early conversations about her business did feature questions around why people would want to buy expensive toys when there are increasingly cheap options available from variety stores and supermarkets. She admits she had to explain the difference between her toys and the low cost options available.
In the years since launching her store, Helle has certainly noticed a consumer shift away from 'throwaway' purchases.
Helle says, "I think people are becoming more willing to spend money on high quality toys that someone has put a lot of thought and effort into making."
"If you're giving something hand crafted as a gift, it just feels beautiful – like you're giving something worthwhile. Well-made toys can be kept for longer, and handed down to younger children. People can really just appreciate these toys as beautiful objects in their own right," Helle elaborates.
Knowing the needs of your market
It's the little things that count when it comes to handmade toys, as Helle has learned. She says that there's always something intricate and important that makes handmade toys so special and worth their price point.
"I had a talk with one of my suppliers and he explained that one of my favourite small brands is officially rated for use by ages 1+ which is really rare for toys, because to be rated for use by one year olds the makers need to pre-drill every hole and use flat screws that don't have a pointy end so that kids can't hurt themselves if something comes apart. So there's a lot of work that goes into putting everything together perfectly with precision accuracy. Whereas on the cheap toys that you get from cheap stores… they just drill the things in. It seems that for the mass produced toys, if the pieces don't quite match it doesn't matter," says Helle.
She continues, "When you first look at toys, you might not understand those things but once you do start noticing the big difference around how the quality toys are made, you really begin to understand what makes them more expensive."
Treating every order as though it's a gift for the customer
Noting the importance of an unboxing strategy to enhance the customer experience for her online store, Helle likes to think of each order as a lovely gift that she's sending to the customer.
The packing table within her small warehouse office space looks more like the gift wrapping table at a high-end department store, with rolls of beautiful paper and ribbon mounted above a desk. A key part of the Lucas Loves Cars eCommerce success strategy is to offer gift-wrapping to customers to make it even easier for people to buy gifts for the children in their life from the niche web store.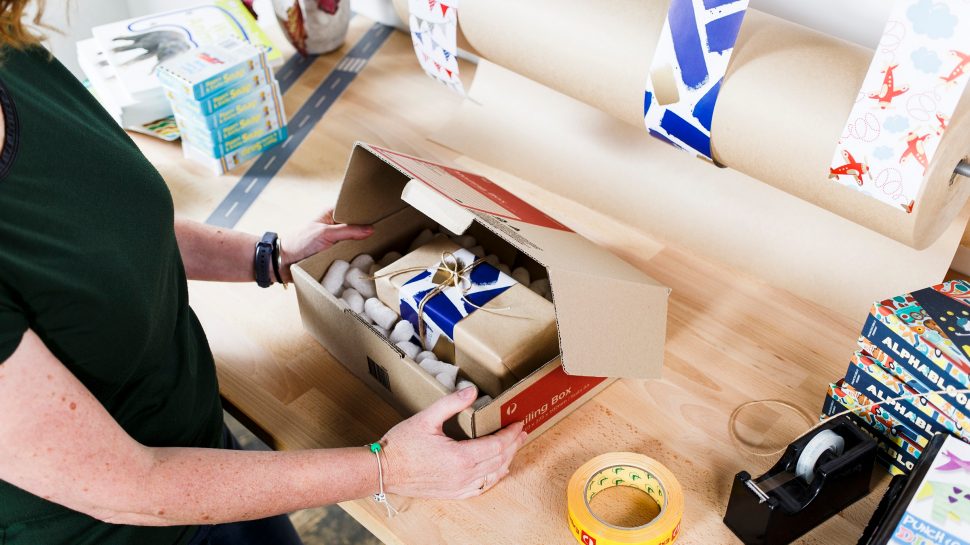 Every order is sent out with beautiful presentation, inside of a hand-stamped box. This allows Helle to make sure that the customer is not only receiving a thoughtfully prepared package, but that the toys contained inside the mailing box are kept nice and safe on their journey to the recipient.
Helle says that packing her customer's orders in boxes allows her to ensure they are much better protected for the sending process than if they were sent in a satchel. But it also makes the customer feel special to receive a hand-packed box full of goodies.
All orders made on the Lucas Loves Cars website are packed by Helle and picked up from her warehouse by Australia Post on a daily schedule. This allows Helle to create a flexible schedule that enables her to be available to pick Lucas up from school and free up her time for other tasks. She doesn't have to worry about planning her day around the opening hours of her local Post Office because each day "in a way, the Post Office sort of comes to her, instead of the other way around!"
Having customer a well-thought-through customer loyalty program tied to children's birthdays also helps to tap into the concept of gift giving to drive more sales for her business. That's why Helle created a 'Birthday Club' for her regular shoppers.
Tapping into local networks and the knowledge of peers
With no prior experience in running an eCommerce business, Helle started to research everything she needed to know to get her business off the ground. But being a self-taught marketer and website guru is something that Helle takes a lot of pride in.
From scheduling Instagram posts that fit neatly within her purposefully designed checkerboard feed aesthetic; to setting up targeted Facebook ads for her New Zealand based customers, Helle has come a long way since opening her online store.
Learning from other business owners and friends has been a key factor in the success of Lucas Loves Cars.
Facebook groups for business owners have been a handy resource for Helle. She says, "A lot of the stuff I'm doing is stuff that I'm learning as I go. I know that some of the things I'm trialling are things that other start up business owners are already doing well, and when I hear what they're doing I think 'oh yeah, I probably should have been doing that before!"
Helle adds, "But by being a part of a business group you can take those opportunities to learn from other people. Once somebody learns something and they share it within a group, then everyone else in the group gets to benefit from that insight and try it with their own business activity – and pass the knowledge on to others as well. We all try things and pass them on if they work… so we sort of feed information to each other."
Networking events for business owners have been a big help for Helle, too. She says that she prefers smaller business events with a more intimate atmosphere, as she finds it's easier to connect with people at those meet-ups than it is at large events and conferences. Local co-working spaces and business hubs such as Dream Factory, and in particularly, the She Will Shine community, have been a great way for Helle to find out about these events in the past.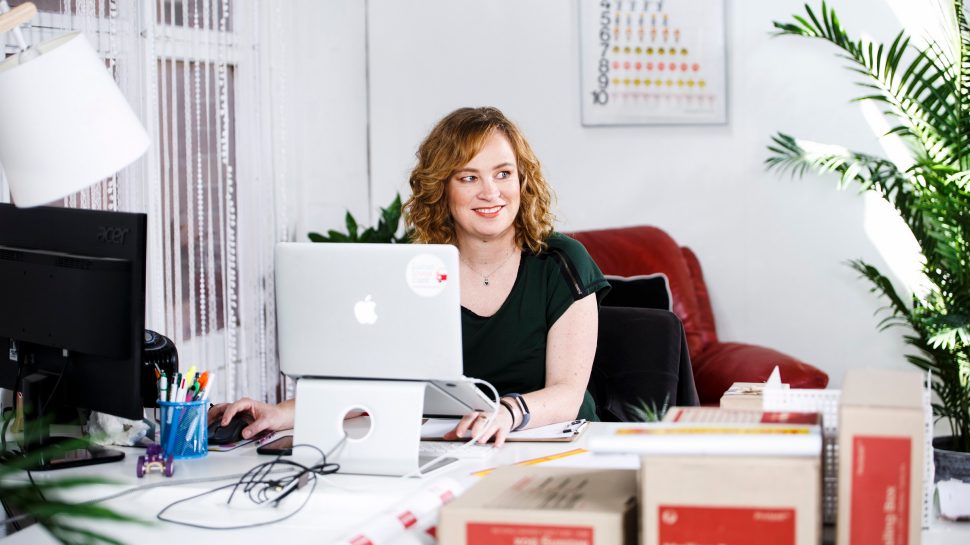 After three years of operation, Helle relocated her business' premises from her home office to a shared work space called Clik Collective in Kensington. It's a large warehouse with office and stock room space leased out to a number of start-up eCommerce businesses.
Being a part of this co-working space has allowed Helle to learn even more from her peers – because now she can chat to the other residents of the warehouse facility and tap into their insights while sharing ideas through casual conversation.
"When you're working by yourself, it can sometimes feel a little lonely. So being able to leave my office space and go into a kitchen area that I share with other small business owners is great; If I'm stuck on an idea, I'll take a little break for some fresh air and a cup of tea, and end up having a conversation with someone that understands exactly what I'm going through. And most of the time they'll have an idea to help me sort through whatever I'm working on."
Helle says, "I've learned a lot of what I know about Facebook advertising from the other Clik Collective residents. One of my neighbours in the space, Hayley from The Sheet Society, has helped me a lot with my advertising. It's been great – and it's so nice to be able to share that sense of community and be able to walk over to Hayley's space and tell her how excited I am when the advice she's given me has paid off."
Staying on track, and not slowing down
The future looks bright for Lucas Loves Cars. As Lucas grows older, he loves helping Helle to create product reviews for the business' blog. And when he's not at school he loves visiting his mum's office space and helping out – or sitting in his own special chair in the office to play and relax while Helle manages the day-to-day operations of her thriving business.
Helle continues to thrive amongst her peers at the Kensington Clik Collective, where she's able to work on and improve the strength of her business strategy every day.
As more customers experience the quality and value of the products that Helle is selling, she is gaining more and more positive exposure for her business. This includes attention from social media influencers, as well as magazines and other publications such as Woman's Weekly and Kochie's Business Builders.
Helle feels positively excited about the future of her business and its increasing popularity amongst the parents of Australia: "It's just so cool when you meet people and they've heard of your business, and they're following you on social media – they're following the journey of something you've built from scratch. It's really exciting and validating!"