Beginning Boutique's fashion-forward supply chain
Founder Sarah Timmerman says her fast-growing fast-fashion site has always made sure it pushes the boundaries when it comes to meeting customer expectations. So what's next for the homegrown brand with a global following?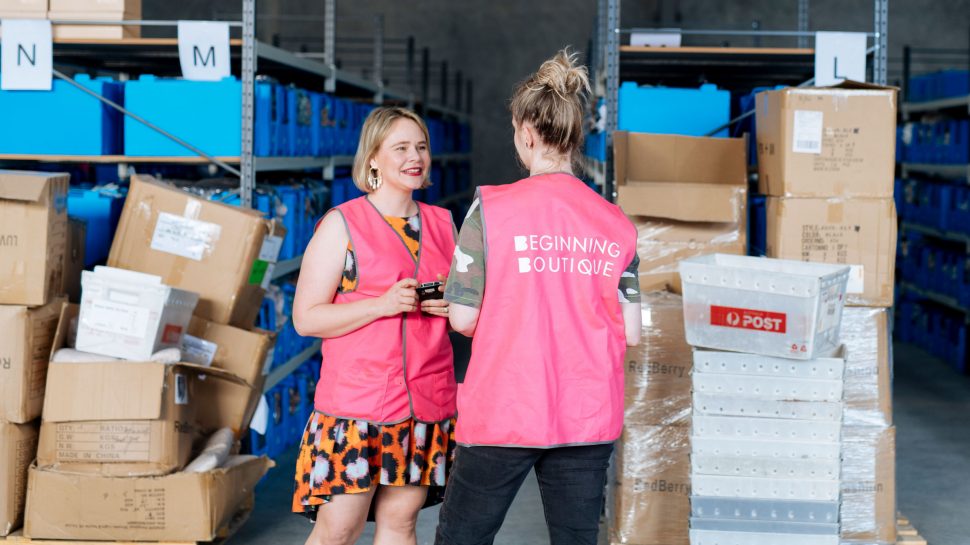 Key points
Beginning Boutique puts customers first with free returns and fast delivery
The business' creative approach to problem-solving includes expanding its range and creating an entirely new protective supplies business
Sustainability is a priority for 2021 and beyond
As one of Australia's most successful fast-fashion sites, Beginning Boutique has always done things a little differently. Founded in 2008 by Sarah Timmerman when she was just 21, it quickly became the go-to destination for Insta-worthy festival and party-wear.
When the pandemic started making headlines in March 2020, Sarah had just signed off on a photoshoot to launch her 2020 Coachella range. Things changed quickly for her business – and for her loyal millennial and Gen Z customer base around the world.
"We started to feel the effects of the pandemic early, because we ship a lot from overseas," she says. "We quickly learned that to be able to manage our supply chain, we need really open communication with our shipping partners. For example, Australia Post share regular updates on issues and solutions with us, so that we can be proactive with customers."
2020's lessons have been hard and fast for Sarah and her team – but fortunately they were prepared to adapt quickly.
"Beginning Boutique has been successful because at the heart of everything we do, we care about our customers," says Sarah. "From having fast shipping to making sure we have the right dress online for them, we always put her first."
She says her customers typically want their order yesterday.
"Australia Post is an indispensable partner for my business, because from a customer's perspective we are one and the same. It's this big circle, where the better the communication is between us, the better the experience is for our customers."
Quickly responding to new needs
When festival and party-cancellations put Beginning Boutique's fashion sales under pressure, Sarah and her team thought outside the box about what else they could do. And within just two weeks, the idea for selling personal protection equipment (PPE) online became a reality.
Sarah was inspired by a conversation with her sister, a junior doctor, about the shortage of basic protective supplies for frontline healthcare workers. She already had relationships with trusted suppliers, so AU Medic Supply was the answer: face masks, gloves, face shields and hand sanitiser were made available for express shipping locally and internationally.
Demand for PPE continued to come in waves throughout 2020. "We saw a spike in demand when Victoria went back into lockdown, and our fabric face masks were popular for making that transition into daily mask wearing."
Sarah worked closely with Australia Post to make sure AU Medic's range of hand sanitiser could be transported safely in bulk as it is flammable, after receiving an order for 200 bottles within hours of launching the new business.
"This was an experiment to see what we could get done under pressure, and it was incredible how Australia Post also adapted," she says.
"We are an excellent retail team with exceptional capability in this space. Ultimately, this was yet another product line for us. It was a mammoth effort but everyone saw why this needed to be done."
Adapting to COVID-safe needs also meant re-thinking Beginning Boutique's returns policy.
"We always offered flexible returns pre-COVID, and customers definitely appreciate being able to get a refund," says Sarah. During the pandemic, she extended the returns period to 45 days, and ensured returned goods were placed in 'quarantine' for two days on arrival into her warehouse.
Fast-fashion with a conscience
Beginning Boutique is now focused on contributing to another global challenge in 2021: sustainability. Sarah says she launched the BB Better commitment in late 2020, because she is deeply passionate about being a good global citizen.
BB Better focuses the business' efforts on environmental and social impact – including packaging, recycling and giving back to the community.
"We can all play a part in making the world a better place," says Sarah. "We've changed all our packaging to be compostable and biodegradable. We're also working on changing all our fabrications in our factories, and our warehouse is powered by solar."
Her goal is to have a carbon neutral business by 2025, and she is also donating 1% of all sales to charity.
"Making fast-fashion more environmentally-friendly can create a huge difference, much more than what I could do individually," says Sarah.
It also comes back to knowing her customer intimately. "With the bushfires and everything else happening in the world, they want to be more responsible with their choices."
A range for all destinations
Not one to stand still, Sarah has also expanded her fashion range into a number of different categories. Initially shifting to loungewear as demand emerged during self-isolation, she was always listening to customers to find out what they need.
"We'd also never sold winter clothing before, but having this wider variety will make us stronger as a business," she says. Party-wear purchases have also started to pick up, with fewer occasions making customers more conscious of "looking really amazing" – whether that's at an event, BBQ or the beach.
The expanded range will also help her meet the continued demand from her core market outside Australia: the US. "We've had huge success in the US, driven mainly by influencers and social strategies. And the future looks promising – Americans love the way Australian fashion encapsulates our lifestyle," says Sarah.
Fashion is a clear leader in Australia's eCommerce exports, with clothing and footwear comprising 27% of international parcel deliveries in 2019.1
"I'm eternally optimistic: we'll keep doing the best we can and we'll know if we're getting it right because our customer will still be shopping with us," she says.
"We've launched so many different product lines that we'd never considered before. And with the huge shift to shopping online, I feel really confident about my business. We just need to stay true to what we're doing, and make sure we don't take anything for granted."

Resources to help you adapt your business
Australia Post has partnered with Deloitte to create two useful guides providing insights and tips on navigating the changing eCommerce landscape.
The practical workbook and white paper have been built on four key pillars: visibility, flexibility, collaboration and control. These have been designed to help you understand the key to resilient supply chains, build a framework for managing risk, lay the foundation for growth after COVID-19 and more.