From first click to last mile: the shift to omnichannel logistics
When COVID-19 shut Australian stores, drove consumers online and disrupted supply chains, Australian retailers were quickly forced to rethink fulfilment. Now, they are reviewing store and online operation investments as we move into recovery. Australia Post supply chain expert Dr Carsten Sengpiehl discusses the advantages and challenges of omnichannel eCommerce fulfilment – and what it takes to make it really work.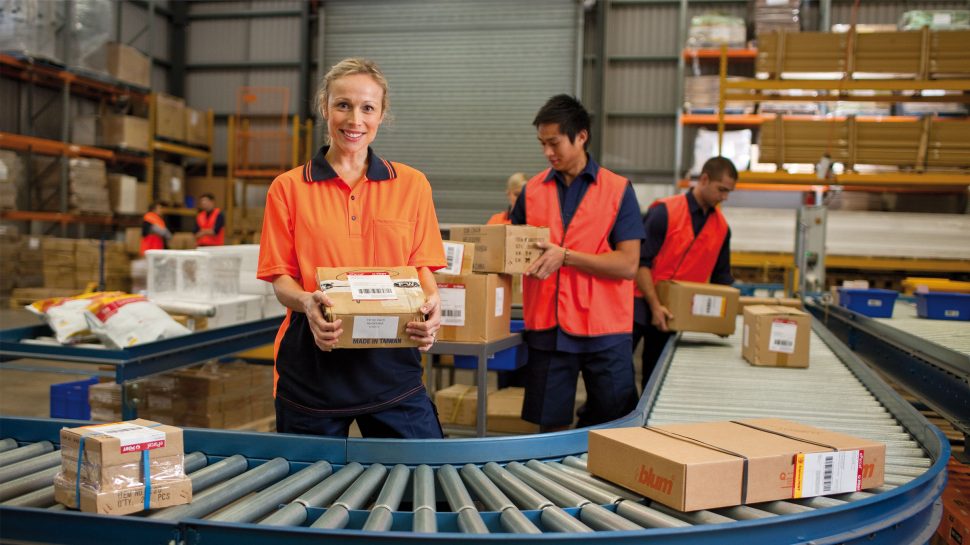 Key points
Omnichannel fulfilment brings sales and distribution models together.
Inefficient processes can impact total fulfilment costs.
New technology can help retailers meet customer expectations without eroding profits.
Few anticipated the immediate surge in online demand that accompanied the coronavirus lockdown this year. As online sales grew 76% year on year in April, Australia's retail inventory, fulfilment and distribution models came under extraordinary pressure. Even the market leaders struggled to keep pace with unprecedented demand.
With global supply chains disrupted, pure play online retailers running lean inventory models quickly saw stock levels plummet. This was especially seen with high demand items such as home office and exercise equipment, sanitiser and face masks.
Many bricks and mortar retailers quickly transformed physical stores into 'dark stores' or mini fulfilment centres in an effort to keep staff employed, sell inventory that was not available in centralised locations, and move stock that might otherwise gather dust in stores. This quick adjustment to more agile distribution models, as well as the supply chain risks associated with lean inventory and single sourcing, has been a steep learning curve for some.
As we move into the 'recovery' phase of the pandemic, changes in shopping behaviour are likely to gather momentum – if past experience is any indication. In the five years following the Global Financial Crisis (GFC), total retail growth fell to 3% by eCommerce grew at 21% – hitting peak growth in 2011 at 30%.

The pressure to manage eCommerce order fulfilment (and the associated inventory) across multiple sites, process orders quickly and handle reverse logistics is likely to increase.

As customers continue to demand greater choice, availability and speed – whether they shop online or in store – omnichannel eCommerce fulfilment models have emerged as a way to deliver goods more effectively and provide the best possible customer experience. For example, omnichannel retailers may invest in a centralised DC to fulfil store deliveries (B2B), a 3PL or dark stores for eCommerce (B2C), and also use physical stores as fulfilment sites.
A 'hybrid' approach to fulfilment typically includes two or more of the following fulfilment models.
1. Centralised Distribution Centres (DCs) or eCommerce centres
From small order volumes fulfilled from home or local storage facilities, to medium and large-scale DCs servicing both B2B and B2C volume or optimised eCommerce fulfilment centres, many Australian retailers tend to use a centralised approach.
Advantages
Good inventory control and visibility.
Lower pick and pack as well as despatch cost.
Standardised and easy to manage processes in a confined environment.
Reduced split order deliveries.
Disadvantages
Higher capital cost in space, equipment and systems to manage effectively'
Longer distances to customers can result in increased last mile fulfilment costs and lead times.
2. Decentralised Distribution Centres (DCs) or eCommerce centres
By setting up multiple state-based DCs, retailers can locate products closer to the end customer. This can help them meet demand for faster delivery – including next day and same day – and potentially reduce the cost of last mile delivery.
Advantages
Closer distance to customers can help reduce last mile fulfilment costs and lead times.
Inventory control and visibility through centralised systems.
Disadvantages
Increased capital expenditure on space, equipment and systems to manage effectively.
Multiple stockholdings can tie up cash flow.
Can be difficult to avoid split deliveries, which are more costly and may provide a negative customer experience.
3. Store fulfilment and dark stores
Even before coronavirus, some retailers in Australia had experimented with store fulfilment to support a centralised DC or Click and Collect options. However, during the pandemic we've seen retailers turn shuttered stores into distribution sites – also known as 'dark stores'.
In theory, store fulfilment can lead to faster delivery and lower last mile distribution costs. However, without the right technology and processes, end-to-end fulfilment costs could be higher.
Advantages
Last mile delivery can be quicker and more cost-effective, due to proximity to the customer.
A simpler way to decentralise, using existing owned or rented spaces.
Opportunity to re-deploy frontline sales staff.
Simpler to provide more customer choice – such as Click and Collect.
Opportunity to clear excess store stock for effective inventory management.
Disadvantages
Physical stores are unlikely to be set up for efficient fulfilment.
Retail staff may not be not experienced in pick and pack as well as despatch preparation, which can lead to costly mistakes.
Many despatch points may reduce visibility over inventory without efficient system support.
Split deliveries or the need to move products from one store to another can increase fulfilment costs.
Retail rents may be higher per square metre than industrial sites.
4. Third-party eCommerce fulfilment (3PL)
As an eCommerce business grows, it can be hard to keep up with orders. Time spent packing boxes and shipping orders can take focus away from other areas of business development. Having a 3PL partner can help save you both time and costs by leveraging their expertise and network.
Advantages
Potentially eliminate the need to invest in warehouse space.
Predictable costs and potential access to better shipping rates depending on volume.
Variable costs help reduce the balance sheet impact during slower periods.
Help maintain focus on core retail business, not the supply chain.
Logistics expertise can help provide a more consistent experience and lower fulfilment cost.
Flexible physical capacity that can scale with your needs.
Disadvantages
Less control and visibility over quality.
Outsourcing customer satisfaction can put loyalty and lifetime value at risk.
Margin paid to 3PL provider.
5. Drop-shipping
Some retailers never hold the products they sell online. Instead, when a customer places an order, it's forwarded to the manufacturer who then delivers directly to the end customer. Many online marketplaces operate this way but it's less common for traditional bricks and mortar retailers moving into eCommerce market sector.
Advantages
Help reduce overheads such as warehousing costs.
Help to improve cash flow – no need to pay for inventory until it is sold.
Can be simple to integrate with the supplier systems.
Disadvantages
No control over stock availability, quality, or shipping and timeframes.
Potential for customer complaints due to defective products or late delivery, which you are still accountable for.
Optimising a hybrid fulfilment model
With growing pressure on retail profit margins, eCommerce fulfilment costs may make or break a business. And last mile delivery costs are just one part of the full cost of fulfilment. Bringing siloed purchasing, sales and operational channels together to achieve a seamless and connected customer experience can be complex. Using data and technology could be the key.
The first step, especially for bricks and mortar retailers, is likely to be overcoming the limitations of legacy systems designed to support traditional distribution models. In store, retail staff need access to accurate inventory data: what's in store and online, what's back-ordered and when the next in-bound shipment is due. They need to be able to respond when customers ask them for another size or if a product can be delivered. This is likely to be the next benchmark in customer experience.
For online fulfilment, stock visibility and response times are just as critical. Customers expect to be told when something will be delivered as soon as they click to buy, which demands optimal inventory management processes and location.
From a technological standpoint, systems in an omnichannel environment need to be able to:
integrate with order management and point of sale systems
forecast demand based on customer buying behaviour and preferences, to ensure stock is close and ready for despatch
capture where customers are shopping, to reduce response time
account for stock sold and returned, damaged goods, ship-from-store and Click and Collect deliveries
provide retail staff with real-time information, to help customers in store or at the call centre
provide customers with their preferred delivery or pick up options.
More households are shopping online than ever before, and they're also shopping more frequently. Now's the time to strengthen your eCommerce fulfilment model to make the most of this opportunity and help set your business up for future growth. And if you can get the balance right between cost, stock control and delivery speed you can help ensure that growth is also more profitable.
This is the first article in a two-part series. Next month, we'll explore these and other opportunities to optimise omnichannel fulfilment, including safety, lodgement speed, and smarter SKU management.