Why business owners need to become great storytellers
For many people, the story of their business journey is closely linked to milestones in their personal lives. Here are a few tips on how you can start telling the story of your small business, and engaging your customers.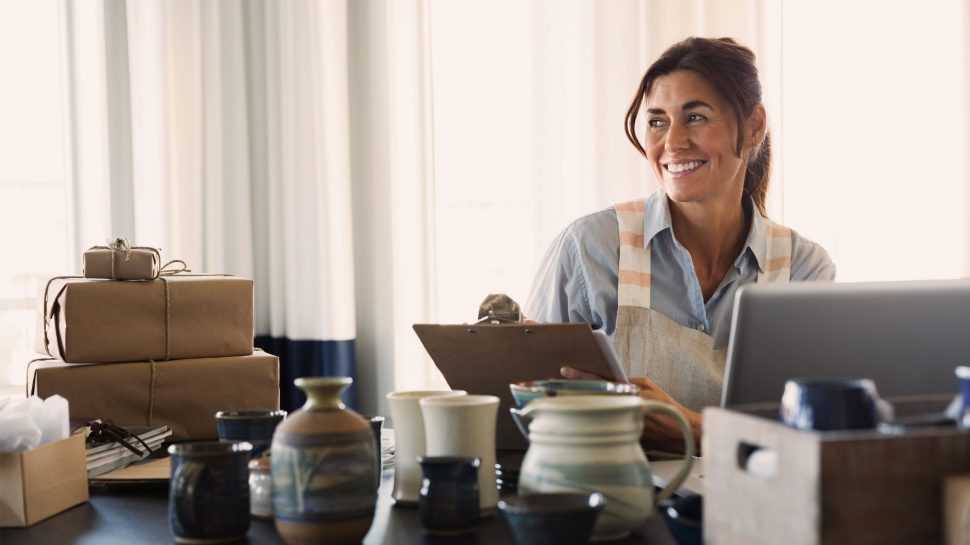 When you're in business, people will want to know what prompted you to 'go it alone'. What drives you to do what you do?
As one of the world's best storytellers, Ira Glass says, "Great stories happen to those who can tell them."
No matter where or how your business story is presented, it's a chance for your customers and peers to learn more about you. Your business story provides an opportunity for others to relate to you, or find a point of connection; to engage with you or even recommend your business to others.
While there's no real template when it comes to crafting a business story, there are a few essential elements that make your narrative a powerful tool. Valerie Khoo, author of the book Power Stories explains more here:
Vision: In a darkened film studio, cameras point at an empty armchair. In the spotlight above the chair, the title 'Finding Your Business Story' appears. When the lights come on, the title turns green and white. A camera monitor shows the smiling face of a dark-haired woman now sitting in the green armchair.

[Upbeat music plays throughout.]
Valerie: My name's Valerie Khoo, I'm author of 'Power Stories - The 8 Stories You Must Tell To Build An Epic Business'. And I'm also chief storyteller at the Australian Writers' Centre.
Vision: Text: Valerie Khoo, Business Expert.
White and green text appears near Valerie - "What your business is about. Why you do what you do. How you deliver that to your customers."
Valerie: A business story encapsulates what your business is all about, and an effective business story is one that tells what your business is about but also why you do what you do and how you deliver that to your customers.
Vision: A camera monitor shows a young brunette now sitting in the chair. Sketches of camping equipment pop into view beside her.
Stephanie: My name is Stephanie Francis and I am the co-founder and director of Homecamp. Homecamp is an online store. We sell canvas bell tents and other quality products for the outdoors.
Vision: A camera points at a blonde woman. Sketches of fashion items appear around her.
Kerry: My name's Kerry Pietrobon and my role is designer and creative director at Harlow. Harlow is a designer label made in Australia, for sizes 12 to 24. It's about fitting your inner rock-chick.
Vision: Text appears beside Valerie - "Your passion story. Why you do what you do. Why you wake up every day."
"Think about it. Tell it."
Valerie: Think about your passion story. Your passion is about why you do what you do. Why you wake up every day. And that is so important and I encourage you to think about it and to tell it.
Vision: Near Kerry, sketches of thought bubbles, speech bubbles and love hearts pop onto the screen.
Kerry: Your 'why' and 'what you're trying to do' is really where everything else comes from. It's like the heart of your business.
Vision: Text appears beside Valerie - "Passion is infectious. Passion is palpable."
Valerie: Passion is infectious. It is palpable. And people really buy into that.
Vision: Near Stephanie, sketches depict a figure asking questions, a question mark near a cog, a question mark inside a speech bubble, and a world globe.
Stephanie: Working out why you exist, why you want to start a business, what you want to bring to the world, I think is really important. And once you've got that, everything else can flow on from there.
Vision: Sketches pop up behind Kerry - an arrow in a target, a person speaking, a document, interconnected people, a television and a box of love hearts.
Kerry: It's helped us focus. It's helped us with branding, with storytelling. It's also helped us to take a few steps outside the normal box.
Vision: Text appears near Valerie - "Product has its own story. Inspired by the story behind the product."
Valerie: It's so important for your product to have its own story as well. Because customers can often be inspired by the story behind the product.
Vision: Sketches of a CD, a music note and a microphone bounce beside Kerry.
Kerry: I think it's important for our products to have their own story. They're named after either rock titles, rock songs or rock lyrics. It adds to a connection that they're having and a feeling that they get from it. Not only does the clothing make them feel good, but they'll say, "Ooh, I'm wearing the Rebel Rebel jeans. Aren't I a rebel today?!"
Vision: Sketches of campfires and a picnic table hover near Stephanie.
Stephanie: Camping can be a scary proposition for some people. They probably need some help from people like us to show them how they can do it and that it's actually quite easy.
Vision: Text appears beside Valerie - "Tell stories about your customers. Before, during, after customer journeys."
Valerie: It's so important for businesses to tell stories about their customers, and they can do that in a number of ways. It's actually making sure that people hear or see the before, during and after of the customer journey.
Vision: Sketches pop out beside Stephanie - a photo, a camera, a storybook and a speech bubble.
Stephanie: Things like taking the tent out to different locations around Australia. And using their photos and their stories to help, sort of, drive our own story.
Kerry: How our customers feel about what our clothing is when they put it on is part of why we do what we do.
Vision: Text appears behind Valerie - "Anyone can do it."
Valerie: The great thing about storytelling is that anyone can do it. As human beings, we're hardwired to tell stories. So think about where storytelling can fit in your business.
Vision: The red Australia Post logo appears on a white screen. Text: "Brought to you by Australia Post. austpost.com.au/smallbusiness."
Feeling inspired? Here are a few more ideas and insights into how you can tell your business story:
1. Refine your narrative before putting a pitch together
Start with the truth. Why did you go into business? Often there's a story of transition, or a realisation that a new career path was beckoning. While this may be a pivotal moment in your personal life, try not to make this the focus of your business story.
Focus on what you're doing now and achieving in business – the direction you'd like to move in. Share your enthusiasm for your business, even if you're in the fledgling stages or struggling with cash flow. Your public-facing business story is a more valuable marketing tool than the description of your daily toil.
2. Make it an elevator pitch
Are you familiar with the 'elevator pitch'? It's when you explain to someone who is unfamiliar with your business, what you do and why, in a short sentence or two.
Your small business story can be told in this format – with a bit of practice.
An elevator pitch needs to be delivered in a pithy few sentences, often to a stranger, and often with a daunting time limit. If you anticipate having to tell your story within these constraints, it could be worth practicing in the mirror, or even watching some videos of other people's successful pitches online. Maybe you can even ask a trusted friend or colleague to be your test-audience and listen to your speech, then give some constructive feedback.
3. Consider what you'd like to learn about other people's businesses
Think about what you'd like to share with your industry and potential customers, and imagine how they might feel hearing this. An effective business story is typically sincere, succinct, selective and supportive.
It should also leave the listener with a clear sense of why you're in business. There might be a number of reasons you run a business, but you should consider sharing the reasons that are most relevant to your audience.
It could be that you're in business to help or support others, as well as to earn enough income to pay your mortgage - but you may find the former a more engaging business story to tell.
4. Find your voice

If you're not sure of your business 'voice', take a look at your website or brand. Does your business writing, or branding have a specific tone of voice? Is this different from your own natural speaking or writing tone? Can you blend the two together?
Your business story can be a chance to use your voice. Read ex-Telstra COO, Kate McKenzie's column on how she found her business voice, if you're interested in developing a longer narrative around all the things you've achieved in business.
5. Be insightful
When you're crafting your business story, think about the insights you might share with customers or the wider industry. But be careful not to over-share, or delve into too much detail. Your business story is a strategic opportunity to connect with strangers. Use it wisely.
Pip Lincolne is a creative professional with a sizeable social media audience, and specialises in building online communities. As a writer and crafter, she encourages and coaches other soloists to share their stories and build their own audiences. Her advice to them is as follows:
be brave
be curious
be supportive
be humble
be (delightfully) informative
be relatable
be innovative
be collaborative
be selective
be yourself
Your business story doesn't need to be an epic hero's journey through every decision you've ever made. But it does need to offer the listener a sense of your related experience - the insights you've gleaned, and your ability to share these with others.
By engaging listeners in your story, you're inviting them to engage with you, to build a connection. They might then tell their version of your story to their friends and family, or someone who might be looking for a business like yours.
Being able to tell a great story – especially when it's your own – can create connections with others beyond your periphery. Whether through words or images, in a YouTube tutorial, during a personal introduction or on a website, your story is part of your journey that you share with the world. So make sure you tell it well!