The fashion social enterprise taking bold indigenous art to the world
The Magpie Goose mission is two-fold: provide economic and educational opportunities for indigenous Australian artists, designers and textile workers, as well as providing a platform and an outlet to celebrate their art, culture and stories. We speak to co-founder Maggie McGowan about her business journey and the Magpie Goose mission.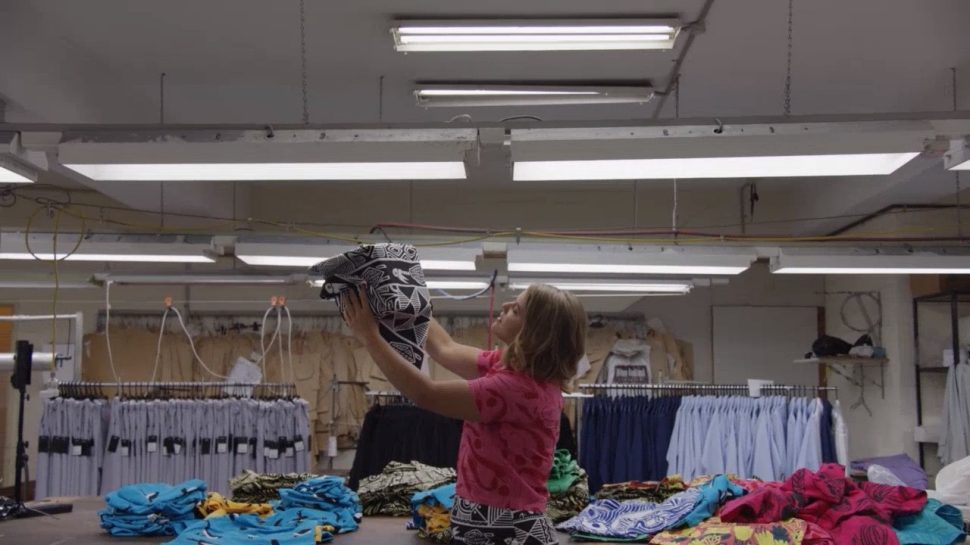 The 100% Australian made fashion label and social enterprise was born in 2017 when Maggie and her co-founder, Laura Egan, saw an opportunity to bring indigenous culture and slow fashion together.
Maggie explains, "I was working as a Civil Lawyer at NAAJA (North Australian Aboriginal Justice Agency) for a number of years; working closely with Aboriginal people in remote areas dealing with housing, Centrelink and consumer law issues… I wanted to address these issues in a creative and impactful way - enter the idea for Magpie Goose!"
After smashing their $20,000 goal on Kickstarter five times over, Magpie Goose released their first line of ethically made clothing, including dresses, tops, pants, shorts and children's onesies. "The Kickstarter success was definitely a moment where things started to come together, as it made us realise there was a demand for these products and what they represented," says Maggie.
In the beginning, Maggie was beginning her entrepreneurial journey, launching her social enterprise and still working as a full-time lawyer. Today the enterprise flourishes in collaboration with the Enterprise Learning Projects (ELP), an organisation dedicated to supporting grassroots businesses in remote Indigenous communities. It's the people from these communities that inspired and encouraged Maggie to peruse Magpie Goose as and leave her career behind, "I greatly admire the Aboriginal women that we work with - artists, models, screen-printers, and storytellers".
The mission to foster economic empowerment in remote communities is evident in almost every aspect of Magpie Goose's operations. Instead of purchasing fabrics from cheaper international wholesalers, Magpie Goose source their fabrics in large quantities from Art Centres in regional communities of the Northern Territory. This partnership ensures a constant supply and demand for the Art Centres, which can help support the economic growth of their business, as well as opportunities to scale and create more jobs for regional designers.
The designs are also created by Indigenous Australian artists from Katherine which are then screen printed on to the fabrics. The prints and patterns are inspired by countless muses and traditions within the many Aboriginal cultures, such as the Nguluyguy (echidnas) print created by Bridget Bunduck, a Tharnpa woman and self-taught artist from Wadeye. "The echidna is one of the animals in my dreaming. There are lots of echidnas in Wadeye especially on the land around Air Force creek", explains Bridget.
It's not only painters or designers that create prints for Magpie Goose either, artists with all different styles, backgrounds and experience have partnered with the enterprise. Bede Tungutalum, co-founder of Tiwi Designs and well-known Australian wood-artist created the Pukumani Poles print in collaboration.
In a biography produced by the National Gallery of Australia, Bede describes "It is good to show the other Australians that we can produce beautiful works of art, using white man's techniques but doing Aboriginal way of art. What I do at Tiwi Designs is printing and designing. I also do carving which I enjoy doing most."
Once the fabric arrives at the warehouse in Sydney, they are cut, sewn and pressed at an Ethical Clothing Australia accredited workshop in Sydney, Sphinx Australia. The completed pieces are then distributed at markets and at pop-ups, where customers who may not otherwise experience indigenous Australian art get to see it up close. When a customer makes a purchase in-store or online, they receive information about the artists, the communities in which they're from, and how their purchase is helping to support indigenous communities.
Like its namesake, Magpie Goose is "loud, proud and unapologetic", and is reflected in their branding and packaging, which is now covered in their identifying Tiwi Birds print.
"Making the change to creating parcels that have Magpie Goose packaging on it feels like the natural next step to be able to continue this really immersive brand story... A little taste of Territory artwork in their (the customer's) post-box", says Maggie.
Magpie Goose prides themselves on their wonderful customer base and consistently positive reviews. Maggie considers her happy customers one of her biggest business wins, "all of the encouragement and feedback we receive via social media, and people sharing photos of themselves looking fine in Magpie Goose designs, and the buzz the artists get from hearing their designs are being sent all over the world!"
In partnership with ELP, Magpie Goose recently participated in Fashion Futures, self-described as a "fun and ambitious personal development, education and training program that builds the self-confidence, resilience and ambitions of young Aboriginal women, using the platform of fashion and modelling." These workshops resulted in the students modelling on runways and collection photography for the label.
Creating more and more new opportunities, like these, for local indigenous people is the definition of success for Maggie and her focus for Magpie Goose's next phase.
"Last year we trained five Katherine-based Aboriginal jobseekers in the art of screen printing. We're working to grow Magpie Goose in an inclusive way that provides diverse opportunities for Aboriginal people to become involved in the business – in textile design, screen printing, modelling, marketing/social media and photography."

Give your business the packaging it deserves with personalised boxes, satchels and branded extras with our new BrandWrapped service.