Josh Pyke: Writing the soundtrack to a quiet and creative life
Singer-songwriter, Josh Pyke, has a gift for writing earthy and relatable songs that have won the hearts of many. As part of our Inspiring Australians Series, he talks about staying authentic, embracing anxiety and being a lifetime ambassador for the Indigenous Literacy Foundation.

Video: The Australia Post logo sits in the bottom right corner. A bearded man with light brown hair walks to a house nestled among trees. White text reads, "Find out how Josh Pyke and the ILF are helping bridge the cultural gap through reading." Inside, Josh plays an upright piano. The piano's front is open, revealing the strings and pins. A guitar leans against a desk of recording equipment. Josh is interviewed near the piano. Text: Josh Pyke, ILF Lifetime Ambassador & Creative.
Audio: Josh: My name is Josh Pyke, and I'm a musician. I've been an ambassador for the Indigenous Literacy Foundation for about 11 years now as well, which is a real big interest and passion.
Video: At the desk, Josh uses music editing software. Acoustic and electric guitars hang on the walls. Colourful children's books are piled near audio equipment, including 'Wangki Yakanarrajangka, A Yakanarra Day'. Josh looks through a book's vivid illustrations. A book with an owl on the cover is titled 'Bangs 2 Jurrukuk, Tiwi College Mamirnikuwi'.
Audio: Josh: What I love about the ILF, and what really kind of hit home over the years of being involved is the fact that there's no agenda beyond raising literacy levels in remote Indigenous communities. And they're often writing books in collaboration with kids in the communities so that all the stories, you know, are stories about kids that look like them and sound like them and have a shared experience of living in these communities.
Video: Josh plays an acoustic guitar. When he plays the piano, hammers hit the strings as he presses the keys.
Audio: Josh: Not everybody has access to the internet, not everybody's online, and so Australia Post is still, you know...is still the kind of cornerstone of those connections, particularly in regional communities, in remote communities. Without Australia Post, it just wouldn't...wouldn't exist - these books wouldn't get to where they need to go.
Video: The white Australia Post logo appears on a red screen.
While going through a rocky patch in 2005, Josh Pyke set himself a single goal - to lead a quiet, creative life. He accomplished the second half of that goal soon after when his single, Middle of the Hill, was picked up by radio station Triple J and then voted in at No. 19 in the Hottest 100 that year.
"I recently found the piece of paper I wrote that goal on and I still stand by it," Josh says. "For me, it's not about the big moments or being well-known. It's about being able to make a living from my own creative pursuits. When I wrote that goal, I wasn't at all confident that it would happen. I just kept on trying."
Josh has come a long way from the nervous 12-year-old making his musical debut. At the time, five of his mates wanted him to sing for their new band, and although Josh badly wanted to say yes, he couldn't get past his fear. Then his mother suggested he give it a shot, so he'd know for sure whether it was something he wanted to keep doing or walk away from sans regrets.
He ended up performing at the Year 6 graduation and by the time the last note faded away, Josh knew he had found his gift and calling. That surety carried him through the years of creative wilderness right after high school.
"Those times were difficult," he recalls. "I felt I wasn't getting anywhere. But then I'd write a song, make a recording or perform, and I'd feel that same way I did at age 12. I'd realise I'm good at this. That feeling kept me persevering."
Josh has since produced six indie/folk albums, clinched four Australian Recording Industry Association (ARIA) awards and won an Australasian Performing Rights Association (APRA) award for songwriting. His seventh album, Rome was released in August 2020 and he's already finished mixing the next one, due for release later this year.
"Music is a soundtrack to so many pivotal moments in our lives. To me, it's also an escape and balm. I can't imagine doing anything else with my life."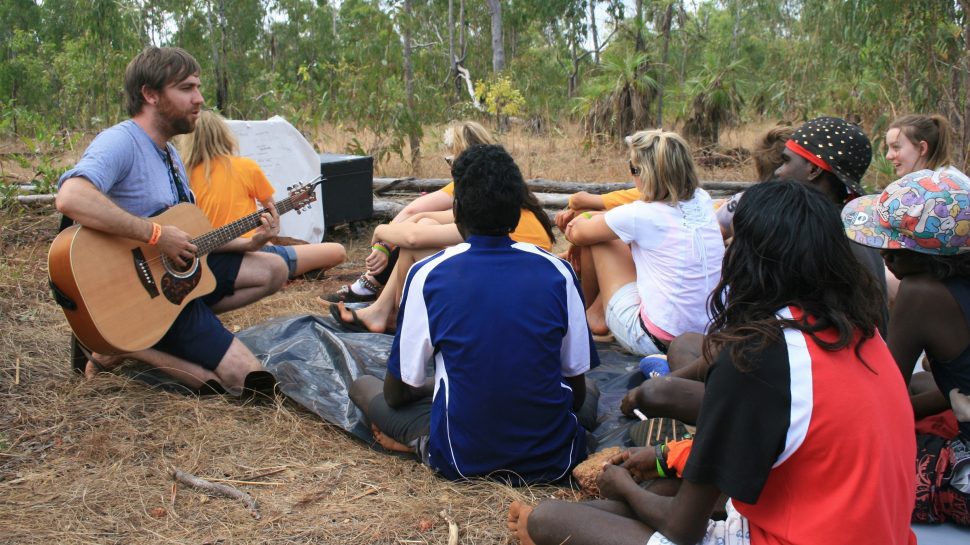 Bridging a cultural gap through books
When Josh pledged his life to creative pursuits, he didn't just mean music. Alongside his love for songwriting was also a passion for writing children's books. To date, he has co-authored two books and published a children's picture book, Lights Out Leonard.
It wasn't a surprise then that when Josh heard of the Indigenous Literacy Foundation (ILF) almost two decades ago, he instantly threw his support behind their work. The Foundation's Book Supply program, in particular, deeply resonated with him.
The program delivers culturally appropriate books (40% are by Indigenous authors and illustrators) to children in remote Indigenous communities, giving them more opportunities to build their literacy skills.
In early 2020, ILF and Australia Post struck up a partnership that has since enabled 177,895 new and culturally appropriate books to be delivered to 325 remote communities.
"I've always been passionate about bridging the gap between white and Indigenous Australians," Josh says. "I knew how to raise money through performances, so I started a pub fundraiser called Busking for Change."
Five years later and Josh had raised over $50,000 for the ILF. He's now one of its six lifetime ambassadors and has run literacy workshops for the ILF at the Garma Festival for Traditional Culture in the Northern Territory and in the Tiwi Islands.
"ILF is a wonderful organisation with no other agenda than empowering remote communities to take the reins on their literacy journeys. Some books are in both English and First Nations' languages.
"Learning to read in your first language, makes it much easier to learn and read a second language, like English. And being literate in more than one language gives children more choices to pursue any future they want. This levels the playing field to a degree.
"ILF also publishes books created by community members so children are reading stories about people who look, and sound like them. This is incredibly important because we all like to see ourselves in a story. But it's not just about education. It's also about being able to read labels on medicine bottles, instructions and paperwork, which are not always written in a First Nations' language."
Embracing anxiety and a quiet life
By 2017, Josh had made good on his goal to lead a creative life but it certainly wasn't a quiet one. By then, the 17 years of touring were beginning to take a toll. Josh was also experiencing severe panic attacks – a clear sign that he needed to slow down and get quiet.
"There was a point when the attacks were so bad that I questioned whether I'd be able to perform live again," he says. "That was a terrible thing because it was all I'd done for close to two decades."
But rather than bury his anxiety, Josh chose to accept and talk about it. That, he says, helped him get through the experience a lot easier.
"I now understand that anxiety is incredibly common and is nothing to feel ashamed of or debilitated by. Being open and talking about it normalises it to an extent. It's a lot better than white knuckling through it."
That approach marked the start of his three-year hiatus from touring. But while that part of his life ground to a halt, everything else ramped up. In those three years, Josh worked on the three children's books, wrote music for a kids' TV show, recorded Rome and produced four other artists.
"I have an inclination to push ahead," he laughs. "But what changed during that time was that I stopped forcing myself to create within a certain timeframe or in a certain way. I allowed myself more freedom to explore living life and giving myself the headspace to absorb inspiration. That's when the best ideas came to me.
"I mean, I could make myself write a song every day, but those songs wouldn't necessarily be authentic, and people will sense it. Having said that, I'm still releasing another record this year.
"Doing an album a year is pretty rare these days, but that's what my heart's telling me to do. So that's my strategy - to keep producing as much creative work that I feel is authentic and credible."
Photo courtesy of ILF.