Cassandra Goldie: The social rights advocate helping disadvantaged communities find their voice
Australian Council of Social Service (ACOSS) CEO, Cassandra Goldie has spent the last decade tirelessly fighting for the rights of the disadvantaged. As part of our Inspiring Australians series, she talks about how she helps communities use their voice to influence positive change.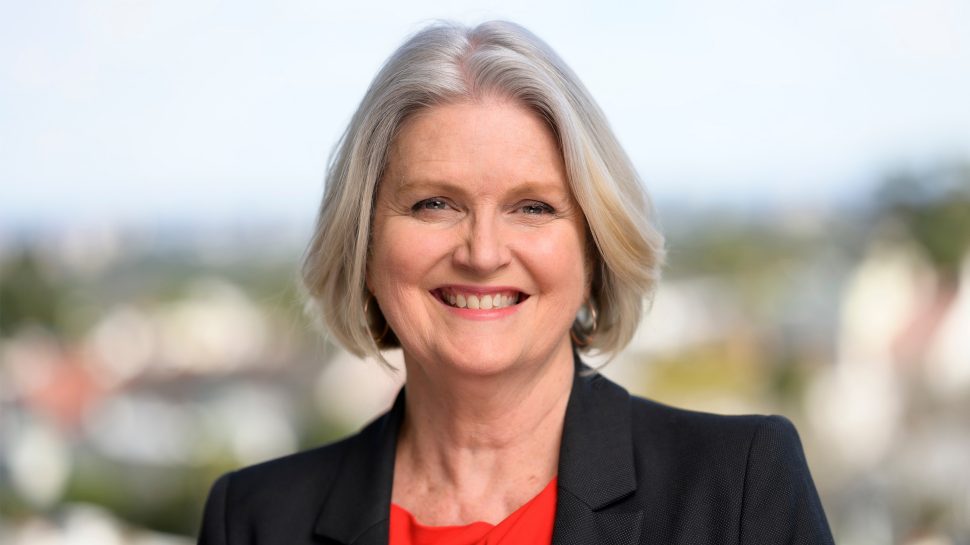 Cassandra Goldie, CEO of the Australian Council of Social Service (ACOSS), believes the COVID-19 pandemic has shone a light on the social issues that have been at play in Australia for years.
"People on lower incomes or with specific vulnerabilities were hardest hit by the social restrictions and economic impacts," she says. "Meanwhile, people with significant wealth and capital did extraordinarily well. Once again it showed that if we don't change some of Australia's settings, we're only going to see greater inequality."
Cassandra and her team at ACOSS are working with a national network of community service groups to drive that change. This includes advocating for federal policy changes on behalf of those impacted by poverty, disadvantage and inequality.
"We're constantly trying to show what it's truly like to be a person on a low income or with disadvantage in Australia. All of us live in the same country but in totally different worlds."

While studying law at the University of Western Australia, Cassandra realised most legal work was tailored to those privileged enough to afford it. She grew interested in human rights while undertaking postgraduate study overseas and returned to join Legal Aid Western Australia. That kick-started a career in legal and human rights.
Cassandra worked with the Australian Human Rights Commission, Darwin Community Legal Service and the Global Centre on Housing Rights and Evictions. She also established the Homelessness Legal Rights Project at UNSW before her 2010 appointment as CEO of ACOSS.
It was particularly her work in Darwin providing low-cost legal help to those in need, Cassandra says, that led her to spend more time with people impacted by major social issues.
"It was such a great opportunity to work in a smaller organisation. I really became part of that community and lived alongside the people directly affected by the issues I was working on.
"Spending time with people in these situations constantly reminds me that we're all the same. We're all just one or two steps away from being in the same position of poverty and inequality or facing disadvantage or trauma."
Leading a strong team to support the mission
Cassandra embraced the opportunity to make an even bigger difference when the ACOSS CEO position opened.
"I wanted to help bring community voices into the big economic, social and environmental national debates and have the chance to influence policy decisions that really impact people's lives," she says.
"As a lawyer, too often we're trying to address the symptoms of bad policies. But we can prevent these symptoms if we have a stronger focus on systemic reforms to end poverty and disadvantage in the first place."
ACOSS is deeply involved in national conversations across a wide range of social issues like income adequacy, social security, affordable housing, aged care support services and even taxation.
She says the organisation gives her the chance to coordinate and help community groups around the country.
"These groups provide frontline support in the face of the harsh realities of people's lives," she says. "I wanted to be part of shaking things up, reaching out across unusual allies to improve collaboration for positive change – helping tell Australia's true stories, even if they're uncomfortable, and shifting the power dynamics to those who need help."
Cassandra and her team "speak truth to power" – spending time with politicians and others in positions of power to influence decision-making with first-hand accounts and evidence from the communities they'll impact.
"We collaborate with these people to develop the best possible policies and ideas for change. I'm always astounded by the ability of our small team to cover so many issues. And the way they can mobilise and support the thousands of member organisations in our network is really amazing."
She adds that ACOSS aims to take an "oxygen mask approach" to helping others by giving a high priority to health and wellbeing in the workplace including flexible work. This was especially important during the COVID-19 pandemic.
"Our view of the world starts right here. We had to start with ourselves so we can do what needs to be done for as long as it takes."
In leading by example, commencing during the 2019/20 bushfires, Cassandra started hosting a fortnightly Zoom call for organisation heads across the ACOSS network. These sessions became a safe place for them to share ideas and insights, and swap notes on a range of social issues.
Empowering communities to speak for themselves
Cassandra says perhaps the most important part of her mission is finding new and better ways to support those directly affected by poverty and disadvantage by putting the power in their hands.
"We need to hand some power over to these communities to drive their own advocacy," Cassandra says. "People want to speak for themselves – to be asked what they want and need. Outside people shouldn't be the ones making judgments about what's required."
She says one of her team's main focuses is providing access to media, meetings with politicians and coordinating local community action.
"Supporting people to speak up and be their own advocates really forces you to listen and question your preconceptions. And this is how those with less money and power can make sure the help they receive is best tailored to their individual issues."

At Australia Post, we believe a diverse and inclusive workplace encourages better connections within communities. We have a proven record in improving gender balance at all levels of leadership and in traditionally male-dominated areas. Read more about our commitments to diversity and inclusion.