Libby Trickett OAM: Normalising conversations around mental health
Former Australian swimming great, Libby Trickett OAM, is on a mission to make mental health part of everyday conversations. As part of our Inspiring Australians Series, she talks about her own mental health journey, connecting with others and being a Beyond Blue ambassador.

Video: The Australia Post logo sits in the bottom right corner. A blonde woman carries a kettle across a bright kitchen, then pours water into a mug and drinks. White text reads, "Find out how Libby Trickett is normalising conversations around mental health." Libby is interviewed in a living room. Text: Libby Trickett OAM, Olympian and Beyond Blue Ambassador.
Audio: Libby: My name is Libby Trickett. And I am an ambassador for Beyond Blue. At some point, everybody is touched by mental health, and if you're not having it, someone that you know is.
Video: Libby looks at a gold Olympic medal for the women's 4x100m medley relay. More medals with colourful ribbons are piled on the table. Libby gazes pensively into the distance. She steps into the shallow end of a pool, then sits on the edge and looks at photos of her smiling while holding a baby. Libby sits alone by the pool.
Audio: Libby: During my time as an athlete, you're constantly searching for that achievement. And it doesn't transition that well into the real world. That experience, combined with my own forms of depression and my own postnatal depression after the birth of my first daughter, that has led me to the point that I've wanted to talk about all of those experiences and normalise the different conversations that we can have around mental health and how we can be a bit more understanding and empathetic to the society that we're in.
Video: Inside, Libby scrolls through the Beyond Blue website on a laptop. On a couch she sits laughing with her two young daughters.
Audio: Libby: Australia Post and Beyond Blue have been in partnership since 2019. Beyond Blue have these resources. With Australia Post, you know, they're so focused on connecting people and, you know, they're such a huge part of Australian society, it's a partnership that just really makes sense.
Video: The white Australia Post logo appears on a red background.
When Libby Trickett OAM announced her retirement in December 2009, she was at the pinnacle of a glittering swimming career with three Olympic gold medals, eight world championships and multiple records to her name.

The time had come, she told herself, to explore what else life held for her. But what she found herself exploring instead was who she was outside the pool. And she floundered.

"For the first time in my life, I didn't have a direction," Libby remembers. "I didn't know how to translate my passion, energy and drive to a life beyond swimming. I just couldn't find myself. It was really confronting, and an incredibly tumultuous time."

She also struggled without the familiarity of a high-pressure environment, strict daily routine and support network. As Libby slowly sunk into depression, she realised the only way up was getting back into the water.

In September 2010, after announcing her return to competitive swimming, Libby immediately began training for the 2012 Summer Olympics, where she swam her way to a fourth gold medal and new world record.

However, she didn't let this exhilaration overshadow the hard work she was doing to get back into a positive headspace.

"When I was still competing, we only talked about high performance and not mental health," she says. You're constantly striving to be better. On one hand, it's great because it takes you to the next level. On the other hand, the constant self-criticism and pursuit of the next goal stops you from celebrating the achievements.

"This creates a mentality of never being enough and that's dangerous when it comes to mental health and wellbeing. And that's not a nice place to live permanently.

"A big part of my recovery from depression was working with sports psychologists. I learnt some great mental health tools and resources that I'm now using in daily life. But the biggest lesson I learnt was that it's okay to seek professional help."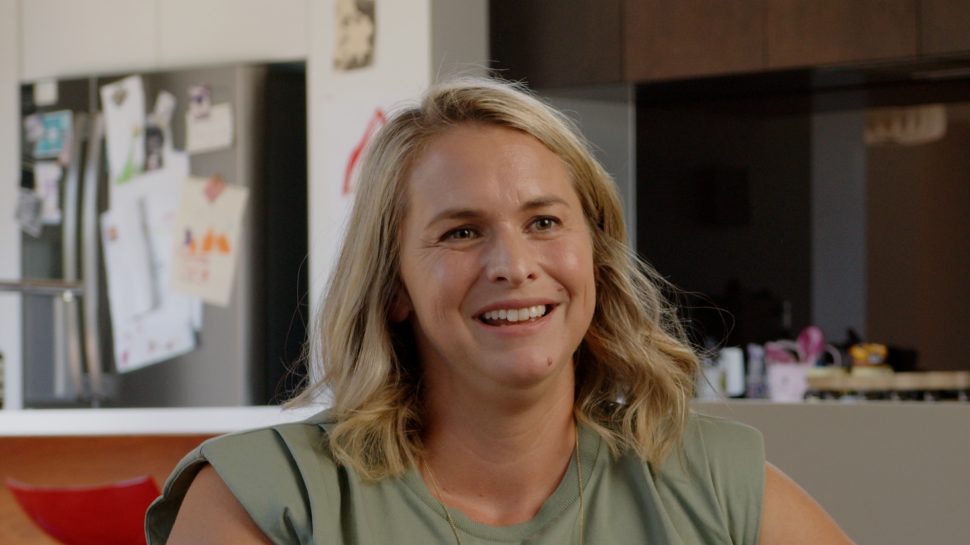 A second encounter with depression
In 2013, Libby tore a ligament in her wrist during a weights training session. That, she decided, marked the end of the road. For the second and final time in her career, she bid farewell to the world of competitive swimming.

The transition into normal life was easier this time. Libby was well-equipped mentally and emotionally to face any recurrence of her first post-retirement experience. Then two years later, she and her husband Luke welcomed their first child, Poppy and the ground beneath her opened up again.

"Motherhood is the best and hardest thing you could ever do in your life," she says. "I've come from a sport that was all about me and nothing could have prepared me for the responsibility of another life."

Poppy being a poor sleeper didn't help either. Extreme sleep deprivation, exhaustion and feelings of worthlessness gave rise to postnatal depression. But this time she knew better than to try to deal with it herself.

"My first step was talking to Luke because he didn't understand it being a new dad himself. The next step was talking with my GP to come up with a plan that included seeing a psychologist, putting Poppy into daycare so I could have time for myself, hiring a sleep consultant and exercising.

"Everyone needs to understand what can help them get through the really tough moments. For me it starts by recognising that a setback doesn't last forever. Then it's going through my mental health checklist to see if I've been doing what makes me feel good.
 
Libby says her two experiences with depression spurred her to do her part in normalising the conversations around mental health. That passion has led to her being appointed Queensland's mental health ambassador and a Beyond Blue ambassador.

"Being a Beyond Blue ambassador helps me remind people that it's okay to not be okay.
Sometimes we don't ask for help because we worry people might think we're weak, incapable or even crazy. None of that is true. We all need help at certain points in our lives and if we can get the support we need, we'll be better people for it."
The program and partnership helping Australians stay mentally well
Libby, who's currently studying a Bachelor of Counselling, has observed that everyone wears their mental health differently. For instance, she says, not everyone stays in bed all day or is wracked with anxiety. She adds that many times happy people are going through turmoil, sadness and anxiety.

"When we talk about our personal experiences, we could be helping someone else who's going through something similar. Having access to the right mental health resources can also help. Beyond Blue is full of these resources. It's a real privilege to be part of an organisation that gives so much to the community."

Libby is particularly enthusiastic about Beyond Blue's NewAccess program, a free and confidential mental health coaching program for Australians who're feeling stressed or overwhelmed by everyday issues.

"This amazing program helps people develop the skills and abilities they need to overcome daily challenges," she says. "It helps them get early intervention for their mental health issues and makes sure they're supported when they need it most."

Beyond Blue and Australia Post struck up a partnership in 2019 that has helped to further spread the word of the NewAccess program. Libby calls this partnership one that "really makes sense."

"Beyond Blue have the resources and Australia Post has the means of getting these resources to people. The partnership has enabled over a million households to connect with the NewAccess program, which is huge." 

Building connections has become increasingly crucial for Libby as a means of maintaining one's mental health and wellbeing. It also, she says, makes her a better version of herself.

"Connecting with someone is as simple as asking them if they're okay, listening to their answer and understanding how to support them. Most of the time, it's being a safe sounding board.

"All people want is to feel seen, heard and understood. This creates empathy and that can make the world a better place."