The role of cultural identity in building a love of reading
This NAIDOC Week, Australia Post's partnership with the Indigenous Literacy Foundation aims to provide better access to books and learning opportunities for children in remote Indigenous Communities.

Cindy Manfong has seen firsthand the powerful impact stories can have in the lives of Indigenous youth.
"Seeing yourself and your culture in a book as a young person is incredible," says the Indigenous Literacy Foundation (ILF) Book Supply Program Coordinator. "My favourite childhood story was the Rainbow Serpent. My mum told it to me when I was young and it always made me feel connected to my family and culture.
"When I was older, I heard it read at school. To see one of the stories my mum told me written down in a book and shared in class was amazing."
Building literacy for kids in remote Communities relies on access to a supply of great books that reflect their culture and language. Seeing themselves reflected within a book's pages can be a powerful motivator to grow a love for reading.
The ILF has worked over the past decade to gift culturally relevant books to Aboriginal and Torres Strait Islanders children. Today its mission includes ensuring that remote Indigenous Communities have access to more books and other literary resources in their own language.
According to the 2019 National Assessment Program for Literacy (NAPLAN), just one-third of Indigenous students in Year 5 in very remote areas meet or exceed national minimum reading standards.1 And the 2020 Closing the Gap report says that in 2018, about 25% of Indigenous students in Years 5, 7, 9 were below national minimum reading standards.2
Indigenous authors and illustrators make up 40% of the ILF's Book Supply Program.3 Communities can order book packs for different age groups – including for toddlers, new readers, older readers and the wider community.
"Developing strong literacy skills at a young age sets children up for success in their future education," Cindy says. "And that's what ILF does – we provide those books that capture children's imagination and get them interested in reading."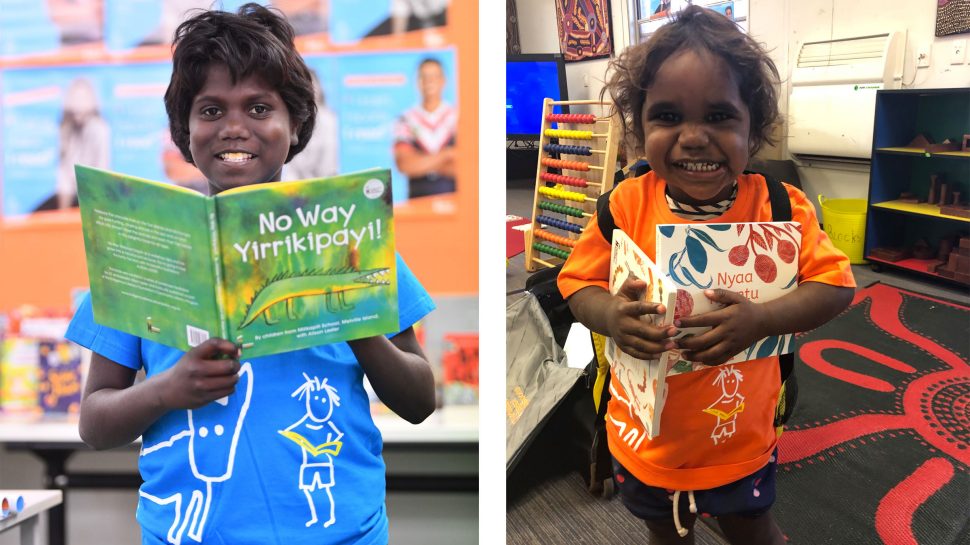 Having an impact this NAIDOC week

Earlier this year, Australia Post started a three-year partnership with the ILF to use our extensive logistics network. The goal? To safely deliver almost 300,000 books and help raise awareness and support for Indigenous literacy in remote Communities4. This year we've already trucked, flown and delivered more than 97,100 books to children over 300 remote Communities across the country.
And with NAIDOC Week approaching on 8 November, our own workforce may choose to have an impact on literacy by donating to the ILF through our Workplace Giving program. Donations are made via their salary. They can be one off or ongoing and Australia Post will match funds dollar for dollar – up to $200 per employee per year.
A $20 donation to the ILF provides two culturally relevant books to children in a remote Community. That means each donation has the chance to make a life-changing difference to the future of Indigenous youth around Australia – to be the key that unlocks new ways of learning and thinking for those in the country's most remote areas.
Australia Post Indigenous Inclusion Consultant, Simone Sexton says that literacy sets a strong foundation at a young age. "It helps you learn, understand and have confidence to navigate your own future. It opens doors to endless opportunities."
She adds that her grandmother played a key role in introducing her to the power of the written word.
"She opened up my world to reading," Simone says. "We would go on these 'treasure hunts' to second-hand book shops every Saturday. That was how my appetite for reading books grew – I needed to feed my imagination with the new big adventures I discovered between the pages of my next book."
A commitment to Indigenous literacy
Australia Post is committed to our Reconciliation Action Plan – and one of its key goals is to build Indigenous cultural awareness and engagement.
"Australia Post proudly acknowledges all traditional custodians across the country," Australia Post National Indigenous Manager Chris Heelan says. "We have a variety of events and programs that recognise Aboriginal and Torres Strait Islander Communities in different ways - whether it's through our community partnerships, employment programs, or a whole array of different initiatives."5
The ILF Book Supply program is a tangible way to connect all members of our organisation with our Reconciliation Action Plan, and also our practical initiatives to help improve children's literacy.

Interested in learning about the ILF or making a donation? Read about the Book Supply Program and donate here.