How this local Post Office team supported their community during the Lismore floods
When Lismore and the Northern Rivers region were hit by catastrophic flooding in 2022, many residents not only lost their homes, but they also lost access to essential services. Pop-up Post Offices helped to calm the confusion.

Video: The Australia Post logo stays in the top right corner. A swollen river weaves through a bushland town. A tangle of damp lines and blotches is dark on a concrete wall. A sign on a brick wall shows flood levels in Lismore. A brunette in an Australia Post top is interviewed in a post office back room.
Text: "Tina Cotronio, Postal Manager, Ballina Post Office."
Audio: Tina: Just looking at the footage and seeing what happened was heartbreaking. People had been so badly affected because of the floods. We just need to make sure we're there straightaway offering the services that we can, especially in the communities that have lost the services.
Video: In aerial footage, a red Australia Post van drives along leafy suburban streets. On a lawn, an awning stretches from the open side of the van. An Australia Post banner and sign stand nearby. The uniformed employee behind the counter inside the van is handed a parcel by a customer. Smiling, the customer accepts cash from the employee.
Audio: Tina: Australia Post organised a mobile post office. All the technology there for people to do their banking, pay bills, to post parcels, letters. It was so welcomed by the community, so it was rewarding to be able to do that.Video: In a post office, Tina discusses a document with a woman.
Audio: Tina: The whole flood has brought the community closer together and it was just wonderful to be able to offer that support.
Video: On the left half of the screen, the Australia Post logo appears on a red background. The right half is white, and the words "Proud partner" appear above the Australian Red Cross logo.
Across Australia, Post Offices have long played a part in the lives of locals. They are where people go to send letters to those we can't see, carefully choose presents to send to loved ones, conduct vital business and financial transactions and so much more. In regional towns and suburbs alike, they're often a hub where local chit-chat and community connection happens.
So when a Post Office goes underwater, the ripple effects can be felt far and wide. This is why Tina Cotroneo, manager of the Ballina Post Office, and her team quickly stepped up after the floods in the Northern Rivers region caused other local Post Offices to close.
"Australia Post plays a huge role in the Ballina community," Tina says. "It's where individuals and businesses come for all types of services and support. When the surrounding Post Offices – including Lismore's – couldn't reopen after the flood, we had all the customers from those areas come and see us, too."
A Post Office on wheels goes out to the community
Seeing the devastation in surrounding areas, such as the small towns of Woodburn and Broadwater that were hit hard by the record floodwaters, the community rallied to help. The Ballina Post Office sent a mobile Post Office van to these towns – equipped with all the technology needed for locals to do their banking, pay bills, redirect their mail and post parcels and letters.
"One of my team, Adele, drove this huge van out there three days a week to service the community of Woodburn and Broadwater, which was so welcomed," Tina says. "The community just loved her being there and it was just wonderful to be able to offer that support."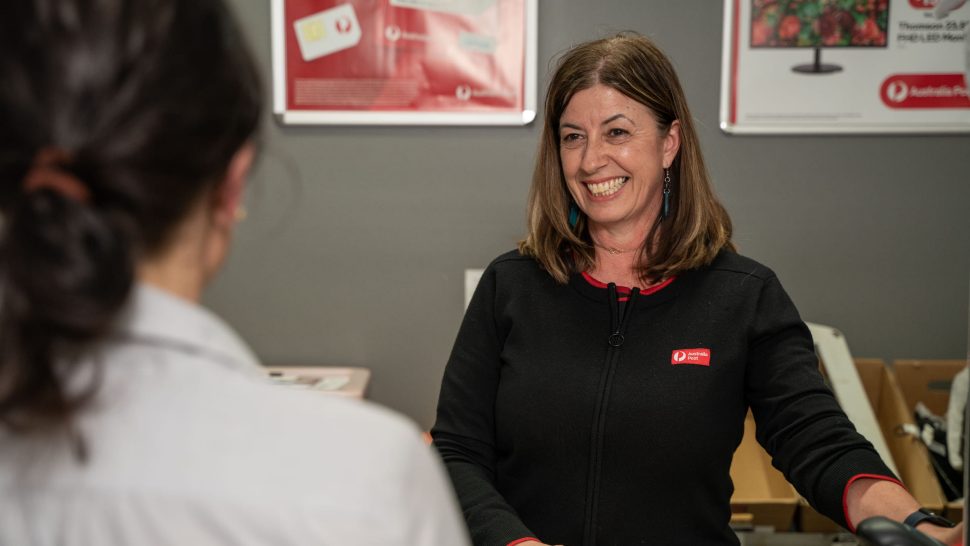 The pop-up Post Office
Three of the Lismore area's five Post Offices were wiped out by the floods, along with Post Offices in surrounding areas. The town's corporate Post Office, housed on the second floor of a building in the CBD, was flooded with a metre of water.
With major supermarkets and retailers also inundated and unable to open, local residents turned to online shopping, making the postal service more important than ever. A pop-up Post Office was the answer.
Working together with Services New South Wales, Australia Post installed a pop-up Post Office at Lismore Workers Golf Club within a week of the first flood, providing an important conduit for communications and bringing a sense of normality to the shattered community.
Lismore postal manager Glyn Harding says getting postal services back up and running quickly helped people to do ordinary and essential things during an extraordinary time.
"We're an essential service and having an essential service available to the community brings back normality," he explains. "Having that sense of normality was very important for people's mental health. We found that those residents most affected by the flood were the most grateful."

A hot coffee and a warm smile
With many locals losing homes and forced into temporary accommodation, sometimes for months, Australia Post offered a free mail redirection service to flood-affected residents.
"This was just something really small that we could offer the community," Tina says.
Another small gesture was the free coffee they gave to everyone who had their mail redirected, with help from a local café. "It just made us feel good to be able to offer something else to them," says Tina. "We are so much part of the community. People come here sometimes just to socialise in the line and talk."
"People were breaking out in tears, they were that appreciative of it," Glynn says. 
A hot coffee, a warm smile, and a good chat. Sometimes the smallest gestures can make all the difference.
A terrible thing that brought so much good
Disasters shine a unique light on communities. They show them at their very best during the very worst of times. This was certainly true for the Northern Rivers floods, which drew donations and volunteers from all over Australia.
Australia Post collected donations for the Red Cross through local Post Offices. The donations, in the form of $500 cash grants, went directly to those with immediate needs like food, clothing and shelter.
"It is a wonderful initiative," Tina says. "We have people all the time coming in wanting to give money. The fact that this was for a local charity was fantastic. People embrace that."
And the donations didn't stop with money: some people donated mattresses, furniture and even cars.
"I've been blown away by people's generosity," Tina says. "It's amazing. The whole flood has brought the community closer together. I see that when we go out and everyone's talking about it. They're sharing their stories and supporting each other and saying, 'Hey, it's gonna be okay, we're gonna get through this.'
"It was a terrible thing, but it has brought so much good."
Australia Post proudly partners with Australian Red Cross
Whenever disaster strikes, Australia Post and Red Cross are there to support and help communities get back on their feet.