"Everything was gone": How Lismore's library recovered after the 2022 floods
Lismore City Library lost 29,000 books in the 2022 floods. This staggering loss has been a little easier to bear thanks to the remarkable resilience and community spirit of librarians and others.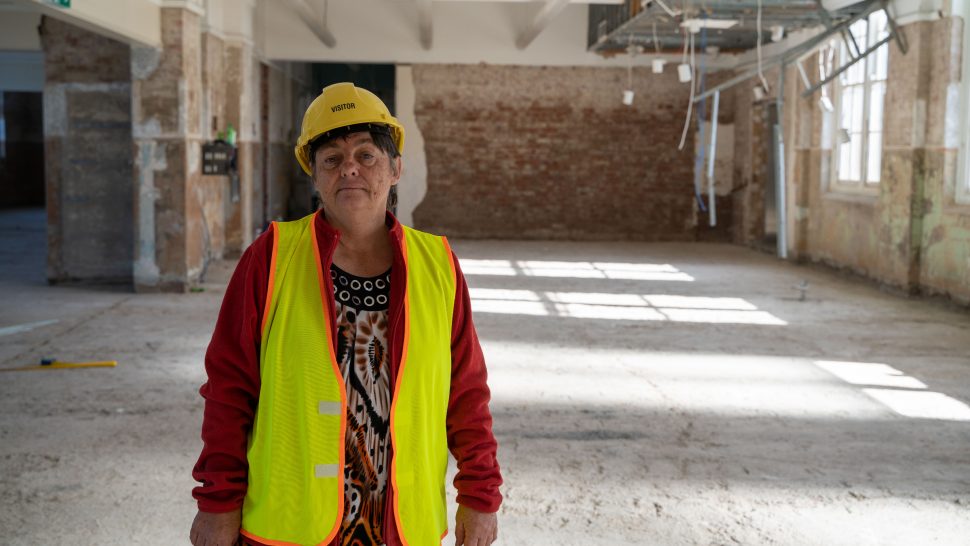 They're the images of the Northern Rivers floods that many of us will never forget: flooded streets, endless stretches of brown water and the Lismore City Library, with a mountain of muddied, pulpy books cascading from the first-floor window.
Despite the library's best efforts, around 29,000 books were lost during the devastating flood in February, 2022. Here, Richmond Tweed Acting Regional Library Manager Lucy Kinsley describes the effects of that fateful event on her beloved library and the local community.
Nothing they could have anticipated
"We knew it was going to flood," says Lucy. What she and her team didn't know was just how different it would be from previous disaster events.
The Lismore City Library occupies a three-storey building. Having experienced a flood in 2017 that destroyed the contents of the ground floor, the library staff had affixed wheels to every shelving unit on the ground floor to make it easy to move these shelves up to floors one and two in the event of another flooding emergency.
"On the Sunday, we came in and opened in the morning as per normal. Then staff, family and volunteers came in during the afternoon, and we started moving everything off the ground floor," says Lucy.
Members and volunteers from the local toy library, which also operated out of the ground floor, also pitched in to move things out of the water's reach.
Unfortunately, the library books on the first floor still weren't safe from harm. "I got a call at about one o'clock the next morning from one of my staff, who said, 'It's reached the middle floor'. And we knew then that everything was gone."
A heartbreaking clean-up 
Lucy and her team had to wait for the water to finish rising, and then to go down again, before they could go in, assess the damage, and start cleaning up.
"That's when the iconic photo of us throwing books out the windows was taken. The water ended up being higher than the tops of the shelves on the first floor. Everything on that floor was underwater. Gone," says Lucy.
"I knew what we'd lost – there were so many things on that floor. And I also knew that there was absolutely nothing we could do."
It was heartbreaking, but Lucy knew they couldn't afford to wallow. She knew that, after catastrophic events like this, people who have lost everything tend to rely more on community services like libraries – whether to use a computer, print out important documents, or simply debrief with other locals.
"So we came in on the Thursday and started hosing out the mud and throwing all those books out the windows," Lucy says.
The clean-up has been slow. The water stripped the library of flooring, walls, lights and ceilings. And, because the building is made of sandstone – which absorbs and holds water – it took months to dry out the interior. The re-fit is ongoing and, at the time of writing, there's no finish line in sight, but in the meantime the local librarians have been busy offering their services in different ways and locations.
Bringing the library out to the locals
With the Lismore City Library out of action, the team quickly opened a pop-up library in nearby Goonellabah as part of the Richmond Tweed Library Network.
They also found a way to keep the mobile library service operational. This 'library on wheels', which usually visits 19 locations every fortnight to provide everything from books to children's programs and tech training, was also damaged in the floods. The team found a station wagon to replace it, carrying books in boxes out to eager communities.
"Our mobile service is very popular. We'd load that station wagon every day and take it out in all weather. Sometimes it was freezing cold, but it's so important to the local community and we were determined to keep it going," says Lucy.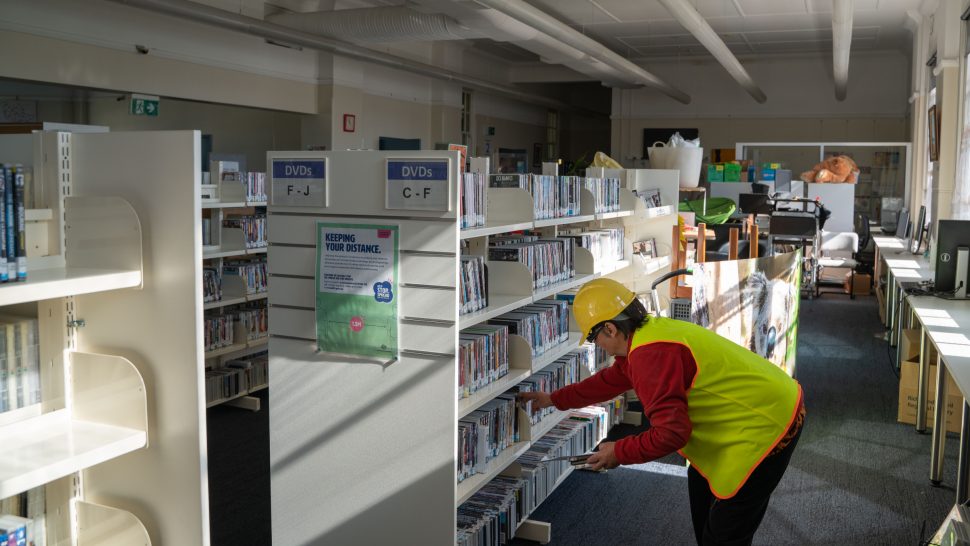 Iconic red vans deliver new books
"I got this phone call saying, 'We've got two red Australia Post vans and we're heading to Lismore,'" Lucy recalls. "I can still see them in my mind, turning off the road into our driveway – those brilliant red vans coming in. And they were full of brand new books."
There was no way that the Lismore City Library could have afforded to replace so many books immediately. "We just didn't have the money to go out and buy so many books. To have Australia Post donating so many to us was wonderful, and really helped us get back on the road fast," Lucy says.
"The local community has been extremely thankful to have so many new books to borrow."
Providing a hub away from home 
For many people, a library is a safe and important place to visit. It's a place to relax in a corner with a good book and forget about everything that's going on outside for a while. A library is a place to access information, entertainment and technology for free, and it's a hub for events that connect communities.
"There's been a great loss in these communities. I was upset to start with, when I knew we'd lost so much. I was worried about our community and how our library services could continue," says Lucy.
But the incredible response from people across Australia – be it donations of money, books, or a helping hand – have balanced the scales. "You can feel the response from people and see how much they value libraries. We're really grateful to the community for showing such support, and we're now there for them, encouraging everyone to come to us if they need anything at all," Lucy says.
"It's clear that the flood has brought the Lismore community together, and we're determined to rise above it."

Australia Post proudly partners with Australian Red Cross
Whenever disaster strikes, Australia Post and Red Cross are there to support and help communities get back on their feet.