"It was something no-one could have expected". How Australia Post teams delivered through the 2022 Lismore floods
When floods devastated Lismore earlier this year, the team at Australia Post Lismore Delivery Centre rallied to keep delivering services to the community.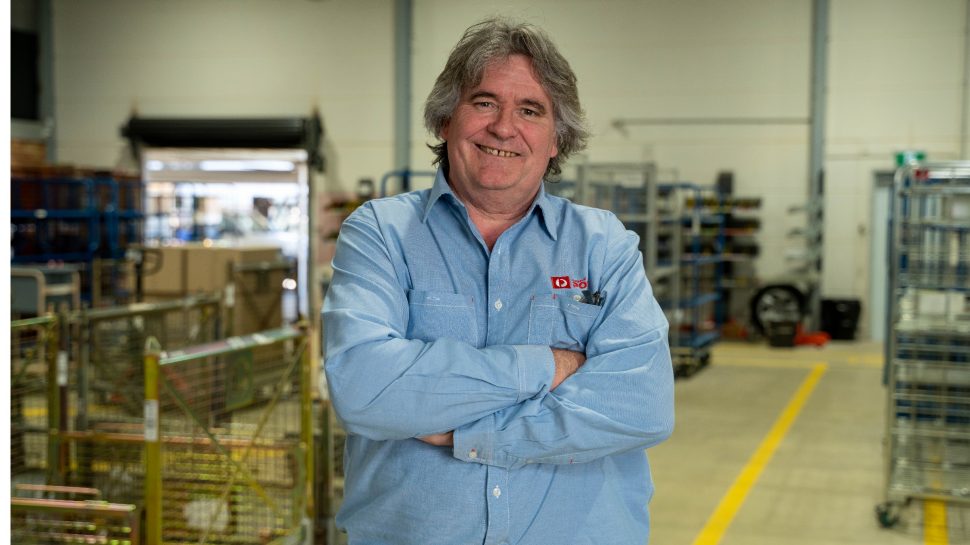 Delivery Manager, Matthew Wilson at the Lismore Delivery Centre.

Friday afternoon, February 25, 2022. Matthew Wilson's working week ended like any other. A wet weekend was forecast, but he wasn't too worried. As the Delivery Manager at the Australia Post Lismore Delivery Centre, Matthew knew that the Delivery Centre, and all its contents, should be fine—after all, the building was set above the height of the last major flood, which had occurred way back in 1974.  
But by Monday, his workplace had become unreachable and unrecognisable. With floodwaters hitting the highest level ever recorded in Lismore—a catastrophic 14.4 metres—the Delivery Centre was well and truly underwater. And it would be over a week before Matthew could get inside again.
"When we finally got back into the building, it was full of mud and everything was scattered. It was like a big washing machine," said Matthew. "A lot of our parcels were just turned to slush—a mixture of mud, cardboard, paper and whatever else was left."
Unlike anything they had expected
On a typical day, Matthew and his team spend their days sorting and delivering mail and parcels in and around the Lismore area. After the floods, however, their work took on a new shape. 
In the immediate aftermath, there was shock and disbelief. "We hadn't expected to get any water in here, ever. The 1974 and 1954 floods were the biggest the town had ever seen, and the building was above those levels. But this year's flood was three metres above that. It was something no-one could have expected."
Matthew and his team salvaged what mail they could, got it out, and started the task of cleaning the building. "In the meantime, we moved over to a pop-up site to handle deliveries from there," he said. But they were used to getting the day's mail and parcels out to customers on time, every day—and they started falling behind. 
"As far as mental health goes, we felt like robots. We'd come in, do what we could as safely as we could, but there was just so much mail," said Matthew.
Just thinking about the impact of the floods on his team took its toll. "Usually, we're tough buggers in Lismore. It takes a lot to knock us over."

Delivery Manager, Matthew Wilson at the Lismore Delivery Centre.

Delivering mail, any way they could
Matthew's team, like so many other resilient groups in the Lismore community, were quick to pick themselves up again. They worked out ways to get parcels moving again, and in doing so helped bring people together.
"For several weeks, we couldn't deliver to North and South Lismore, nor around the centre of Lismore. There were so many trucks and front-end loaders clearing out people's belongings. It was too dangerous to ride motorbikes or pushbikes as it was so muddy and slippery. So we kept mail and parcels here, and it ended up creating a great community meeting place," said Matthew. 
Parcel collection points were set up in various locations, where locals could come to collect their mail. And they would talk. 
"While people were waiting in queues to get their mail, they'd talk to each other. They'd share their experiences and exchange stories. Whether that was sitting on a roof waiting for a dinghy to come and pick them up, or whether it was the height of the water in their house."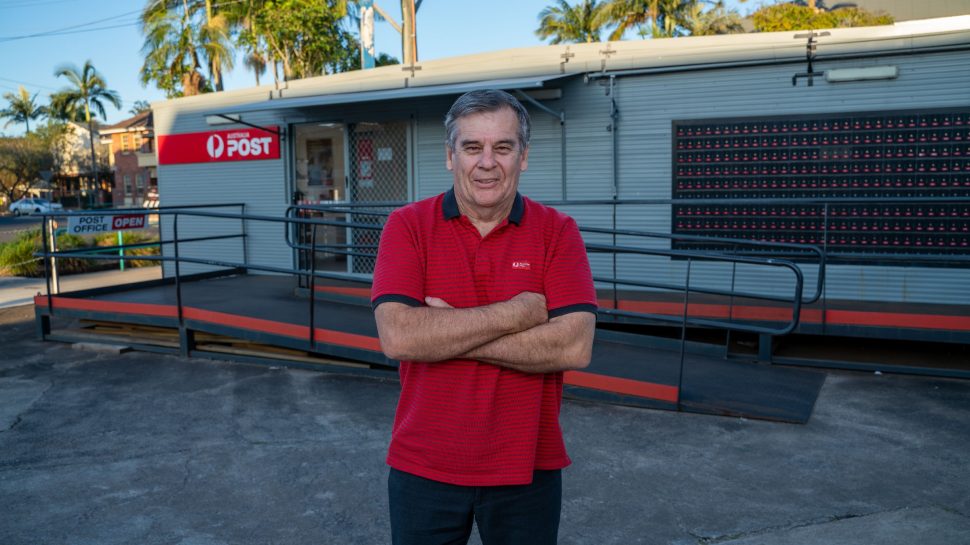 Lismore Postal Manager, Glyn Harding, in front of the Australia Post pop-up parcel collection point.

Offering support through cash grants
Australia Post supported the Red Cross and local communities by collecting donations for the Queensland and New South Wales Floods Appeal. These donations funded $500 cash grants for residents. While the grants may not have been enough for a new house or to put all the plaster board back on the walls, they did allow Lismore locals to buy the little bits and pieces that they needed at the time.
Slowly but surely, the community has started to rebuild and demonstrate incredible resilience—despite knowing that recovery is likely to take years. 
"There are some good things coming out of this disaster. Within the Australia Post Delivery Centre, for example, we've restructured the layout to create a lot more space. And elsewhere around Lismore, the shops are newly refurbished, and the things they're selling are newer. The place has been freshened up," explains Matthew. 
"Throughout it all, it was great to see the Red Cross and Australia Post partnering to help the community put themselves back together again," said Matthew. "They are both great organisations, and are well respected by the community."

Australia Post proudly partners with Australian Red Cross
Whenever disaster strikes, Australia Post and Red Cross are there to support and help communities get back on their feet.