How we're supporting communities as they rebuild and recover from disaster
At Australia Post, our people are on the frontline of local communities when disaster strikes. With our partner Australian Red Cross, we're helping communities prepare for, respond to and recover from natural disasters, including bushfires, floods and cyclones.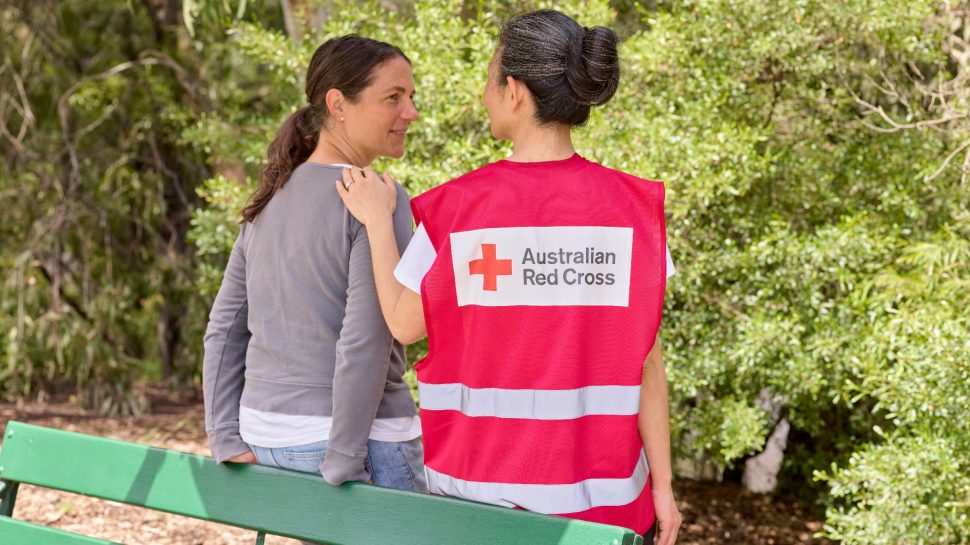 Bushfires have been a reality of life in Australia for thousands of years, the First Nations people used fire to help manage the bush. In more recent history, bushfires have been a fearful reality of every Australian summer.
The 2019-2020 season saw devastation caused by bushfires that was so widely spread it was unlike anything in recent memory. During the season 33 people lost their lives, more than 46 million acres of land was burnt, 3,500 homes and thousands of other buildings were lost and it is estimated over a billion animals perished.
More than two years on, many of the recovery stories are still in progress. Red Cross continues to play a key role in supporting communities as they recover and rebuild their lives. Thanks to the incredible generosity from everyday Australians, people across the world and organisations and companies that raised and donated funds, Red Cross raised $242m to support those affected by the 2019/2020 bushfires.
Following that harrowing summer, Australia Post and Red Cross entered a vital partnership. We're proud to support the humanitarian work of Red Cross as we reflect on how far these bushfire-affected communities have come.
Here are five ways we're supporting communities through disaster relief and recovery.
1. Supporting the bushfire recovery program
Australia Post has provided more than $1.6million to Australian Red Cross following the fires. Most of it was from public donations made via our Post Offices. It was used by Red Cross to provide immediate and long-term support as they take steps to recover and rebuild their lives.
More than two years on, Red Cross has released a report that details how the funds supported communities. During the fires, 49,718 people were supported at evacuation centres and over the phone and 67,764 people have been assisted with recovery through 1 on 1 and group support, training and workshops, information and referrals.
See what people's generous donations made possible in the Red Cross's Australian Bushfires Report.
2. Fundraising and over-the-counter donations
In towns and cities across the country, our people are at the frontline. They see and hear the impacts of disaster firsthand and want to help. We're proud to partner with Red Cross and accept over-the-counter donations at participating Post Offices.
These donations will enable the Red Cross to prepare people for emergencies, provide comfort and care during disasters, and support their recovery afterwards.
3. Providing access to services in a disaster
It's important for communities to be able to access services and support when a disaster happens. We're leading the way by providing services such as Bank@Post and pop-up Post Offices for temporary mail services.
We also stepped in to offer impacted communities free Mail Redirection services. Between July 2020 to June 2021, we provided this service to 472 households across the country.
Across Australia, local posties are a vital part of the community—rain, hail or bushfire. In February 2021 in Gidgegannup WA, Australia Post postie James Roberts upheld that commitment when he stuck to his deliveries despite news that the fires were spreading beyond Wooroloo.
Read more about how he made it his mission to support his bushfire affected community.
4. It's the little things
By accepting donations to Red Cross, Australia Post helps bushfire affected communities get the support they need to overcome disaster. In the aftermath of a disaster, the support that Red Cross offers can be as small as nail clippers, tampons or razors.
Read Sabrina's personal story to learn how the Red Cross supports people in times of need.
5. Encouraging early preparation
Living in a country that is prone to bushfires, flooding and cyclones, preparing for emergencies is an essential part of life in Australia. To protect yourself and the ones you love, create an emergency plan, have the right contact numbers on hand and create a survival kit checklist.
Learn more from Red Cross about preparing for emergencies.

Whenever disaster strikes, Australia Post with Australian Red Cross are there to support and help communities get back on their feet.