How Australia Post helps Pod Co deliver artisan coffee
With their bespoke Melbourne-roasted blends in a biodegradable Nespresso-compatible pod, Pod Co has democratised Australia's artisan coffee culture. And from local pandemic-fuelled coffee pod panic buying to overseas demand, its eCommerce model is ready to brew further success. Co-founders Rashid and Ammar Roumani explain how.

Key points
Pod Co was well positioned to help Australians brew their own barista-blend coffee at home when COVID restrictions hit.
In response to customer feedback, Pod Co's pods are fully biodegradable and compostable, and the range includes chai latte pods and Australian grown-and-roasted pods.
Australia Post has made it easy for the company to expand internationally and manage double the parcel volumes through 2020.  
It started with an experiment at the kitchen bench. Ammar and Rashid Roumani wondered if they could inject their local Melbourne roaster's blend into an empty Nespresso pod. To their surprise, it worked.
The brothers spent a few months talking with roasters and developing bespoke blends that would work best in a pod. And then they launched Pod Co and started selling online.
"It was always designed to be a fully online business. From 2014, it grew steadily as the coffee pod market grew," says Rashid. "And then COVID happened."

He says coffee pod panic buying set in straight away. "Everyone talks about toilet paper, but coffee pods were huge. Especially those first few months when the whole country was at home."

Pod Co's sales doubled and stayed at that level.

"I think there were two factors that triggered this," explains Rashid. "The market grew overall because more people bought the machines so they could be their own barista at home. And buying behaviour changed too. More people were shopping online, rather than buying pods in store. So we were able to acquire new customers."
Saving on sending as business soars1
Pod Co had always partnered with Australia Post to deliver its coffee across Australia.

"We were using MyPost Business from the start," says Rashid. "It made it really quick and easy for us to manage our shipping. Because you just pay as you go, it was tailored to the start-up situation we were in. And the more we sold, the more we saved on postage – it was really cool to keep moving up the savings bands."1

By 2019, Pod Co's volumes had grown to the point where it made more sense for them to use eParcel for nationwide deliveries. eParcel can further streamline distribution for businesses sending more than 2,000 parcels a year.
With an eParcel API plugin, Pod Co can automate more fulfilment processes. "In a few clicks, we can generate the manifest and print the labels. eParcel makes us even more efficient," notes Rashid.
However, for the small but growing number of New Zealand orders, Pod Co still uses MyPost Business because it's so quick and easy.
"When we launched our chai latte pod, we started getting enquiries from New Zealand. And we realised how easy it was to make that happen with MyPost Business. It was a no brainer, it's just across the pond. And it's a growing market for us," says Ammar.
Looking ahead, the brothers plan to expand further internationally.
"Asia will be a really big opportunity. There's a big market for Australian, and especially Melbourne-roasted coffee in Asia," says Rashid.
Talk to an expert
Find out how we're making eCommerce easy. Request a call back to speak to an account specialist.
Sustaining the caffeine hit

Pod Co's COVID-fuelled sales momentum came with a new set of supply chain challenges. "We were lucky that we were able to scale to double production, but there were times when we were almost completely sold out," says Ammar.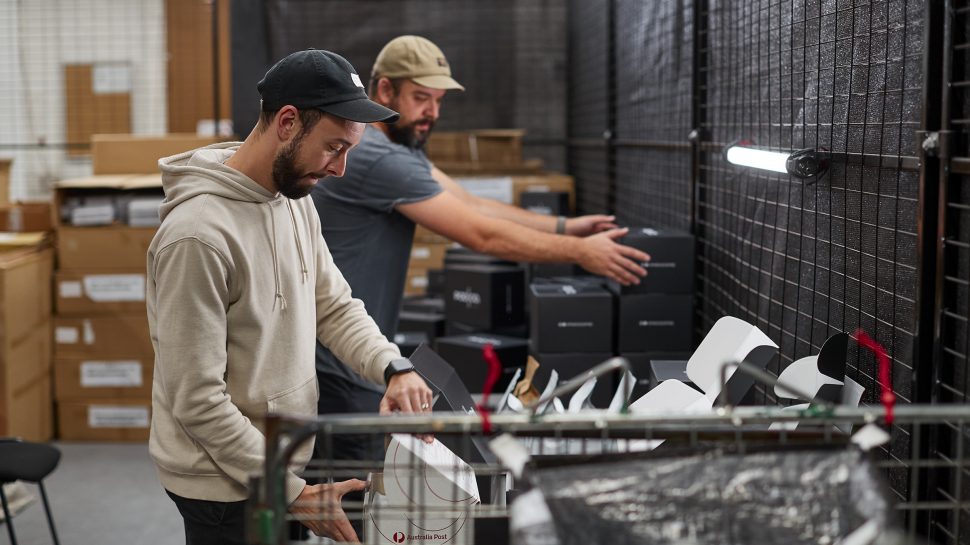 Australia Post's eParcel tracking and redirect services also became more important during COVID, giving customers full visibility and control over their orders.2
"Even when there were some delays in the network, we didn't receive as many order queries as we expected and that's because people could track their own orders," says Rashid. "Also, leading into the first big lockdown in Victoria, some customers moved interstate temporarily. And they'd already placed their pod orders, but it was easy for them to redirect online."
Although they're into their seventh year of managing a fast-growing business, Rashid and Ammar show no sign of running out of steam – with more product development on the menu. Every new idea starts with the customer, from biodegradable and fully-compostable pods, to certified organic fair trade and chai latte.
"The expectations from customers is so high now, and you have to work really hard to maintain the experience," says Rashid.