How MyPost Business saves The Scent Lab on sending
The Scent Lab started as a bet between housemates about how much it costs to make a premium scented candle. Adam Kerrins turned that wager into a hugely successful business that now uses MyPost Business to send candles, wax melts and bath products to every corner of Australia.1

Key points
A kitchen candle-making operation took Adam Kerrins on a new career path following the surprise success of his homemade wares.
With a huge following in Geelong and Melbourne, The Scent Lab is now shipping as far as the Northern Territory and Tasmania using MyPost Business.1
Within 12 months they were achieving huge numbers, including $125,000 in sales in just four hours during their birthday sale.

Adam Kerrins couldn't believe how much his housemate spent on candles – so he bet her he could make some for less. Adam won the wager. But he never thought it would turn into a business. When family and friends bought his candles and asked for more, The Scent Lab was born.
"I started doing candles, then branched out to melts and reed diffusers because they were very easy to make in my kitchen. After a few months I went from about four to 16 fragrances, and decided to try my luck at the local market," Adam says.

With positive feedback, Adam decided to 'make a go' of his small business idea. He launched a website using Shopify as well as a Facebook page, and started building awareness. The Scent Lab's Facebook page now has a loyal following of 23,000 members, who share their genuine feedback and images of their products.

"Having Australia Post there from the beginning helped us reach every part of Australia," he said. "And because MyPost Business integrates with Shopify through a plugin, we could comfortably scale up as orders grew. I'm all about the efficiency."1

That includes the phenomenal success of The Scent Lab's first birthday sale, when Adam sold more than $125,000 worth of products online – in just four hours. It remains his biggest peak to date.

Shining a light on business efficiency

Between 2019 and 2020, orders grew by 500% every month. And in May 2020, sales jumped 1100% – which Adam attributes to people seeking something nice for themselves while stuck at home during COVID lockdowns.

However, he admits he initially had some learning to do when it came to warehouse and fulfilment efficiency.
"We were still buying satchels from the local post office and hand-addressing them. But when I found out about MyPost Business, and how it could help me keep customers happy, I was fully on board," he says.1

"MyPost Business is just so efficient. It saves us at least an hour every single day – now the team can realistically pick and pack 100 orders in an hour or so," he explains.1
Plus, Adam appreciates the transparency and accuracy. "We have a trail of tracking numbers – we don't need to record it all in a book. Our customers can see where their parcel is, and I can see where we're sending the most parcels – which helps with marketing."2
Australia Post's reliable network and reputation is "like an extension of The Scent Lab's team", Adam says. "We work towards a 24-hour turnaround time. People want everything now, so if they put in an order in the morning and see that it ships that afternoon, it helps us with customer retention and satisfaction."
And as a MyPost Business Band 5 customer, Adam says he's saving as much as $80,000 a year on postage costs. "And around half of our orders now go interstate," he adds.
Talk to an expert
Find out how we're making eCommerce easy. Request a call back to speak to an account specialist.
More in store at The Scent Lab

Adam now plans to expand The Scent Lab range further, having introduced car products to appeal to a different segment of the market. "They are also exposed to our other products and might buy their partner a candle or something else from The Scent Lab for a birthday or anniversary," he explains.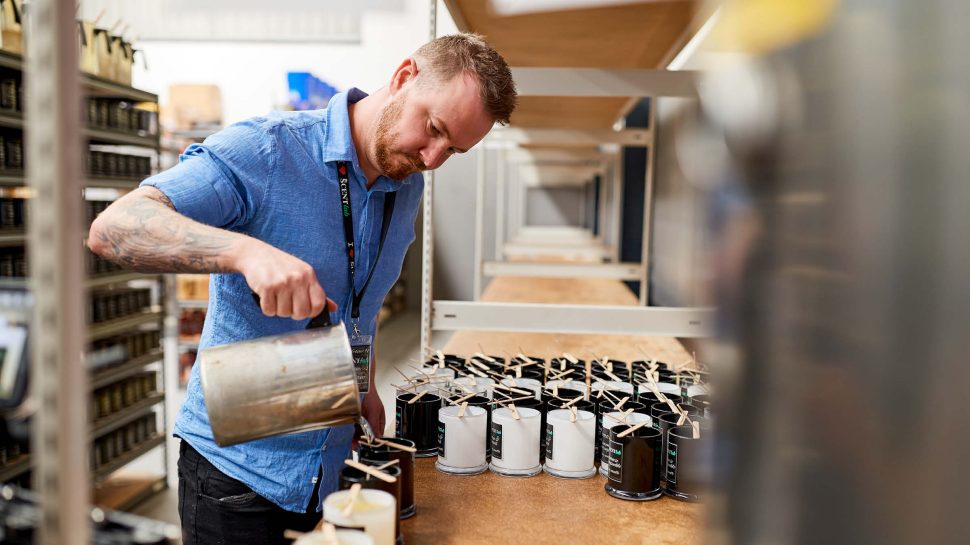 Adam acknowledges the candle market is quite saturated, so his goal is to broaden The Scent Lab's target audience as much as possible.
"My goal is to expand online, with more fragrances to accommodate everyone's taste. We already have 45, and could go to as many as 80."
With cleaning products and pet care other fast-growing categories on the site, he's also planning to leverage the brand name with further spin offs like The Sweets Lab. For Adam, it's all about bringing a little bit of affordable joy into the home.