How MyPost Business helped Artisanale Chocolate
When COVID-19 made it impossible for Artisanale Chocolate to reach customers face-to-face, Rebecca Chan made a quick move to online selling in time for her Easter peak. From packaging to postage costs, there was a lot to learn. She shares how MyPost Business helped save on sending.1

Key points
Online became the only sales channel for a business that previously made 90% of sales in person.
Integrating MyPost Business with their online ordering system streamlined operations.
New interstate and corporate customers were drawn by the online presence, along with a unique product range and French chocolate craftsmanship.

Rebecca Chan turned a side project into a career when she launched Artisanale Chocolate in 2016. Combining fine French chocolate with quality Australian produce, this small business shares the joy of quality chocolate through its delicious cocoa creations.
Until 2020, Artisanale Chocolate depended on markets and pop-ups to reach customers. When COVID hit, this all changed.
"Selling direct was about 90% of our revenue and as a business, we were going well and growing," says Rebecca. "We had pop-up stores in shopping centres and office building foyers, as well as markets. COVID cancelled all these things just as we were coming into our peak season, Easter. So we had to quickly shift everything online."
Upgrading for eCommerce with MyPost Business
At that time, Artisanale Chocolate's website was "very basic," according to Rebecca. "It was slow and clunky, just for regular customers to re-order." However, with Easter fast approaching it was Rebecca's only channel, so she quickly moved her eCommerce platform to Shopify, and focused on navigation to make it easier for customers to find something they'd love.
After getting through those first few months, Rebecca signed up with MyPost Business to take advantage of the cost savings – and further streamline her online fulfilment processes.1
"My local Post Office manager told me about it and signed me up. It was so easy to get up and running, and it integrates with Shopify through a plugin," she says.
"Previously I was handwriting addresses on packages. But having customer details automatically download onto a shipping label… that saves us so much time. It makes it more seamless."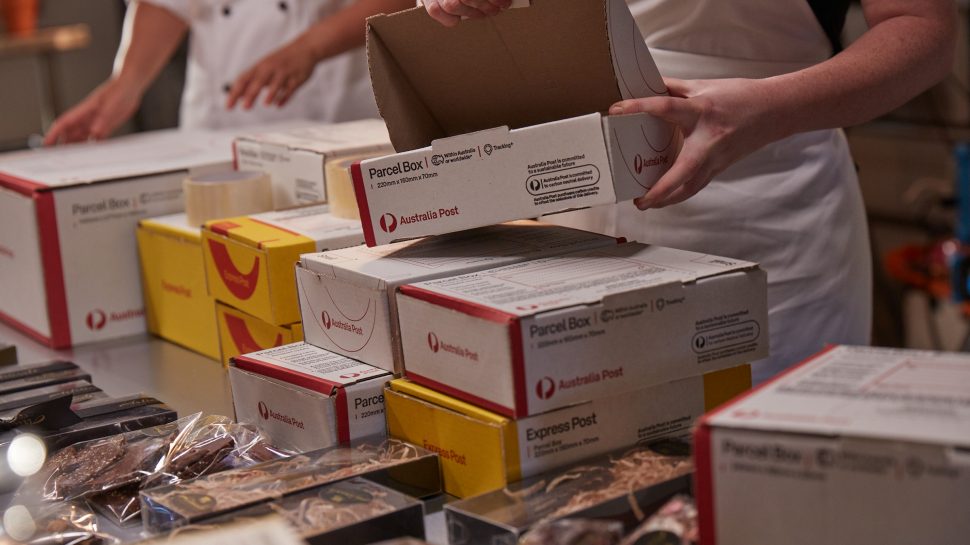 To compete in what Rebecca describes as a "very saturated" market, Artisanale Chocolate offer free shipping for purchases over $29. With MyPost Business, they now qualify for Band 5 savings of 40% when posting within Sydney and 20% when posting to other major cities within Australia.1 With postage accounting for 30% to 40% of the business' operating costs, that makes a big difference.
"We're small, so just getting our name out there is hard. Once you have the customer on your site, you try to remove any barriers to order. That's why we offer free shipping – and we always ship express because we want the product to reach the customer in the best possible condition."

Another barrier is site speed, according to Rebecca. "Apparently, even a few seconds to load a page is too long. So we also invested in optimising that experience."
Talk to an expert
Find out how we're making eCommerce easy. Request a call back to speak to an account specialist.
All set for on- and offline sales

Pop-up stores might be back in shopping centres and markets, but the online channel continues to bring in additional revenue and the chance to reach a broader geographic market than just Sydney.
"Around 80% of our chocolate was going to Melbourne at one point! And many are now repeat customers," Rebecca says.

Selling online has also attracted more corporate clients to the business. "One of our eCommerce customers ordered 1,000 Easter bunnies as a corporate gift, and they found us online," she adds.

Rebecca also plans to continue developing unique products like The Ultimate Toolbox, which offers a range of tool-shaped chocolates for Father's Day. And the Heart Box featuring beautiful and vibrant cocoa butter colours for Mother's Day.

While moving into eCommerce wasn't necessarily what Rebecca had expected, her omnichannel strategy is now providing new opportunities for growth. By partnering with MyPost Business, Rebecca and her team can service customers more efficiently, which is an added sweetener for her small business.