Providing more access to literacy resources for all Australians
Literacy resources help keep Australians connected. But COVID-19 and a lack of access to books in remote regions made it challenging for some to get their hands on these resources in 2020. Australia Post helped ensure ongoing access to literacy materials by accommodating the needs of the Public Library Service in South Australia and through its partnership with the Indigenous Literacy Foundation.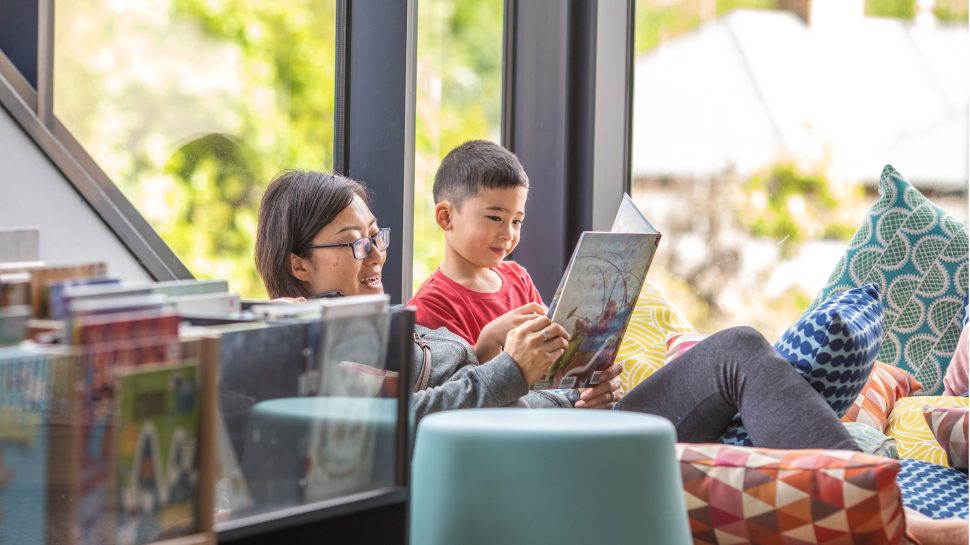 Key points
Libraries adapted to play a vital role in keeping Australians connected in 2020.
By supporting and partnering with key organisations, Australia Post helps provide more access to literacy resources for all Australians.
In 2021, these collaborations will continue to promote literacy, especially for children in remote and rural regions.
In 2020, a year that featured everything from natural disasters to lockdown restrictions, books and reading materials played a huge role in keeping Australians connected and learning under difficult circumstances.
When libraries in Victoria closed in March due to COVID-19 lockdown restrictions, the state's Eastern Regional Library Corporation developed a new book delivery service that brought resources straight to readers.
Meanwhile, in South Australia, residents were also keen to maintain their access to books and many took up South Australia's OneCard Digital Library program. This program provides equal and convenient access to library resources for all members and ensured people were not cut off from the library entirely.
"OneCard became more popular during COVID-19," Hanlie Erasmus, Associate Director of Public Library Services in South Australia, says. "Libraries were – and remain – an important hub of connection and social cohesion in suburbs and remote towns. When the pandemic struck, it was fantastic that South Australian libraries could respond with an alternative for members that was easy to use."
Ashley Marshall, Australia Post's General Manager - Business Government & International says the extraordinary circumstances of 2020 emphasised the importance of libraries and literacy resources in keeping communities connected.
"Supporting Australians of all ages throughout the country with more access to these resources is essential. Australia Post remains dedicated to continuing doing this in 2021 through our partnership with the Indigenous Literacy Foundation (ILF), curriculum-boosting school-based materials and a seniors' program."
Writing the next chapter of library access
South Australia's Public Library Service unites more than 130 libraries1 across the state under its OneCard Network. Australia Post is the key delivery provider supporting the service and helps the Public Library Service move approximately 4 million books, CDs, DVDs and magazines among libraries annually.
"We've built a way of working unique to South Australia that provides efficient and equal sharing of resources across all South Australia public libraries," Hanlie says.
"The community can access a broader range of collections at any library regardless of where they live, which saves on travel costs and provides equitable access across metropolitan, country and school libraries."
Australia Post is able to help achieve these goals in regional communities, where the Post Office is one of the most trusted service providers.2 With 2,500 Post Offices in rural and remote locations around the country3, Australia Post has the footprint to spread the benefits of literacy. Some libraries have even approached local Post Offices to host kiosks where library members can select, pick up and return resources.4
"With Post Offices in remote and regional areas as well as suburban locations, Australia Post can deliver requested library material straight to library facilities all over the state," Hanlie says.
More books for children in rural communities
Australia Post is also using its reach to deliver books and other literacy materials to Indigenous children in remote and very remote areas. In early 2020, Australia Post entered a three-year community partnership with the Indigenous Literacy Foundation5. This not-for-profit organisation aims to build capacity and empower remote communities on their literacy journey.
The partnership's second year in 2021 will see both organisations work together to deliver over 99,000 new, culturally relevant books over 36 months to remote Indigenous communities through ILF's Book Supply program.
"Delivering books to remote Indigenous communities through our partnership with the Indigenous Literacy Foundation is something we're uniquely able to do," says Emma McClements, Australia Post Community Partnerships Manager – Literacy.
"We're proud to support the ILF's program and help place beautiful, culturally appropriate books into the hands of more children in remote communities. We know that literacy is one of the building blocks that helps us connect with each other."
Turning data into action
This year, Hanlie says the Public Library Service wants to use available data to provide even more convenience for library members.
"Librarians have the skill to analyse data to better reach library members and create a better connection with the community," she says. "This can make libraries more flexible in the face of changes during lockdowns and other environmental impacts such as bushfires and floods.
"Australia Post can help us analyse the library material moved across the South Australian network and help us figure out how to get materials to library users as quickly as possible to reduce waiting times and improve cost effectiveness of the OneCard Network."
Literacy is a key part of helping prepare children to engage and function in society.6 But it can also play an important role in holding communities together, especially in times of crisis. Australia Post will continue working towards ensuring every Australian has access to literacy resources – no matter where they are in the country.