How to make your workplace or business more accessible in 2023
No matter your industry or the size of your business, there are many ways you can become more accessible and inclusive of people with disability. Not sure where to start? Read on.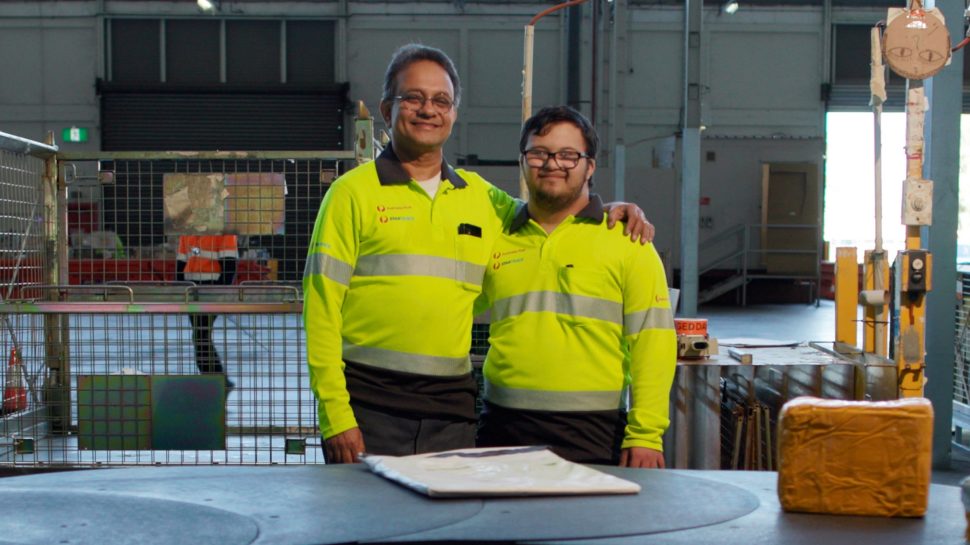 Greg Richardson's son Michael lives with disability and when he was old enough to seek work, Greg knew having Michael work alongside him at Australia Post would be a great opportunity.
Key points
With 1 in 5 Australians identifying as having disability, it's so important to think about accessibility and inclusion in your business
From your physical premises to your digital presence, there are many different things to think about
Also look to your partners and suppliers when building your disability access and inclusion plan

Helping everyone gain access 
1 in 5 Australians have  disability, and 10% of Australians are carers for people with disabilities.1 Like everyone else, all these people deserve the right to access your business. Some may want to work for you. 
When it comes to making your business more accessible and inclusive, a great place to start is by asking people with disability what challenges they currently experience. Disability is diverse and not always visible, so the best approach is to ask all employees and customers for feedback on your workplace, products and services—and when you do make an improvement, proudly share it with your network to show your commitment to accessibility and inclusivity.
With all these differences in mind, you can then start to think about new opportunities to break down barriers and become more accessible. You can consider everything from how easy it is for people to access and move around your premises, to how you communicate with customers. 

Below, we share some ideas on where to start. 
1. Make your premises accessible
Whether your goal is to attract more diverse employees, or you want to make your shop more accessible to customers with a disability, then you'll need to take a good look around your premises. In fact, making your business accessible is the law in Australia—customers with disabilities should be able to access your shop or services like any other customer. 
Consider things like ramp access, dedicated car parking, clear markings on steps, good lighting, clear pathways through the building, and accessible toilets. If, for example, the only way to access your premises right now is via a set of stairs, then you could unwittingly be discriminating against people in wheelchairs as they can't access your business.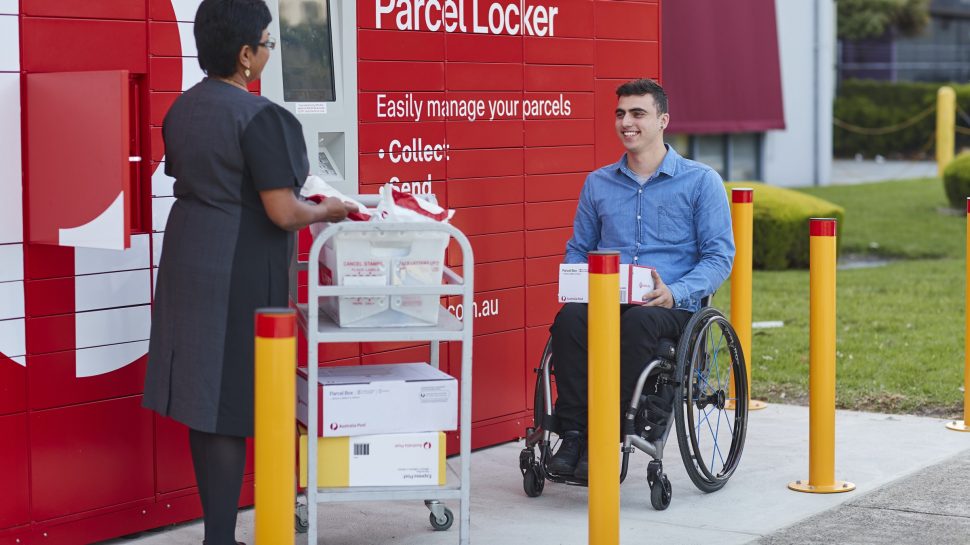 Customers can be reassured that our Parcel Lockers meet the needs of wheelchair users and people of short stature.
2. Make your information accessible
Just like you need to make it easier for people to visit your physical premises, you also need to make it as easy as possible for people to access information about your business. This includes providing information in a range of formats to suit different people's needs.
At Australia Post, we're doing this in a range of different ways. We've introduced mandatory Alt-text on all social media posts. We've simplified our messaging and created large print responses for children with low vision as part of our Santa Mail Program. And we're creating audio-described television commercials.
Familiarise yourself with the Web Content Accessibility Guidelines (WCAG), which include a set of recommendations for making websites universally accessible. Everything from your choice of colours to the provision of text alternatives, to how users navigate and find content, all contributes to the accessibility of your site. 

Customers with disabilities should be able to access your shop or services like any other customer.
3. Build a more diverse workforce
A powerful way to make more people feel welcome in your business is by making them feel seen and represented. Not only does a more diverse workforce show you care about inclusion, but it's known to deliver a range of business benefits—such as greater innovation, enhanced productivity, and less staff turnover.
Plus, hiring people with a disability will help tackle the high level of unemployment in this sector. Right now, despite well-publicised skills shortages, over 500,000 people with disability are actively looking for work.2 
You could help bring the number down. A great place to start? Check out Australian of the Year Dylan Alcott OAM's new venture, The Field, which has been created to help connect people with disability who want to work with organisations that want to hire more inclusively. It's a win-win.

Video: At a dining table, a young man with Down Syndrome, Michael, and a middle aged man, Greg, read through a list of suburbs.
Audio: Michael: Ashfield. Bullsbrook. Beldon. Brigadoon. Greg: Brigadoon, yeah. Good job.
Video: They are interviewed sitting side by side in the lounge room. Michael has dark hair and a beard, Greg wears glasses. Text: "Greg and Michael Richardson."
Audio: Greg: I'm really proud of Michael. Michael is very caring. He loves challenges. He loves to sing. He's a great kid. Great kid. 
Michael: Kid? 
Greg: Oh, sorry. Yeah, he doesn't like being called a kid. He's a great guy.
Video: Aerial footage shows a leafy seaside suburb. The title 'Journeys' appears in white text above the Australia Post logo. Family members of different generations gather around Michael and Greg as they look through an album of baby photos. The interview continues.
Audio: Greg: We moved to Australia from India. Girl: We went in 2001. Greg: 2001. 
Greg: And one of the reasons for coming over was Michael, for his future. And we just took the risk.
Video: They look through photos of a chubby baby and of Michael in a school uniform. The interview continues.  
Audio: Michael: Oh. Girl: Is that Michael? Child: Is that Michael? Michael: Yeah, yeah, it's me.
Audio: Michael: High school is very challenging. I'm always being deaf. If I don't listen to my teachers, I will...go to the principal's office. 
Greg: I felt, you know, Michael can do better than that. And I think every parent should feel that, because if you don't feel that, that kid is, you know, stuck.
Video: In a huge warehouse, large metal baskets of parcels flank conveyor belts. A red Australia Post truck contains baskets full of parcels. Greg holds a meeting for staff. They all wear bright yellow safety gear. Later, Greg takes photos.
Audio: Greg: So, I've been working for Australia Post for over 17 years. Every July, Australia Post will advertise for Christmas casuals, and I thought, "This is the perfect time. We should try and get Michael in." But he couldn't even read at the time. I took photos of all the signages and every evening after school, I would get Michael at the dining table and make him read.
Video: Michael and Greg read together at the table.
Audio: Michael: Aveley. Beldon. 
Greg: It was difficult initially, but Michael now knows half of the 3,000 suburbs in Western Australia. And now Michael is permanent part-time for almost two years now. Michael: Mmm.
Video: Trees are silhouetted against the bright orange horizon and the paler orange sky. Wearing yellow safety jumpers, Greg and Michael head into a building. They work among the conveyor belts or parcels. Tags with suburb names and postcodes hang from a rack. A long list of suburbs is headed 'Central Coastal'. Working with a colleague, Michael checks a parcel.
Audio: Greg: There are about 100,000 parcels which come through our facility every day. It has grown more than 100 times what we were, because every year there are new suburbs. Michael likes to go to the Gold Fields. Initially... 
Michael: No. I like to go to South Roads, GSR, North west, CCM and Gold Fields. Greg: You work everywhere. Michael: Yeah. Greg: Ah, OK, OK.
Video: In the warehouse, Greg runs a meeting. His staff, including Michael, stand in a large circle around him. Michael checks parcels on a conveyor belt, and grabs one. The interview continues.
Audio: Greg: Not as a dad, but as a supervisor, I follow up his work to make sure that some customer's parcel is not mis-sorted or going to the wrong place, and I've not found a mistake. I think he's just grasped the opportunity and he's really doing well.
Video: Greg, Michael and colleagues walk through the warehouse. Michael and colleagues chat at tables and near conveyor belts.
Audio: Michael: I love to work at Australia Post. It's a wonderful place. I chat with my friends about where they're born, when's their birthdays, and their love story also.
Video: Michael closes a metal basket, then writes on a document. He wheels a basket of parcels through the warehouse. He takes a parcel from the conveyor belt and examines its address. He chats and laughs with a colleague. Michael checks parcels on a conveyor belt. Nearby, Greg checks the contents of a basket.
Audio: Greg: Since Michael has started working at Australia Post, the management has employed many more people with disability in the workforce. To me, it's not about Michael. It's about looking at Michael and seeing, yes, he is capable of doing these things. These people bring so much life into the workplace and others in the workplace can also understand more about this and be more tolerant. And if ever a person with a disability should work in a place where they would get equal opportunity, I think that was the perfect place for Michael. 
Michael: He is proud of me. 
Greg: I am very proud of you, Michael. You're doing a fantastic job. 
Michael: Thank you.
Video: In the warehouse, Greg stands with his arm around Michael's shoulders. Parcels cruise past on a conveyor belt. 
The Australia Post logo appears on a red screen. Text reads, "Watch the full Journeys series at auspost.com.au/watch." The text fades. The words "Australia Post" appear beside the stylised 'P' of the logo above the words "Delivering for Australia."
Audio: Voiceover: Australia Post. Delivering for Australia.

4. Do more to represent people with disabilities
Another thing to think about on your journey to becoming a more inclusive and accessible business is your advertising. Aim to better reflect and represent all Australians in your adverts, including people with disabilities. According to a recent report by the Screen Diversity and Inclusion Network, people with disability were vastly under-represented compared to the population benchmark (17.7%), both on screen (8.9%) and behind the camera (5.3%).3
Consider how you can authentically add people with disabilities to your advertising and marketing campaigns. By 'authentic', we mean focusing on the person, not their disability. Don't depict people with disabilities as a burden, vulnerable, or living a life of lesser quality than others. 
At Australia Post, our recent 'Delivering like never before' campaign included a wheelchair user as a lead character, a first for our brand and an important step to better represent our customers in a more authentic way. In another first, this campaign also featured an embedded Auslan interpreter on all connected TV executions.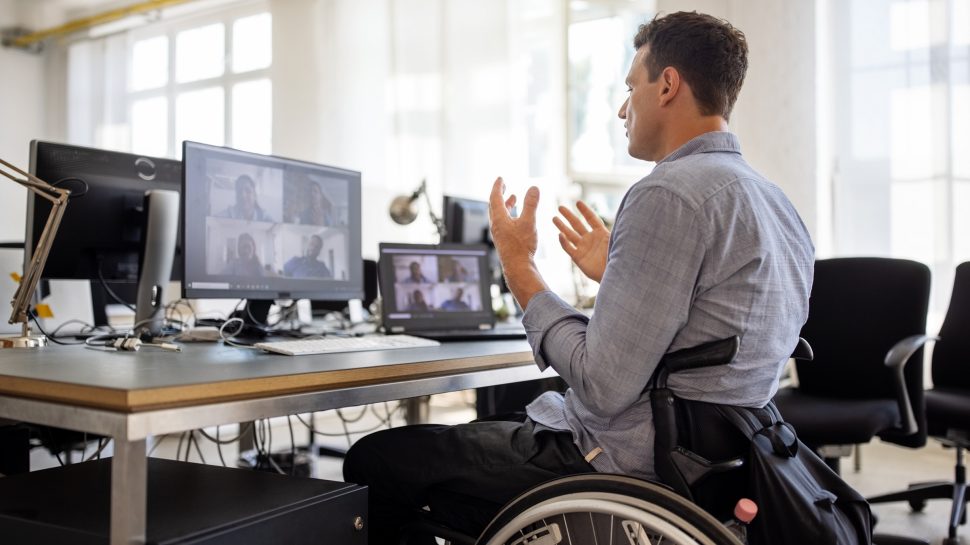 Hiring people with a disability will help tackle the high level of unemployment in this sector.
5. Commit to continual improvements
Becoming a more accessible business means making an ongoing commitment to change. There will always be opportunities to improve. By building a positive culture that promotes diversity, equity and inclusion today, you'll be on the right path into the future.
Don't forget to ask your partners and supplier network about their policies and practices. You'll want to make sure their actions and services stand up to your accessibility standards. If you use Australia Post for your shipping and deliveries, for example, then you'll be reassured to know that your customers can easily access our website and app—with both meeting the 'AA' standard of WCAG—to check on the status of their deliveries; and that our Parcel Lockers meet the needs of wheelchair users and people of short stature. 
In fact, thanks to the hard work of Australia Post's Diversity and Inclusion team, we made it into the top 10 of the Australian Access and Inclusion Index in 2021. You can learn more about our commitment to diversity and inclusion here, and see our latest Accessibility and Inclusion Plan.
Find more tips and helpful information at Access for all and the Access and Inclusion Index. Another helpful tool to guide your communications strategy is the United Nations' Disability-Inclusive Communications Guidelines.
There are a range of excellent free resources produced by the Australian Human Rights Commission at www.includability.org.au.

We're committed to making our workplace, products and services more accessible.

Our Accessibility and Inclusion Plan sets out our commitments to improving the experiences of ourpeople, customers and community with disability. Download our Accessibility and Inclusion Plan to learn more.