How Australia Post is leading the way in accessibility and inclusion
Turning our Accessibility and Inclusion Plan into clear action and solid outcomes has led Australia Post to be named top performer in the 2023 Disability Confidence Awards.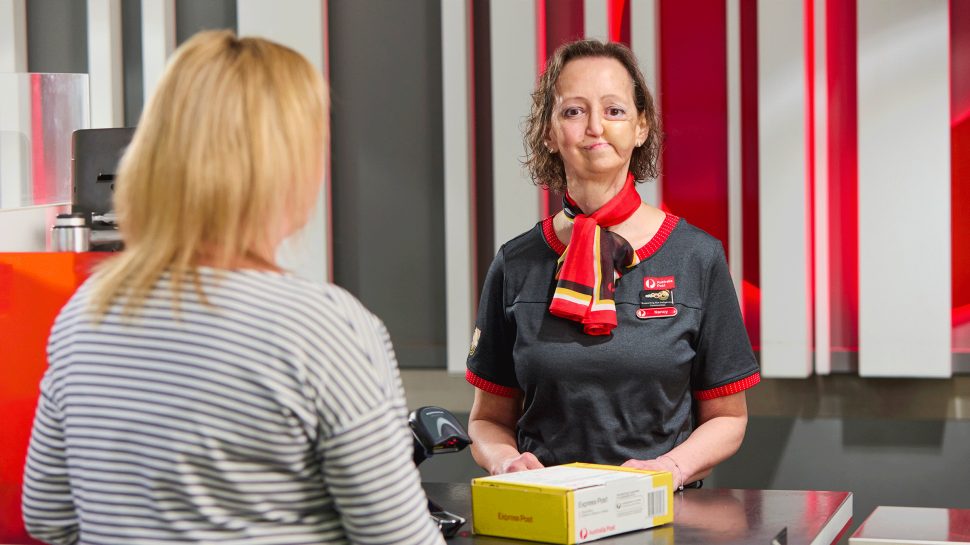 When Sharon Carroll, Australia Post's Diversity and Inclusion Partner, submitted the organisation's self-assessment for review in the Australian Network on Disability's Access & Inclusion Index, she crossed her fingers that we'd be in the top five this year.
In May 2023, she received an email that took her breath away – Australia Post had clinched the number one spot in the 2023 Index.
On 5 June, the Australian Network on Disability named Australia Post as the top performer of its 2023 Disability Confidence Awards.
"I'm so proud of our Accessibility Steering Group," Sharon says. "They've put in years of hard work which has sometimes felt thankless, challenging and complex. And suddenly here we are at number one. It's incredible."
The Access & Inclusion Index is an online tool for Australian organisations to identify, measure and improve their accessibility and inclusivity for people with disability across their business.
The self-assessment consists of 10 categories that are individually weighted and scored to achieve the overall score.
Rosie Lane, the Australian Network on Disability's Access and Inclusion Index Lead, says Australia Post didn't get to the top position overnight but over six years of sustained focus and steady improvement.
"Often organisations have outstanding scores in just a couple of categories but Post showed continued progress across all 10 categories every year."
Bringing accessibility initiatives to life
Australia Post registered our first Disability Action Plan in 2012. But it wasn't until 2017 that we undertook the self-assessment and scored 23 out of 100.
"The Index has helped us clearly understand what we needed to prioritise to move forward," Sharon says. "I'm particularly proud of what we achieved in implementing the 2020-2022 Plan. Our whole-of-business approach is working really well."
According to Megan Jones, the Australian Network on Disability's Marketing and Communications Manager, many of its members are deeply committed to improving their disability confidence. But, she adds, putting a strategic paper and plan into action is often daunting, time-consuming and requires consistency.
"This is where Australia Post really shone by putting several learnings from its plan into solid actions and outcomes."
Learn more about what Australia Post is doing to build awareness and improve diversity and inclusion in the workplace and in our community. 
A deep and continued commitment to accessibility

Australia Post has a longstanding commitment to diversity and inclusion. But it was only two years ago that we put accessibility at the forefront of our internal processes, products and services, and brand campaigns.
"We've been a disability confident recruiter for three years and we've made accessibility a big part of our communications and marketing initiatives," Sharon says.
"And we have several unique initiatives that contributed to our strong performance."
Having a representative of the disability sector on the Australia Post Stakeholder Council. Sharon says, "We're valuing the voice of disability in everything we do, whether it's building a new facility or removing a Street PO Box."
An annual Listen n' Learn session. Sharon says, "This is where Australia Post's CEO and EGMs are audience to five employees with disability talk about their workplace experiences – the good and bad."
Making disability part of our internal language and culture. Sharon says, "We've made disability part of regular work life instead of only highlighting it on significant days. For example, we offer training to build disability confidence."
Implementing a Workplace Adjustment Passport to ensure employees with disability have the same workplace experience as their peers. Sharon says, "Our Talent Acquisition team undertake regular training and are confident in providing a positive recruitment and onboarding experience for candidates and new employees. This includes asking about workplace adjustments. Employees who require an adjustment can document this in a digital passport which their manger can access to understand their workplace adjustment needs."
Hosting Hack-cessibility, an internal event aimed at solving problems for customers with disability. Sharon says, "This creates new ideas for ways of working and puts customers at the heart of the product/service design. Some of the winning ideas from the last event are already in production."
Making accessibility a key part of brand campaigns. Sharon says, "All our TV commercials now have visible representation of disability, an audio description and Auslan embedded versions."
Creating an equitable world together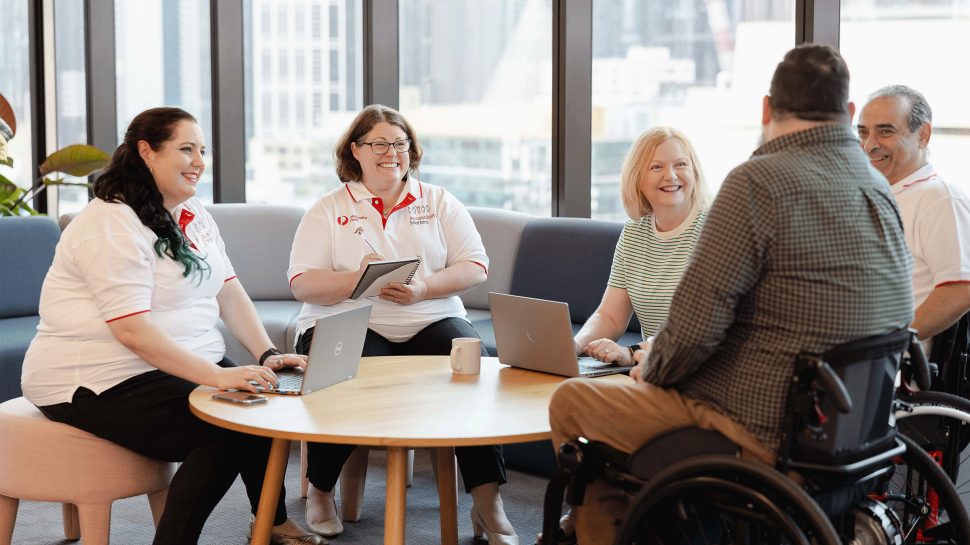 For Megan, the Index's true measurement isn't about an organisation's public-facing accessibility initiatives but its internal growth in this space – especially around individual attitude and awareness.
"A lot can change if every person understands just a little more about disability confidence and accessibility," she says.
"One of the first things we talk about is how to treat each person with a disability as an individual, avoid making assumptions about their needs and ask everyone if they require workplace adjustments.

The more you practise these small habits in your daily life, the more you're helping make your workplace – and the world – more equitable for everyone."
Want to know how we're making accessibility part of our workplace?

Read our Access and Inclusion Plan 2023 - 2025.