Pillowcase Workshops: Teaching children how to prepare for disaster
We can't predict or prevent disasters and other crises, but we can be prepared for them. Australia Post's partnership with Australian Red Cross is helping children in high-risk areas do just that through the delivery of Pillowcase Workshops.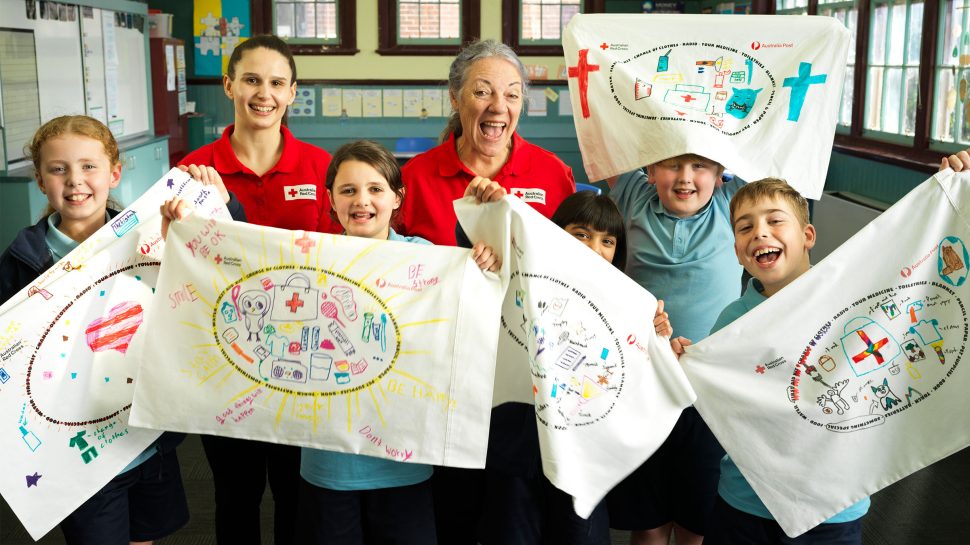 Being ready to act in an emergency isn't just lifesaving. It also builds resilience and helps us recover after the event. This is especially important for children.
Research suggests that educating children in disaster preparedness can contribute to a culture of preparedness and resilience in the community as a whole.
Children may be vulnerable in an emergency, but they also have unique strength and capacity to prepare, cope and help their families through the event.
And Australian Red Cross is helping them do this through the delivery of Pillowcase Workshops.
A pillowcase is all you need
During Hurricane Katrina, a group of university students used pillowcases to carry their cherished and basic possessions while evacuating campus.
When American Red Cross staff heard this, they developed the concept of using a pillowcase as an emergency kit. This grew into a global disaster preparedness education program that's now known as the Pillowcase Program.
Pillowcase, as it's fondly known, is now run in Australian primary schools by Australian Red Cross and has also been delivered in other settings like scout groups and holiday programs. 
In 2015, the program was adapted to suit the Australian Red Cross' emergency preparedness framework and aligned to the Australian School Curriculum.
Since then, Pillowcase has been delivered to over 65,000 students through more than 2,2550 workshops in over 876 schools.
"Pillowcase aims to create a generation of children who understand the importance of emergency preparedness, know how to cope in an emergency and can share what they've learnt with others," says Rhiannon Hunt, National Manager, Disaster Resilience at Australian Red Cross.
"This is one way we're working alongside communities to strengthen resilience and prepare for disasters in every Australian state and territory."

Australia Post's partnership with the Australian Red Cross supports the delivery of Pillowcase Workshops nationwide
Empowering children in emergencies
Pillowcase is a one-hour interactive workshop that helps Year 3 and 4 students living in high-risk locations prepare for disasters, including ways to cope with disasters after they have occurred.
The program is designed in three parts—understanding the importance of disaster preparedness, being mentally prepared and packing an emergency kit.
The workshop starts with a discussion around the nature of emergencies, what it means to be prepared and why being ready for the unexpected is important.
The children are then taught a mindfulness activity to use during and after an emergency to regulate their thoughts and emotions.
Finally, they're each given a pillowcase as their personal emergency kit and taught to differentiate between needs versus wants items to fill it with.
They're also taught to identify situations in which they have time to grab their emergency kits and when they don't.
"By the end of the workshop, children have said they're better able to prepare for a disaster and this reduces their stress when thinking about one," says Rhiannon.
A school principal in Queensland added that the program allowed students to not dwell on the impact of just one disaster but to be prepared for all emergencies.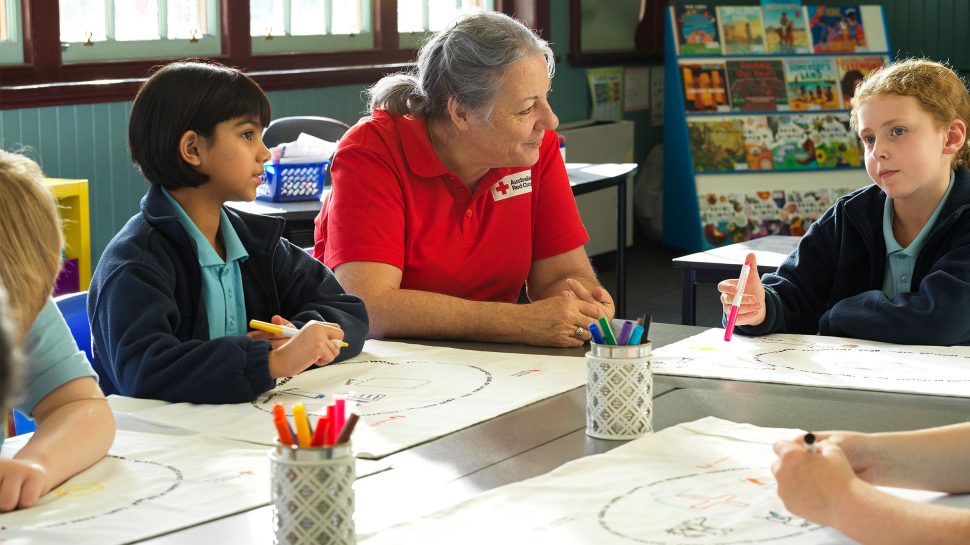 Pillowcase Workshops teach children how to be prepared for an emergency 
Partnering to educate Australians on emergency preparedness
Australia Post has a long-standing partnership with Australian Red Cross.
We've helped fundraise in the aftermath of disasters and delivered disaster preparedness information and resources to high-risk locations across Australia.
From 2023, our partnership will support the delivery of Pillowcase Workshops and help deliver the program to over 6,000 students each year across the country.
Australia Post Executive General Manager of Community, Sustainability and Stakeholder Engagement, Tanny Mangos, says that with the frequency and intensity of disasters increasing, we need to focus on what we can do to prepare ourselves and our families now more than ever.
"We know that the more prepared for disaster you are, the quicker the recovery is. Children have considerable strengths and can be positive change agents to influence family preparedness."
"By educating children in disaster preparedness, we can help to create a culture of preparedness and resilience for the whole community."

Six ways to help kids be prepared for a disaster
1. Explain the nature of an emergency

Be sure they understand what an emergency means. The simplest explanation is that it's a serious, dangerous and scary situation where they may need help.
2. Teach them how to remain calm
Use the 'breathing with colour' technique (slowly breathing in their favourite colour and slowly exhaling their least favourite colour) to regulate their breath and emotions.
3. Involve them in creating a disaster action plan
Make sure every child in your house knows what to do and where to go in an emergency. If you have a safe meeting place outside the house, practise how to get there. Mark the spot out on a printed map and stick it on your fridge.
4. Involve them in putting together a family emergency kit
This kit can include water, food and important documents. Make sure they're familiar with the contents of the kit. Australian Red Cross has a handy survival kit checklist that you can use as a guide.
5. Print a family photo for their personal emergency kit
This will help emergency personnel reunite your little ones with you if your family gets separated during the chaos.
6. Practice emergency phone calls with them
Make sure they know how to open a locked phone, dial 000, provide your home address and can clearly explain the situation to fire or police department. For guidance, visit kids.triplezero.gov.au
Australia Post proudly partners with Australian Red Cross
Whenever disaster strikes, Australia Post and Red Cross are there to support and help communities get back on their feet.