The underwear subscription company that stays true to its cheeky Aussie roots
Rob Rand has never been a fan of boring undies. Or shopping, for that matter. So when it came time to shop for briefs, he found himself in a world of consumer pain. 
So he did something about it.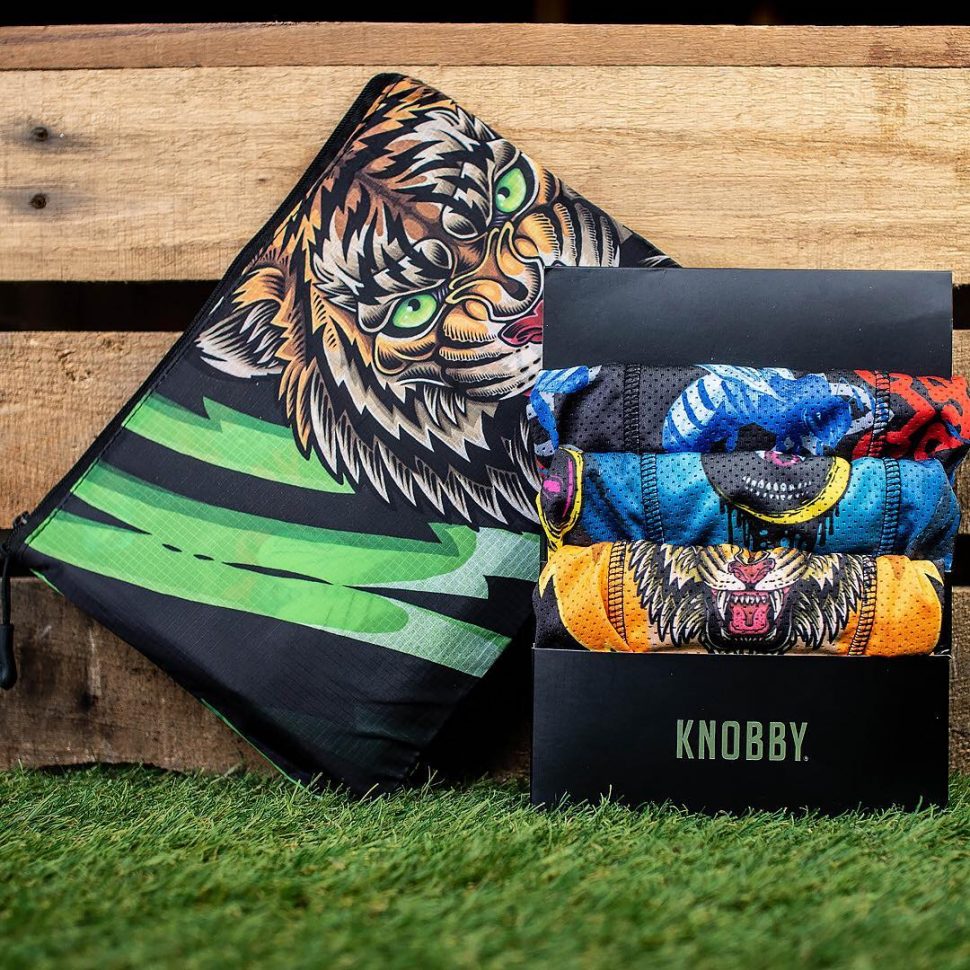 In 2014, he and his wife Ash Rand began KNOBBY, not so much as a clothing company as a subscription based underwear buying club.
"We ship a new, unseen design to members all over the world every month," Rob explains.
That design, created by a different artist, illustrator or graphic designer each month, is boldly colourful - featuring striking patterns that take inspiration from tattoo design, comic books, art, and a bit of Australiana.
But these quirky and unique designs that KNOBBY print onto their 'jocks' are not all that sets the business apart from other underwear retailers… The culture of the business is about so much more than incorporating fun design elements into an everyday clothing item. It's about great customer service and really understanding the needs of the customer.
Undie-standing the market
When a customer visits www.knobby.com.au they're not just clicking around, browsing the available products – they're signing up to become part of a 'club' that delivers a cool and unique experience to their doorstep each month. They won't just receive a pair of undies; they'll receive a 'gift pack' from KNOBBY that could include things like limited edition stickers, bottle openers, keyrings, and other little surprises in their parcel. The whole unboxing strategy incorporates a lot of fun and the element of surprise.
"The reason we chose a subscription model over a traditional eCommerce store was that it allows us to create more of an experience, having that monthly edition of underwear where the customer doesn't necessarily know what they're going to get. Whereas if it was a standard eCommerce store, sure, they're going to know exactly what they want and what they're going to be purchasing, but it kind of takes a bit of the fun factor out of it," Rob says.
In fact, KNOBBY does have an online store, where purchasers can choose from a 'back catalogue' of designs as well as limited edition prints. But it's the subscription model that set the company on the path to success and remains their profit engine.
Ash says to make that model work, they've had to perfect not just the logistics, but every element of a member's parcel-opening experience.
"We're not just about a pair of underwear. Everything has been meticulously designed and crafted, from the package that arrives to the way it's opened to the messaging that's written on the box to the layers of packaging within the box until you finally open up your underwear, which is a surprise design. People love that," Ash says.  
Video

Audio

Male-torso mannequins display a selection of patterned boxer shorts and briefs. All bear the label name KNOBBY on wide elastic waistbands. A sign reads 'Funk up your junk'. A large painted mural depicts a blonde woman in a bikini top and sailor hat. She carries a flag which reads 'KNBY'.

Text: Small Business Story. KNOBBY. Rob Rand, Founder of KNOBBY.

ROB RAND: It really does give them this hidden confidence in their pants to feel really special about themselves. My name's Rob Rand and I'm the founder and managing director of KNOBBY Underwear. KNOBBY is a subscription underwear club. My wife and I, we first started in 2014. We're a fun, light-hearted, colloquial Aussie brand.


In a warehouse with soaring ceilings, employees place products in small fabric bags. A stack of thin black cardboard KNOBBY boxes sit on a table.

A smiling brunette woman holds a pair of yellow, red and green boxer shorts. Pictured on the crotch is a winking koala. Corks dangle from its hat. Australia Post bins are stacked nearby. Male employees hold up roomy boxer shorts that feature animal and floral prints. One man displays a bag printed with the words 'The best bag since goon. KNOBBY.'

ROB RAND: We ship a new unseen design to members all over the world every month.

Rob approaches a blond man who's working with an iPad and Apple Pencil. A snarling, green-eyed tiger glares from the iPad screen.

ROB RAND: This is our genius illustrator and designer Phil here. This one he's working on now, which is a bit of a sneak peek. PHIL: Big inspiration on the tiger - nothing more powerful than a tiger, so... That's the original design on the screen. That's how it comes out on the KNOBBY.