The underwear subscription company that stays true to its cheeky Aussie roots
Rob Rand has never been a fan of boring undies. Or shopping, for that matter. So when it came time to shop for briefs, he found himself in a world of consumer pain. 
So he did something about it.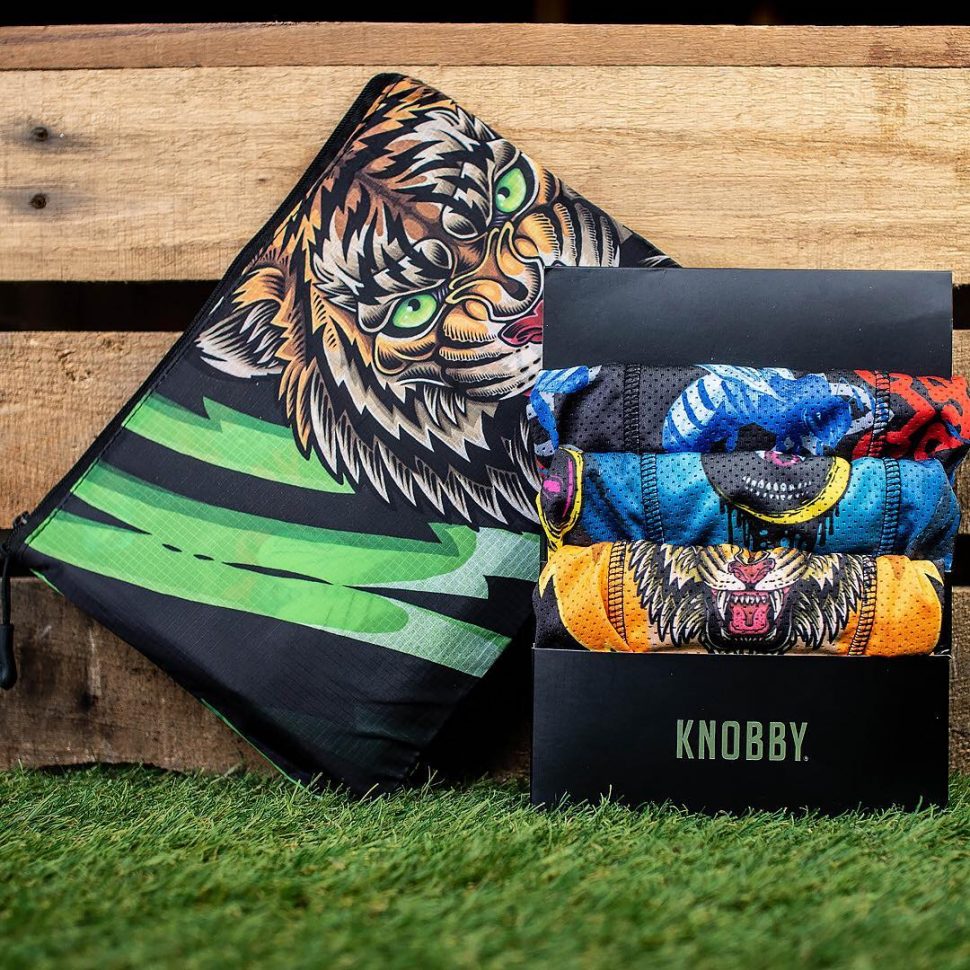 In 2014, he and his wife Ash Rand began KNOBBY, not so much as a clothing company as a subscription based underwear buying club.
"We ship a new, unseen design to members all over the world every month," Rob explains.
That design, created by a different artist, illustrator or graphic designer each month, is boldly colourful - featuring striking patterns that take inspiration from tattoo design, comic books, art, and a bit of Australiana.
But these quirky and unique designs that KNOBBY print onto their 'jocks' are not all that sets the business apart from other underwear retailers… The culture of the business is about so much more than incorporating fun design elements into an everyday clothing item. It's about great customer service and really understanding the needs of the customer.
Undie-standing the market
When a customer visits www.knobby.com.au they're not just clicking around, browsing the available products – they're signing up to become part of a 'club' that delivers a cool and unique experience to their doorstep each month. They won't just receive a pair of undies; they'll receive a 'gift pack' from KNOBBY that could include things like limited edition stickers, bottle openers, keyrings, and other little surprises in their parcel. The whole unboxing strategy incorporates a lot of fun and the element of surprise.
"The reason we chose a subscription model over a traditional eCommerce store was that it allows us to create more of an experience, having that monthly edition of underwear where the customer doesn't necessarily know what they're going to get. Whereas if it was a standard eCommerce store, sure, they're going to know exactly what they want and what they're going to be purchasing, but it kind of takes a bit of the fun factor out of it," Rob says.
In fact, KNOBBY does have an online store, where purchasers can choose from a 'back catalogue' of designs as well as limited edition prints. But it's the subscription model that set the company on the path to success and remains their profit engine.
Ash says to make that model work, they've had to perfect not just the logistics, but every element of a member's parcel-opening experience.
"We're not just about a pair of underwear. Everything has been meticulously designed and crafted, from the package that arrives to the way it's opened to the messaging that's written on the box to the layers of packaging within the box until you finally open up your underwear, which is a surprise design. People love that," Ash says.  
Video: Male-torso mannequins display a selection of patterned boxer shorts and briefs. All bear the label name KNOBBY on wide elastic waistbands. A sign reads 'Funk up your junk'. A large painted mural depicts a blonde woman in a bikini top and sailor hat. She carries a flag which reads 'KNBY'.
Text: Small Business Story. KNOBBY. Rob Rand, Founder of KNOBBY.
ROB RAND: It really does give them this hidden confidence in their pants to feel really special about themselves. My name's Rob Rand and I'm the founder and managing director of KNOBBY Underwear. KNOBBY is a subscription underwear club. My wife and I, we first started in 2014. We're a fun, light-hearted, colloquial Aussie brand.
Video: In a warehouse with soaring ceilings, employees place products in small fabric bags. A stack of thin black cardboard KNOBBY boxes sit on a table. A smiling brunette woman holds a pair of yellow, red and green boxer shorts. Pictured on the crotch is a winking koala. Corks dangle from its hat. Australia Post bins are stacked nearby. Male employees hold up roomy boxer shorts that feature animal and floral prints. One man displays a bag printed with the words 'The best bag since goon. KNOBBY.'
ROB RAND: We ship a new unseen design to members all over the world every month.
Video: Rob approaches a blond man who's working with an iPad and Apple Pencil. A snarling, green-eyed tiger glares from the iPad screen.
ROB RAND: This is our genius illustrator and designer Phil here. This one he's working on now, which is a bit of a sneak peek. PHIL: Big inspiration on the tiger - nothing more powerful than a tiger, so... That's the original design on the screen. That's how it comes out on the KNOBBY.
Video: As Phil shows the iPad screen, Rob holds up a pair of boxers that is printed with the snarling tiger design. Rob sits in a studio, the mural on a wall behind him. Graphics showing social media comments and images of people wearing KNOBBY garments appear beside him.
ROB RAND: So the brand is quite unique because it's created a culture about guys no longer... hidden with their underwear. So they now are quite open about their underwear. They'll take photos of their underwear. They'll talk to others about what designs they're wearing. We use social media more to, you know, engage with our customers, we listen to our customers for feedback. It's allowed us to create new products, new styles. 
Video: A male employee wears a black T-shirt printed with a KNOBBY logo. He reads from a laptop on his desk.
Audio: A couple of the feedback and reviews we get coming in... I think my favourite one is just that it's so short and sweet - "You're less of a company and more of a mate." "Massive complaint about KNOBBY - they're so perfect, how am I ever meant to go back to wearing anything else?"
ROB RAND: We never in the slightest set out to create a women's range when we first started the brand.
Video: A slim woman with curly hair sits at a table. Behind her, mannequins wear men's and women's KNOBBY garments.
Text: Ash Rand, Director of KNOBBY.
ASH RAND: We were getting emails all the time from women saying, "Why can't I get mine? I see my husband get his surprise in the mail. Where's mine?" So in the end, we were like, "Hm, why not? Let's do it."
Video: Smiling employees hold up racer-back women's tops printed with fruit designs.
ASH RAND: We have two sides to the business. There's the subscription side and then there's also the online store. The online store has some previous months' designs in there, but it also is an avenue for us to do some special edition releases.
ROB RAND: We see KNOBBY as very much a tech company. We struggled to just be able to purchase an off-the-shelf shopping cart system. You know, we were so much more than that. We were based on a subscription model. That entailed us having to create our own software applications behind the scenes. It allowed us to really integrate in with Australia Post's system. In all, it just creates a really seamless integration.
Video: Employees neatly package underwear into fabric sleeves, then into thin cardboard boxes. The boxes are placed in Australia Post bins. A computer monitor displays a map of Australia and New Zealand. Coloured icons are dotted over numerous cities and towns.
ROB RAND: This is a part of our back-end software called Backbone You know, we've built in some real-time mapping technology. It allows, you know, everybody in here to really stay aware of where every single pair that's been packed and where it's been sent to. We reach some crazy corners of the country. I still scratch my head as to how Australia Post manages to get to some of these places.
ASH RAND: A big focus of what we do is... We call it the KNOBBY experience. So everything has been meticulously designed and crafted, from the package that arrives, the way it's opened, the messaging that is written on the box as you open it until you finally open up your underwear, which is a surprise design. People love that.
ROB RAND: Australia Post has been with us since the very first pair was sent. We're now really fortunate to have a really nice local support network with Australia Post. It allows us to ship our product to so many places in the world, dependent on the... whether it's the customer's budget, how much they want to spend, how quickly they need it.
Video: An Australia Post driver closes the back of a red company van. He sounds the horn twice and drives away. Rob unloads a pair of beagles from the back of his four-wheel drive. He and Ash lead two young children and the beagles along a beach.
ASH RAND: We approach our work life with more of a work-life integration approach. It's so handy having us both work together because we can go to the beach with the dogs and the kids and be working. We might go from talking about what we're having for dinner to talking about the marketing strategy to talking about the kids at kindy.
Video: At the warehouse, employees play table tennis. Later, they chat around a long cafe table. Rob holds up a pair of white shorts printed with blue insects.
ROB RAND: We have a small team. Our team is very much what creates KNOBBY. We're always really looking for somebody who fits the brand, the culture and just, you know, the personality as well. So the cool thing about having really awesome people is you can just let them go and do their job and you just have so much trust and you know it's going to be awesome.
Video: The red-and-white Australia Post logo appears on a white background.
Text: auspost.com.au/smallbusiness
Putting boring briefs to bed
As soon as you land on the KNOBBY website you get a strong sense of what the brand is all about. It's whimsical, it's fun and it is, as Rob puts it "colloquially Aussie". There's lots of cheeky Aussie slang and silly jokes involved in the way the brand talks to its customers.
Rob says that all comes back to his original insight: the undies he was looking at were profoundly uninspiring.
"The brand is quite unique because it's created a culture. Guys are no longer hidden with their underwear. They'll take photos of their underwear, talk to others about what designs they're wearing."
Ash says she does a lot of the copywriting for the company and finds it one of the most enjoyable parts of her role at KNOBBY.
"At the start we did approach it with a real cheeky, Aussie colloquial vibe. And it was just a lot of fun to do. We were worried – I was worried – that when we launched the women's line we might have to lose that tone a little bit but we retained it and I think it works really well and our customers really respond to it."
Team, tech and a trusty partner
Rob believes that one of the reasons for the success of the venture was the simple concept at the heart of it all, a kind of commercial version of the 'Golden Rule'.
"Ever since day one of this I really wanted to create, as part of the experience, just brilliant customer support. How I wanted to be treated when I had dealings with another company – that's really all it was."
Desiring it was one thing, but making it happen was another challenge entirely. It began with building an excellent and trustworthy crew.
"We have a really diverse team. We have a fairly young team, as well, who bring a certain dynamic. They're a really great reflection of the culture we try to instil here," Rob says.
"Our in-house designers and copywriters. Our web team, which is a front-end developer [and] a software engineer who works with our own 'Backbone' order management system. But overall it's just about creating a really nice team that just understands the vision."
Next was allowing that group to make the most of their talents. Two of the most important ways in which they did that was through technology and partnering with Australia Post.
"We see KNOBBY as very much a tech company. We struggled to just purchase an off-the-shelf shopping cart system. We were so much more than that. We were based on a subscription model [so] we had to create our own software applications behind the scenes. It allowed us to really integrate in with Australia Post."
"Using Australia Post, it's amazing that we're able to get this product from here on the Sunshine Coast to these remote corners of Australia that we didn't even know existed. They've been with us since the very first pair that was sent. It's allows us to ship our product to so many places in the world."