Guys, here's the ultimate guide to finding great fitting jeans online
If you're like most guys, you probably own a few pairs of jeans. Online shopping makes it easy to add to your collection when you need to, but how do you know if you're buying the right pair?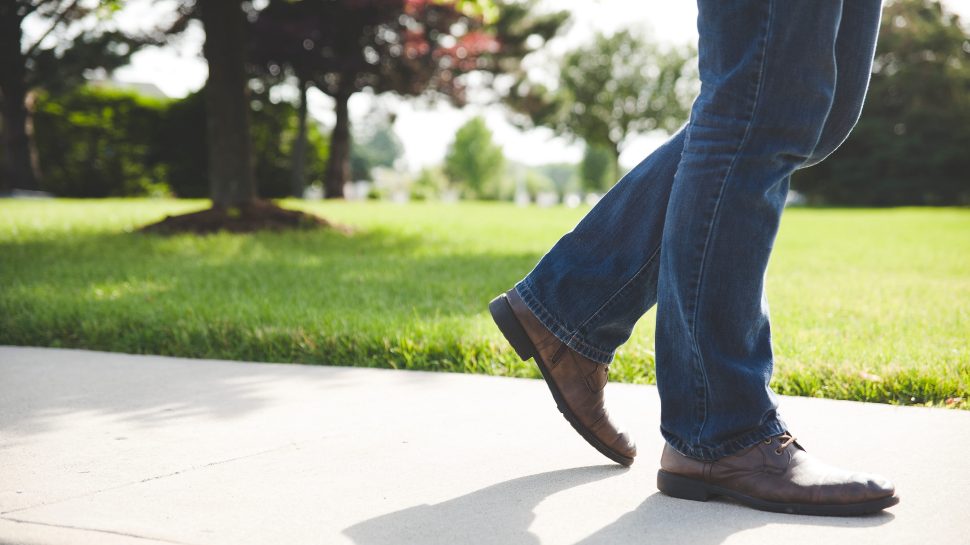 Fortunately, online retailers make it easy to shop for a new pair of jeans by providing a size chart. Just match your measurements to the guide and that's the size you need. Remember that sizing can vary from brand to brand so check your stats against the chart of the store you're buying from. Besides working out how to take your correct measurements, there are other things you'll need to consider like the fit, fabric and finer details of your new jeans.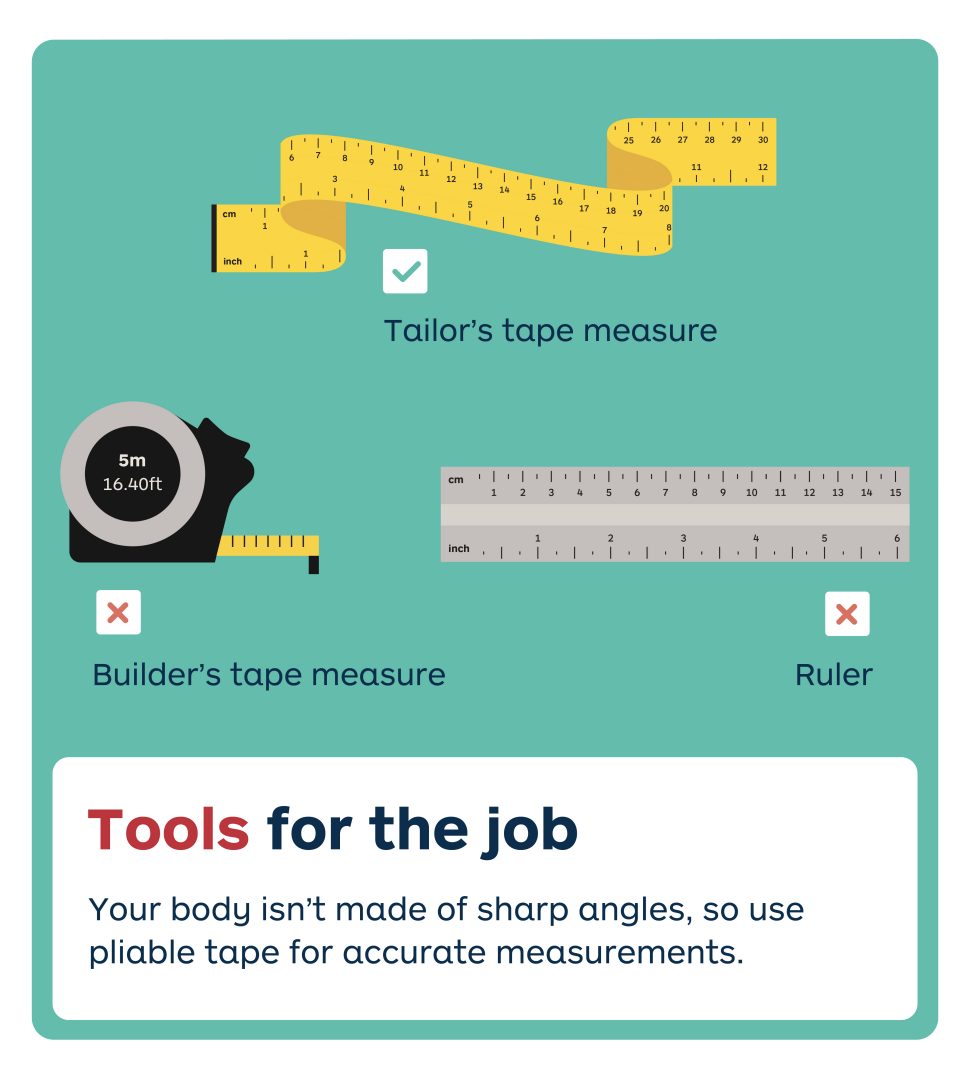 How to measure for jeans

Jeans can usually be had in different lengths to accommodate men of different heights. The sizing convention for most brands is waist measurement followed by leg length, in inches. So 32 x 30, 32 x 32 or 32 x 34 indicates size 32 jeans of various lengths. To find your stats, get hold of a tailor's tape measure and a willing friend to help measure you up—with these two things, you'll get the most accurate results.
Waist
Find your natural waist by bending to one side: where the crease forms in your skin is where you want to measure. As a guide, it's the narrowest part of your waistline just above the hips. You want your jeans snug, but not constricting, or so loose they fall down. You should be able to do up a belt without the waistband bunching up.
Leg
That leg length actually refers to the inside leg, so measure in a straight line from the crotch (leaving room to move) to the anklebone. If you like to fold or cuff your jeans, go for a longer length to accommodate your preference. If in doubt, go up a size: a tailor can always alter clothes by removing fabric but they can't magically create extra cloth.
In some cases – if you're over 6-feet tall or are looking at a cropped style – you might need to measure your outside leg too. To do this, measure from your natural waistline all the way down to the floor.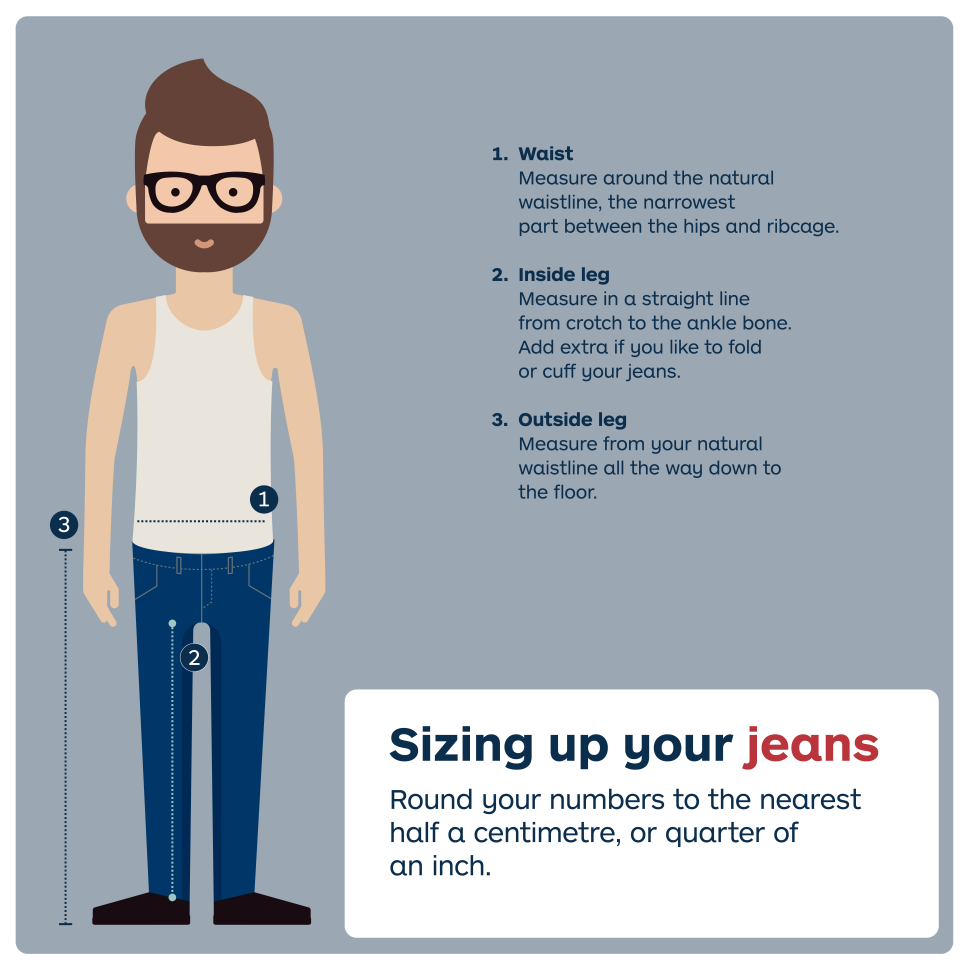 Which fit is best?
Jeans come in all kinds of different styles and cuts these days. It really comes down to what kind of look you're going for and what might suit your frame better.
The shape and cut of a pair of jeans is referred to as fit, and there are lots of different fit options out there. There are four main ones to look out for and luckily the different fit names are pretty self-explanatory:
Skinny
A tight fit that hugs close to the leg and tapers at the ankle. There's often a bit of stretch (elastane or lycra) added to the denim for comfort. Works best with a slim build.
Slim
Still fitted but not so tight, this cut hugs the thighs, knees and calves, less constricting around the ankle. This is a tailored cut that is great for a slim to regular build.
Straight
Sometimes called regular, this is a traditional style of jeans, cut straight from hip to hem. Some variations may taper in at the ankle. Suits regular to athletic build.
Relaxed
This fit is generous from waist to ankle so it won't hug the leg. Men who want more space can seek a loose cut which is roomier again. Good for muscular and stocky builds.

The finer details

There are a few other things to consider when choosing jeans online, all of which are just a matter of your own personal taste and style.
Rise
When a retailer talks about the rise of the jeans, they refer to the length from the crotch seam to the waistband—basically, how high they fit on your body. Low-rise sits around the hips, while a mid-rise is between the hipline and belly button. High-rise stops around the belly button.
Closure
You might find styles of jeans that offer a zip fly fastening or a button fly, the latter being a design throwback to the earliest styles of jeans. Zips are quicker and easier to use, but they wear out faster. Plus if you break a button it can be replaced without too much trouble
Pockets
The five-pocket design is the classic style for jeans (two in front, two in back, plus the small extra 'watch pocket' which today is probably more useful for holding coins). Most brands stick to this look because variations from this standard tend not to look as timeless in a few years. Likewise, back pockets with excessive decoration will date your jeans. Remember, the simpler and more traditional the jeans, the less likely they are to go out of style.
Stitching
Some jeans have their pockets and seams stitched in the same colour as the denim so as to appear almost invisible, while others have stitching in a contrasting colour like white, red or the more traditional coppery-gold tone.
Wash
Different washes give jeans their colouring, either light, dark or that vintage, worn in look. Raw denim is unwashed, so over time (years) it will develop those worn-in character marks, except they will be unique to you. Most jeans (apart from raw denim) have been pre-shrunk these days, but check the care instructions. If you opt for raw denim, make sure you ask how best to care for it to get the most from it so it ages well.
Distressing
These are the effects that make jeans look worn in, give them rips or those lighter creases and streaks (called whiskers) around the pockets and crotch. As always, the more classic and simple the distressing and detailing, the more wear you're likely to get out of them before they fall foul of fashion trends.

Home isn't your only delivery address
With over 4,000 alternative addresses to have your parcel sent to, you can choose a location that's most convenient to you. Choose a free 24/7 Parcel Locker, a Post Office or your PO Box.