Tanya Kalantary: Putting a contemporary spin on traditional Australiana
Queensland artist, Tanya Kalantary, talks about her creative influences, what she most enjoys painting and her new Australian Art Series Collection exclusively distributed by Australia Post.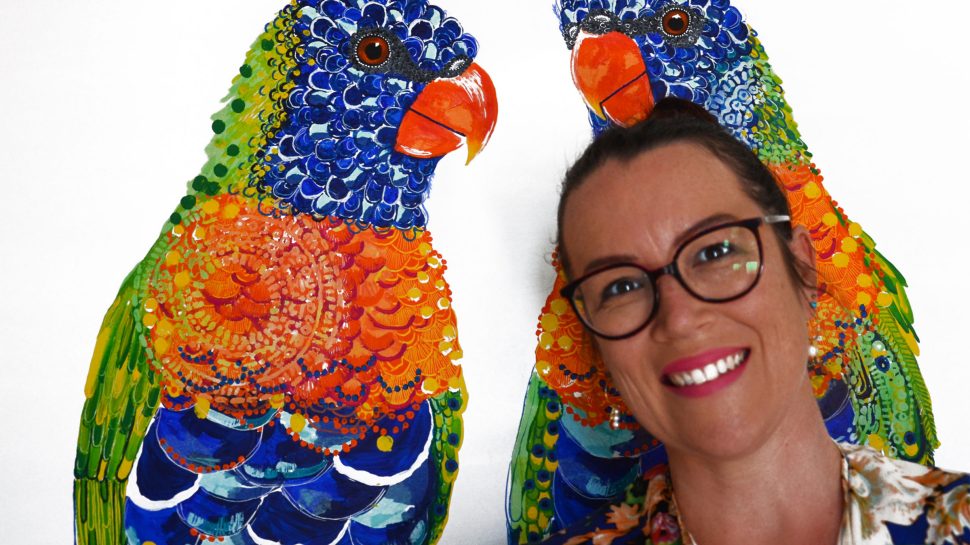 Tanya Kalantary never really had to discover her artistic talent. Sketching and painting were natural and everyday parts of her childhood, and her Christmas wish list always featured a string of coveted art supplies.
"Art has always been a part of who I am," Tanya says. "There will never be a day when I stop creating." After pursuing a Bachelor of Visual Art, the Queensland local took up a job as an art teacher. Her own artistic endeavours, she then decided, would remain a side hustle.
"Of course I dreamt of being a professional artist but I had also heard stories of the struggling artist. Eventually I took time off from my job and spent a year indulging my creative self. When I started sharing my work, people responded so positively and bought both my originals and prints. It really just took off from there."
That was two years ago. Tanya has since opened her own business and studio where she creates original and commissioned artwork. Among her newer collections is an Australian Art Series Collection exclusively distributed by Australia Post.
The vibrant collection features Tanya's signature floral prints on a range of gifts like tea towels, coffee mugs, aprons and scented drawer sachets.
"I find inspiration in all things Australian," she says. "We're so lucky to live in this beautiful country with such an amazing array of colourful and quirky animals and florals. Finding inspiration in your own identity can be such a strong and beautiful thing."
We talk to Tanya about the inspiration behind the Australiana Art Series Collection, her artistic influences and what a creative day looks like for her.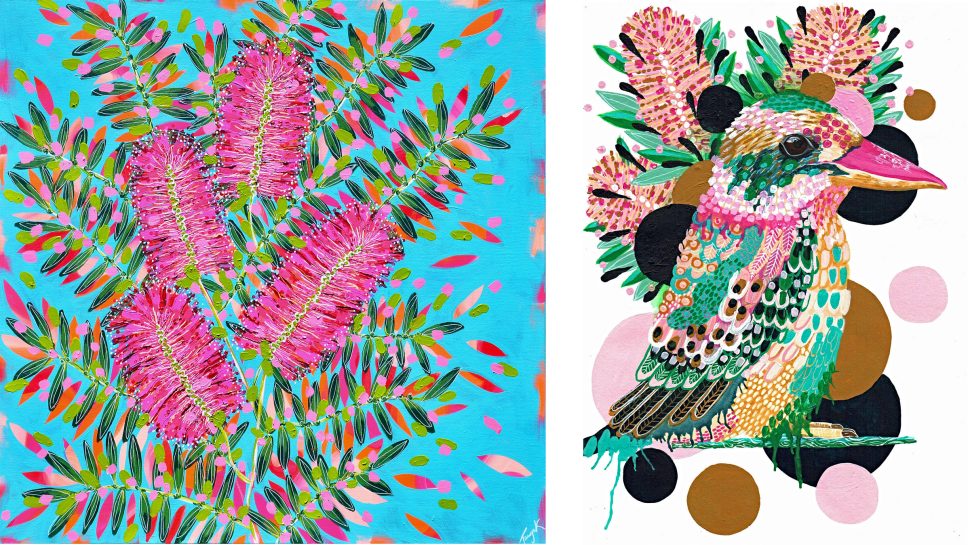 What inspired the Tanya K Australiana range?
I realised a couple of years ago that Australiana was hugely popular. I had already been painting brightly patterned animals so it was a natural progression to start an Australiana range using the same techniques. But I wanted it to be a fun, modern take on the traditional. So I chose florals with interesting shapes, colours and textures that would allow me to explore my patterning.
My favourite in this range is the 'Kiss the Sky' painting with the bright blue background and featuring the bottlebrush. The colours are so vibrant and just make me smile, which is all I ever want my artwork to achieve. It's fun and happy Aussie art, which I think is a great reflection of Australia.
Are you drawn to certain patterns, textures or colours?
I am a massive lover of colour! My favourites are peach tone, turquoise and shades of greens. I equally love creating patterns and textures in my work and find joy in mark making with different tools, like skewers, earbud cleaners and bottle caps.
Describe a signature Tanya K artwork.
A signature Tanya K artwork would include either Australian flora or fauna or both! It will be colourful and full of details that can sometimes only be seen close up. It will be a statement piece that puts a contemporary spin on traditional Australiana.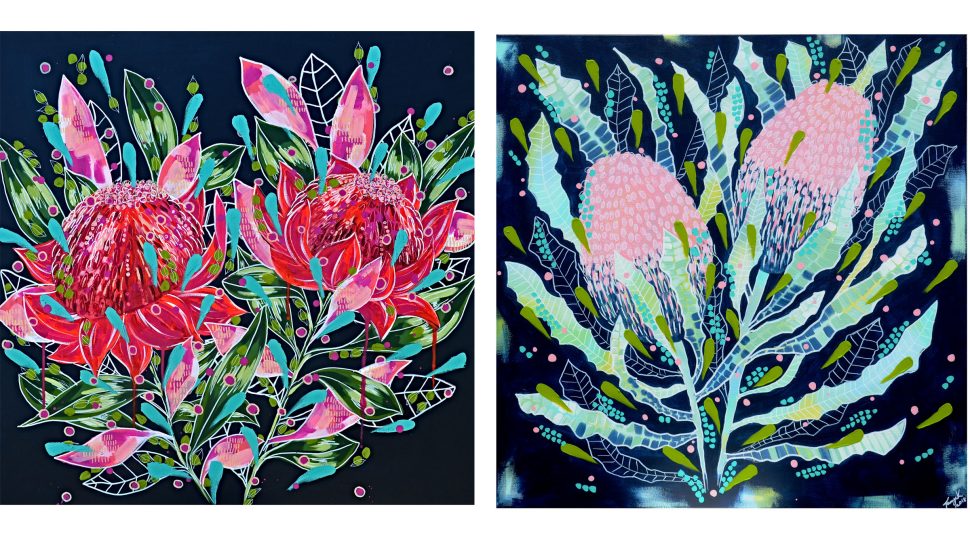 What influences your art?
Much of my influence comes from rather obscure things. For example, I might be walking through a shop and the colours of a cushion cover will catch my eye. Then I will store that colour palette in my mind and match it with a particular bird or floral. Sometimes people that follow me on social media share pictures of their beloved birds and I use those images as inspiration. Other times, I just think about what typical Aussie animal or floral I haven't painted yet and how can I put my Tanya K spin on it?
What pieces do you most enjoy creating?
I love doing birds. It's funny because I never had a love of birds until recently and now I'm like the crazy bird lady! I have this weird infatuation with painting their feathers as it gives me such a great opportunity to play with patterns, textures and mark making. I also love the colours of the wattle but my favourite flowers to paint are the gum blossoms as they come in so many different colours and are so identifiable with Australia.
What does a creative work day look like for you?
After dropping the kids off at school, I switch into creative mode! If I have a commissioned piece or another painting, I will get stuck right into that once I'm home. I will paint for up to four hours straight, by which time I need to have a mental break. After that I will usually pack any print orders and do a post office run, or update the website and fulfil orders. Then it's time to get the kids from school and I'm back in mum mode.
Get free delivery when you shop the Tanya K Australian Art Series Collection at Australia Post.