Are air fryers healthy? Your air fryer questions answered
Air fryers have been generating hype for many years but how much do you really know about this innovative kitchen gadget? We answer all your air fryer questions in this handy guide.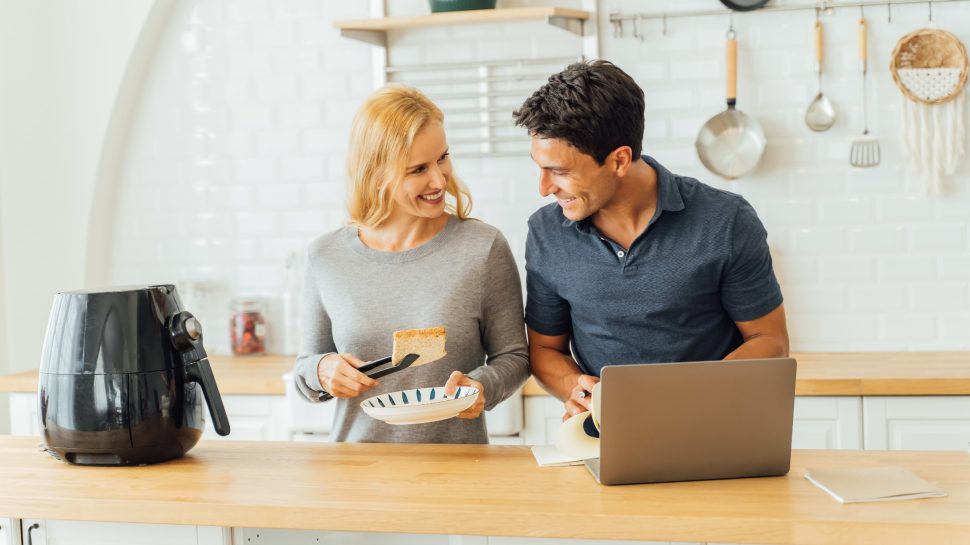 No doubt, by now, you've been swept up in the air fryer craze. From its debut in Berlin in 2010 to its cult-like status throughout the pandemic, the humble air fryer has well and truly infiltrated Aussie kitchens. And there's no wonder why. Whether you're a busy millennial wanting an easy dinner on the go, or a parent searching for healthy snack recipes for fussy eaters, air fryers can be used and enjoyed by just about everyone.
New to air frying or have a burning question about your appliance? Here, you'll find all the answers and helpful tips you need—including what healthy recipes you can make in your air fryer to how to clean your air fryer safely.

Are air fryers healthy?
Generally speaking, air frying is healthier than deep frying or pan frying. Air fryers use heated air to cook food, so without the need for oil, you're instantly cutting out potentially harmful fats from your meals. For example, if you use an air fryer to cook chips, you will consume around 180 calories less than if you cooked chips in a deep fryer.1
Of course, cooking with an air fryer doesn't mean all your meals will be healthy. High-fat foods like brownies, cakes and chips don't become 'better for you' if cooked in an air fryer. Plus, some ingredients still require a brush or spray of oil before being air-fried to ensure a crispy texture.2
However, there are plenty of healthy air fryer snacks that you can try at home.
What size air fryer for a family of four is the best?
Although there are bigger air fryers on the market, generally a 6-10-litre air fryer is the best option for preparing meals for family and friends.
For the ultimate in kitchen convenience, try the Mistral 10L Digital Air Fryer, which features a large detachable non-stick food basket and a touchscreen panel with seven pre-set menus. Or to cater to different tastes, the Mistral 10L Dual Zone Air Fryer boasts two five-litre cooking baskets so you can cook two different meals (at the same time!).
For some kitchen inspiration, check out these Mistral air fryer recipes that are perfect for the whole family.

How do you pre-heat an air fryer?
Air fryers are quick and easy to use and require very little pre-heating time. Simply set the temperature you want to cook your food at and click 'on'. You can cook most foods instantly—or leave the air fryer to pre-heat for about 3-5 minutes if you're cooking meat.3
Can you put baking paper in an air fryer?
Yes, you can put baking paper in an air fryer. Just make sure you line the basket—not the base—and weigh it down with ingredients to stop the paper from burning in the heat or blowing around.4 For an even better air fryer hack, try reusable air fryer liners, which are made to fit your air fryer basket and make cleaning up a breeze.
Can you put foil in an air fryer?
Yes, you can put foil in an air fryer. In fact, using foil in an air fryer can help to keep your appliance clean with each use. Again, remember to line the basket of the air fryer with foil, not the base, and always place your food on top to prevent the loose foil from being sucked into the heater.5 As air fryers come in many different shapes, sizes and models, always follow the instructions provided by the specific air fryer brand.
How do you cook pork belly in an air fryer?
Cooking pork belly in an air fryer is not only quicker than in an oven, but it also guarantees a delicious, crispy crackling! The air fryer pork belly recipe is as simple as two steps:
Step 1: Preheat the air fryer to 200°C for 3 minutes. Pat the pork dry with paper towel and rub salt into the pork rind.
Step 2: Place the pork in the air fryer basket and spray with oil. Set the timer for 25-minutes and cook until the rind crackles. Reduce the temperature to 160°C and set the timer to cook for 30-minutes until the pork is tender and cooked through.6
What are some of the best air fryer breakfast recipes?
Air fryers are not only great for cooking dinners and snacks but breakfasts, too! Change up your brekky routine by trying out some of these tasty air fryer breakfast recipes:
Air fryer breakfast burritos
Air fryer cheesy breakfast egg rolls
Air fryer ham and egg pockets
Air fryer breakfast cookies
Air fryer French toast sticks
How long do you cook chips for in an air fryer?
Cooking chips in an air fryer usually only takes about 30-minutes but it's important that you occasionally remove the basket and shake the chips so they cook evenly. Once your chips look golden and crunchy, transfer to a pan and season with salt.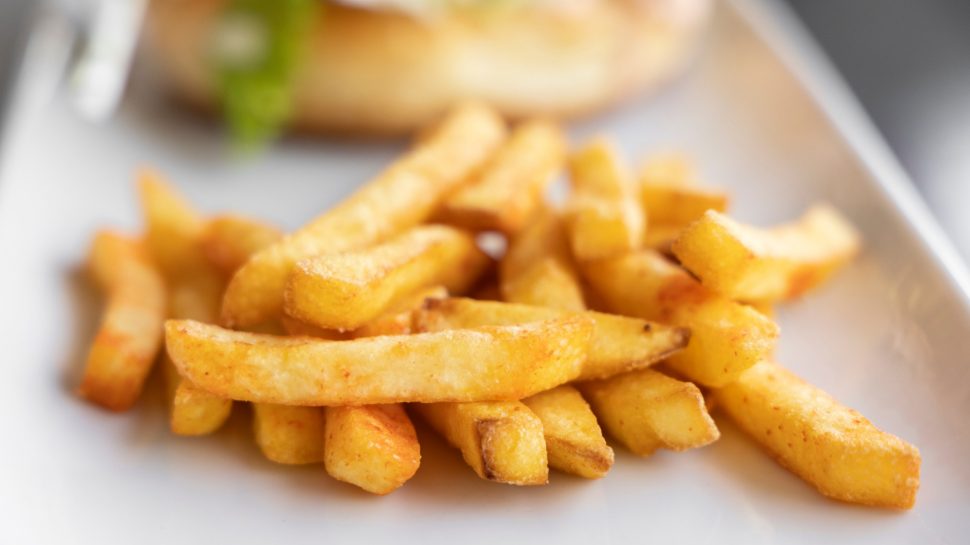 What are some healthy air fryer snacks?
If you love the crunch of salty potato chips, why not try a healthier air fried snack? Air fried vegetables are deliciously crispy like deep-fried snacks, but without the high fat content (which makes air fried veggies perfect for fussy little eaters). Plus, nutrients that are often lost when cooking vegetables at high heat are retained when cooking with an air fryer.
Next time you're craving a small and tasty bite, try these healthy air fryer snack recipes:
Cauliflower nuggets
Crispy roasted chick peas
Super crispy chicken fingers
Zucchini and cheese arancini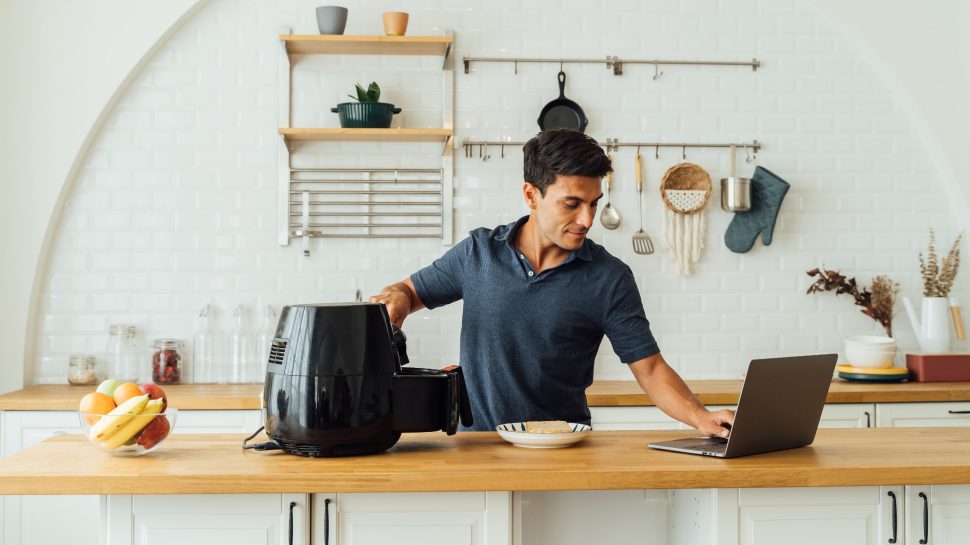 How do you clean an air fryer?
If you've ever wondered how to clean an air fryer without damaging it, we've got the solution for you. Just read the below steps to clean your air fryer safely and easily:
Step 1: Before you start, make sure the appliance is unplugged and has cooled down after use.
Step 2: Never submerge the main air fryer unit in water. Simply wipe down the screen and outside of the unit with a damp cloth.
Step 3: Hand wash all removable parts, including the cooking baskets, tray and pan. Most air fryer parts can be cleaned in a dishwasher, but make sure you check the instruction manual before doing so. For stubborn, baked on residue, soak the removable parts in hot, soapy water before scrubbing. Avoid using metal utensils to remove grease from the inside of your air fryer, as they may damage the non-stick coating.
Step 4: Check the heating coil at the top of the unit for any residue and wipe down with a damp cloth, like you would a stove top.
Step 5: Air dry or dry with a towel before reassembling and packing away.
Remember: the more time you take to clean and look after your air fryer, the more likely you'll be able to enjoy it for years to come.

Feeling hungry? Your new air fryer is just a few clicks away.

From digital air fryers to air fryers that feed the whole family, the Australia Post Shop is the place to go for your new favourite kitchen appliance. Shop now and enjoy free standard shipping on orders $30+.