Phone hacks and facts: 10 things you didn't know about your smartphone
From hidden features on your iPhone or Android phone to fun facts about mobile phone usage in Australia, these are the things you never knew about your smart device.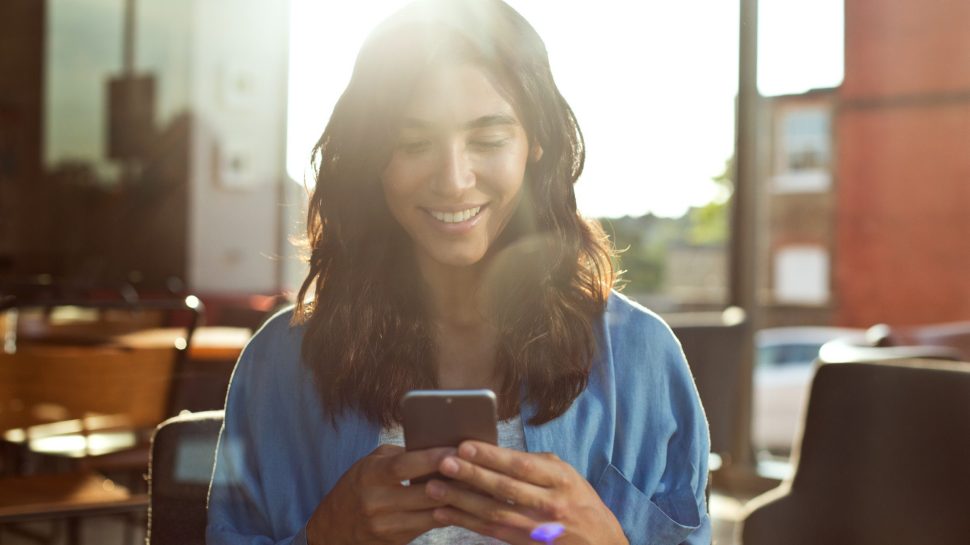 The original iPhone was launched in 2007 and since then, smartphones have continued to better our lives—from keeping us safe to teaching us new languages. These days, it's hard to imagine life without them. In fact, Aussies are the second highest mobile phone users in the world behind Americans. So, how much do we really know about the smart device that's inside our pocket?
Whether you're in the market for a new phone or want to learn how to get the most out of your current device, read on to discover our favourite accessibility features and interesting facts about mobile phones in Australia (some of which may shock you!).
1. We spend about 2.5 hours every day on our phones.
From Google Maps to online banking, smart phones have undeniably made our lives simpler in many ways. But how much phone usage is too much? While you ponder that question, consider this: 2.5 hours a day equals 7.2 years of your life. Sounds absurd, right? Next time you find yourself in a Tik Tok hole, try going for a walk, listening to a podcast or doing a quick home workout instead. Your mind and body will thank you for it.
2. You can actually pair your iPhone with a Bluetooth mouse.
Did you know you can turn your iPhone into a mini computer? This Apple accessibility feature is particularly helpful if you have trouble using a touchscreen device, or alternatively, if you need to perform certain actions with more precision. Just make sure your device is running iOS 13.

In Settings, scroll down to Accessibility, tap Touch, and then toggle on 'AssistiveTouch'. Scroll down to Devices, Bluetooth Devices, and then 'Pair your mouse'. Make sure your wireless mouse is turned on for pairing.
3. On average, we touch our phones about 2,617 times a day.
Our phones are almost always in our hands, so it's no surprise they play host to an array of germs and bacteria. According to experts, we should clean our phone at least twice a week to ensure it keeps working properly—and our health is not at risk. Read on for the best tips to clean and disinfect your phone.

How to clean your phone and phone case:
Turn your phone off and remove it from its case (if it's in one).
Gently use a disinfectant wipe on the screen, being careful to avoid ports.
Air dry for about 5 minutes.
Using a microfiber cloth, give it a good polish.
Repeat steps with phone case.
4. Your iPhone can be used as a magnifier.
Need to see something up close? Another accessibility tool that Apple boasts is the Magnifier. Using your phone's in-built camera, the tool allows you to enlarge objects or text so you can see them more easily. Not only that, but you can also zoom in or out, adjust the brightness and colour filters and even freeze frames to review them closely. Just go to Settings, Accessibility, and toggle the 'Magnifier' switch on.
5. 64% of Aussies who use their phone at bedtime say it negatively effects their sleep.
There's a fine line between using your phone for good and not-so-good behaviours at bedtime. Instead of spending hours scrolling Instagram right before you turn off your light—resulting in poor sleep or the inability to 'switch off'—try a sleep app to help you drift off. Sounds ironic? Hear us out.

From mindful meditations to analytical sleep trackers, our phones can actually be beneficial to our bedtime routines. Take a look at some of the best sleep apps that could have you on your way to a better night's sleep.

6. You can split your screen and multi-task using an Android phone.
Always find yourself having to clumsily move between apps to copy and paste information, remember details or view different images and video? Thanks to the split-screen function on most Android phones, you can actually use two different apps at once, (boosting your productivity in the process!).

First, open one of the apps that you want to use. Go to your Recent Apps by tapping the three lines at the bottom of your screen. Then, hold down on the app icon at the top of the screen. Select 'Open in split screen view', and then select your second split-screen app.
7. Aussie smartphone users are getting younger.
In 2020, just under half (46%) of Australian kids aged 6 to 13 used a mobile phone, up from 41% in 2015. This might be a frightening prospect for parents, but phone use doesn't have to be detrimental.

Set some family rules (that you stick to as well) to limit phone usage, including switching off phones during family meals; putting phones down during face-to-face conversations; keeping phones out of the bedroom after a certain time; and charging all devices in a communal area (like the kitchen) overnight.

8. The Apple logo on the back of your iPhone offers extra controls.
Ever heard of 'back tap'? This handy little feature allows you to double and triple tap the back of your iPhone near the logo, a bit like on a laptop track pad, and perform different actions (even with your iPhone case on).

Just go to Settings, Accessibility, Touch, Back Tap and assign commands that correlate with either a double or triple tap—for example, volume controls, mute, home screen or screenshot. We love a secret shortcut!
9. Your Android phone probably has Live Caption, an accessibility tool for people with hearing loss.
In a win for those with complete hearing loss or hearing difficulty, the Live Caption feature on most Android phones detects speech on your device and automatically generates captions—meaning you can see what a video or podcast is saying without needing any audible sound playing from your device. Not only does this tool help the hearing impaired, but anyone can use it during those times audio is not ideal (like when you forget your headphones on public transport).
Jump into your Settings, Accessibility, Hearing Enhancements, and then tap 'Live Caption' to enable the feature. Just note, your battery will probably suffer if the tool is always on.
10. It's expected there'll be 23.4 million Aussies that own a smartphone by 2025 (about 86% of the population).
There's no denying it—smartphones have revolutionised our lives. From effortlessly sharing photos and videos with loved ones to paying bills and tracking your online orders, smartphones are now a necessity for most people. In fact, upgrading to a smartphone can help you stay connected better than ever.

Are you ready to upgrade your smartphone?

From Samsung to OPPO and more, discover some of the latest smartphone technology from the Australia Post Shop and enjoy free standard delivery on orders $30+.