7 of the best Christmas costume ideas for the whole family
You've trimmed the tree, decorated the house and created a table centrepiece: now get to work on getting the family looking festive.
1. The big man
It just isn't Christmas without Santa Claus, and there are no shortage of jolly red suits, glasses and beards to emulate his signature North Pole style. Of course, he also needs to carry a sack for all the presents and it doesn't hurt to have a bell to herald his arrival. You can even get your hands on your own Santa belly. Alternatively, just start getting stuck into the Christmas shortbread for a BYO belly.
2. The little helpers
Santa would be nothing without his legion of handy elves to wrap all the presents and pack them into the sleigh. Find willing children to create your own elf army in head-to-toe red and green. Another option is this fun elf hoodie to throw on over your regular clothes, complete with elfin ears, pointed hood and belt detail. If the kids are fans of Elf on the Shelf, they may like to embody the popular Christmas book character.
3. Cute costumes for kids
Let's not typecast kids as elves just because they're small. They also make pretty sweet angels because that angel at the top of the tree doesn't have exclusivity rights to Christmas day, you know. Actually, the tree itself might face some stiff competition. For a more subtle take on festive dressing, try Christmas themed tights or hair ties. A reindeer dressing gown is pretty much the perfect outfit for those early morning raids of the presents. For a failsafe costume accessory, an antler headband or Santa hat is always a classic.
4. Festive babies
The smaller the costume, the cuter it gets. If a member of the family is celebrating their first Christmas, perhaps they can be the Santa who spends all day sitting on everyone else's lap. Who wouldn't want to snuggle an adorable baby snowman or polar bear?
For something special to spill Christmas dinner over, try a themed bib or a stylish illustrated T-shirt.
5. Accessories for grown ups
You don't necessarily need to spend a lot or go to a great deal of effort to bring a bit of silliness to Christmas day. Sometimes a set of plush elf shoes, reindeer antlers or a snowflake headband will do the job just fine.
For the family grump, a Grinch mask might be in order. Something a little more joyful and attention grabbing: a Christmas tree hat that lights up.
6. The bad jumper
They may not be ideally suited to Australia's climate, but it's hard not to love a comical Christmas jumper. Fortunately there's a way around that with a lightweight, long sleeved T-shirt in a selection of traditional, garish prints. Choose from the good, the bad and the ugly… but mostly ugly.
7. Pimp your pets
While you're at it, get your four-legged family members in on the festive dressing. What's not to love about a Santa who will fetch presents on command or a really obedient elf?  And don't forget that Christmas tradition of seeing how long the dog will wear its reindeer antlers before attempting to pull them off again.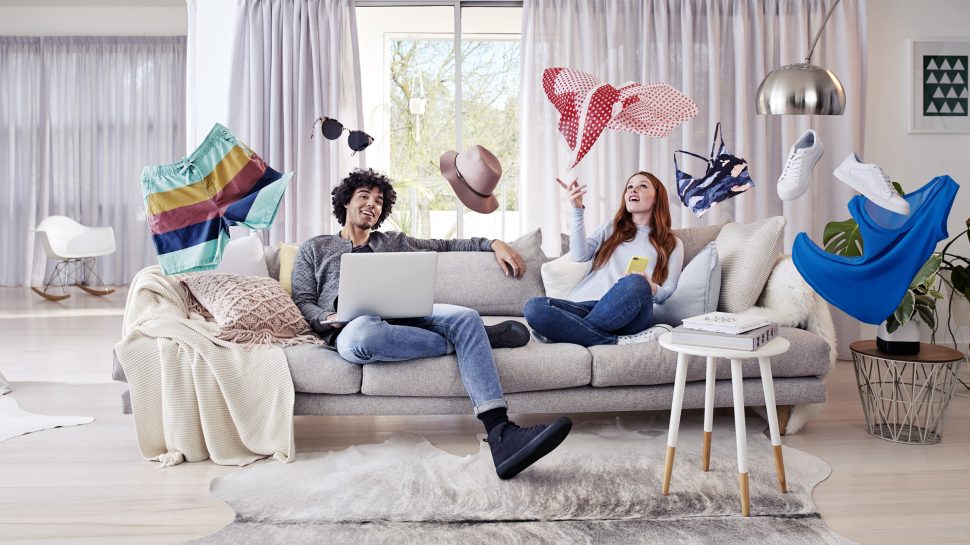 Love online shopping but not shipping costs?

Dodge shipping fees¹ when you shop with some of Australia's biggest retailers.