21 life-hack gift ideas for Mum
There's no shame in being baffled when it comes to dreaming up gift ideas, even if those gifts are going to the most important people in your life.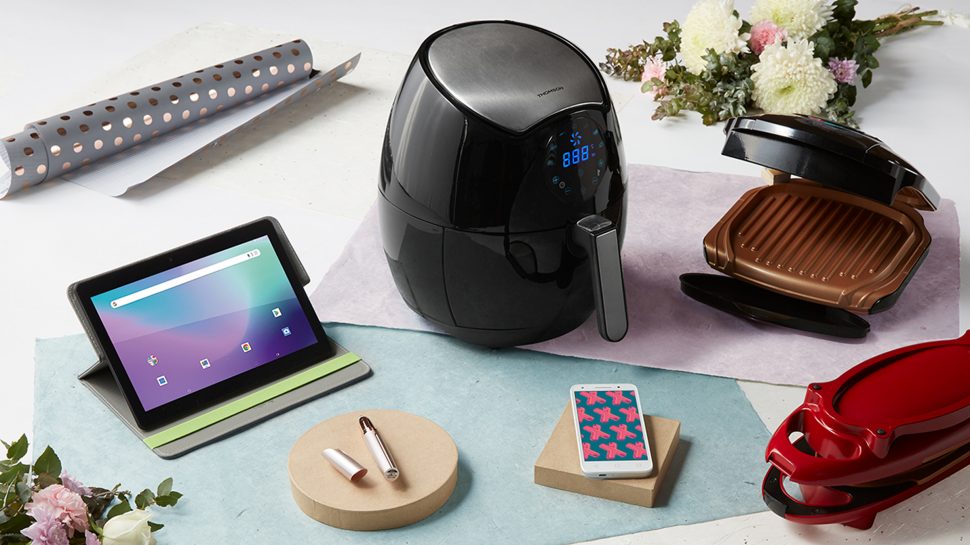 As we approach Mother's Day (Sunday, the 12th of May – not that you'd have forgotten), it's important to be reassured that just because you love your mum to bits doesn't mean you suddenly become an inspired giftist… if such a thing exists (it does now).
With this universal truth in mind, here's our guide for anyone struggling to think of a truly practical (or simply delicious) pressie for Mum on her special day:
Comfort and care
Who hasn't had one of those hot, sleepless nights where no amount of pillow-turning brings relief? The CHILLMAX Pillow might make sure that never happens again – to your mum, at least. The cooling gel technology also works on feet and even on laptops.
For the mum who's also an animal lover, the True Touch is part glove-part brush. While your mum pats her beloved dog or cat, the True Touch loosens and lifts shedding hair. That means her pet is well groomed while being, as always, well loved.
This umbrella, when folded, is small enough to pop into a handbag. When in use, just one press of a button returns it to its un-inverted state in the case that the wind gets hold of it. Handy as winter approaches.
Cooking and kitchen
If you love your mum's cooking, you'll no doubt appreciate her need for sharp knives. And the Bavarian Edge makes knife sharpening more a breeze than a chore. It takes a matter of seconds to sharpen all sorts of slicing tools, from simple carving knives to those with scalloped, wavy or serrated edges.
Speaking of cutting, a knife works well for lots of technical jobs, but some simple, repeated tasks need a different approach. The Nicer Dicer provides just that. You choose from five slicing options then insert your food (fruit, vegies, even a boiled egg) and push. It's that easy.
If your mum's super-busy, has really limited kitchen space or just likes the idea of ultra-simple cooking, the Five Minute Chef might be for her. It cooks basic meals like omelettes quickly and effortlessly, and is really easy to clean and store.
Your mum may never have to pull out the pestle and mortar again, so long as she has this beauty on hand. As well as working on herbs and spices, it's perfect for coffee and nuts, as well.
Food and fine dining
Maggie Beer is an institution in the world of Australian cooking and this hamper features some of the best stuff from the produce range she puts her name to. Among the delicious goods is quince paste, ginger chilli sauce and apricot jam.
If the hamper (above) sounded good, but you're thinking your mum would prefer something even sweeter, maybe the All Things Chocolate Hamper will fit the bill. It contains bars, cakes and bickies, all smothered in choc.
For the mum who loves her grapes fermented (and wants to know which food to match it with), who better to guide her than the legendary James Halliday? This 12-month subscription will give your Mum 6 issues of his Wine Companion, a publication covering all things vinous (as well as cuisine and travel).
If it's all too hard to choose, leave the decision up to Mum. Treat Mum to a night out on you wherever she likes with a Restaurant Choice Fine Dining gift card, valid at hundreds of restaurants all over Australia.
Gadgets and gizmos
Let your mum dispense with annoying wires and present media on her TV from her phone, tablet or computer with almost unbelievable ease. You just plug the Chromecast into the back of the telly, sync it with your device and you're right to go. Perfect if she's big on streaming services (Netflix, for example) but doesn't have a smart TV just yet.
We might as well make the most of robots before they take over the world. This one roves the home for a couple of hours cleaning the floors before automatically returning to its charging station. Pretty nifty.
A little niche, perhaps, but amazing if your mum is considering starting her own small business or one of those brilliantly crafty types who wants an easier way of selling her stuff at markets. The Square Reader is an inexpensive way of turning most smartphones with a headphone jack into a credit or debit card reader.
If you know your mum has a Qi-compatible phone – an iPhone 8, 8 Plus or X, for example – this is a really handy gadget. It allows you to charge your phone simply by placing it on the device. No wires or plugs required.
If your mum grew up in the era of slides and photo film, this cool contraption might be just right as we move into a new phase of the digital revolution. It easily converts analogue image technology into digital formats.
Ever been to your mum's and found the wireless internet straining (or non-existent) in one room or section of the home? That problem's easily taken care of with this, the Covr Seamless Wi-Fi System.
Pamper and prime
This tiny device uses German microscopic (and painless) paring technology that removes unwanted facial hair instantly; making it super subtle, incredibly gentle and easy to throw in a handbag or clutch.
Same deal as the Flawless Face above, but this device comes with a pointed tip, specifically designed for eyebrows. Just like its cousin, there's no pain, no red marks and no scratches when you're done.
If your mum has a little bit of stress in her life (or is still recovering from raising you), perhaps she deserves a massage. Here's where the U Comfy Pro comes in. It's a cordless wand ideal for relieving neck, back and shoulder aches. And it generates 3700 vibrations per minute – that's 61 vibrations a second!
The Hairology is a hairbrush with a difference. It'll let your mum get rid of the frizz without using heat or using shampoo and conditioner more than she'd like to. It takes just seconds to use and uses just a couple of batteries, so she can take it anywhere.