6 alternative party bag ideas for kids: from fairy wands to friendship bracelets
Filled with fun surprises, the party bag is a special treat to send guests on their way with a smile. Here are six easy, alternative party bag ideas kids will love.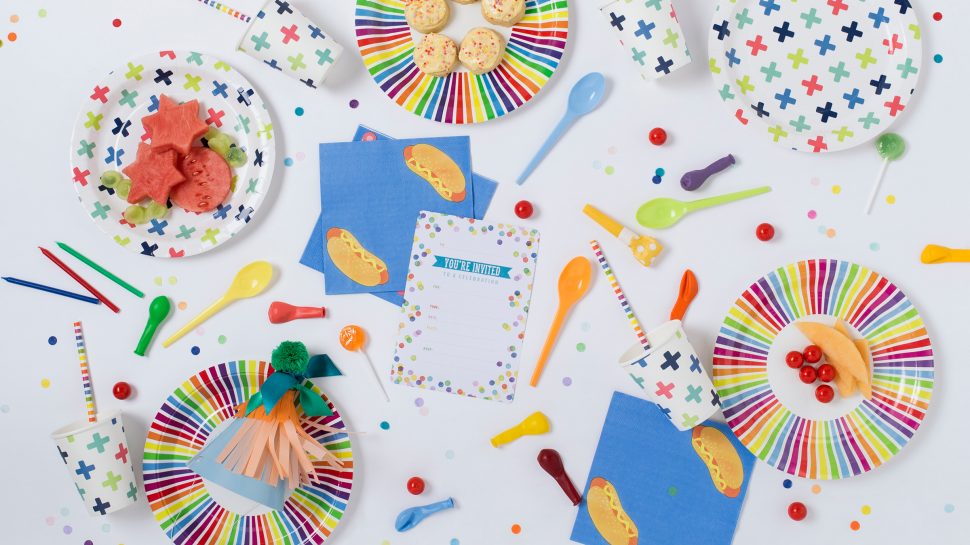 Saying goodbye after a fun-packed party may be easier thanks to the promise of a party bag but it's no secret this birthday tradition is disliked by parents the world over. Usually stuffed with lollies and cheap plastic toys, party bags tend to get a bad rap—so, how do you make an alternative party bag the kids (and parents) will love without breaking the bank?
From healthier treats to fun craft activities, we've compiled six of the best alternative party bag ideas that you can create at home with help from the birthday boy or girl.
1. Homemade popcorn, cookies or bliss balls
You may have the best intentions when it comes to creating a lolly-free party bag, but there's no getting around the need for sweet treats (kids just love 'em). Rest assured, that doesn't mean you have to raid the confectionary aisle at your local supermarket for the bad stuff.
Instead of chocolate and lollies, why not hand-make a few healthier, cost-efficient and delicious alternatives? Expertise in the kitchen is not required—simply purchase a few basic ingredients and set aside some time on or before the big day. Plus, having the kids help you in the kitchen will build their confidence and give them a sense of ownership over the party planning. Try out these recipes below:
Mini popcorn bags
What you'll need:
1 cup (200 g) popcorn kernels
Brown paper lunch bags
Step 1: Depending on the size of your paper bags, place 1-2 tablespoons of the kernels into each bag. Don't over fill the bag, as you'll need enough space to tie it up once the kernels have popped. Fold the top of the bag over three times, then fold in the corners to secure (this will help to keep the popcorn safely in the bag while it cooks). Repeat with the remaining popcorn and paper bags.
Step 2: Place the popcorn bags, 1 at a time, in the microwave on high for 2 minutes each or until you hear that the popping has slowed to around 1 pop every 3 seconds.
Step 3: Use a tea towel to carefully take each bag from the microwave – they'll be hot. Allow to cool a little, and then tie securely at the top with some coloured ribbon.
Nut-free chocolate and coconut bliss balls
What you'll need:
1 cup (90g) rolled oats
2 tablespoons cacao powder or cocoa powder
12 pitted fresh dates
1 cup (80g) desiccated coconut
2 tablespoons maple syrup
2 tablespoons desiccated coconut, extra to coat
Step 1: Process rolled oats, cacao powder or cocoa powder, dates, desiccated coconut and maple syrup in a food processor until almost smooth and well combined.
Step 2: Place another 2 tablespoons desiccated coconut on a plate. Roll 2-tablespoons portions of mixture into balls. Roll in coconut to evenly coat. Place on a lined tray in the fridge for 1 hour or until set. Store in an airtight container in the fridge for up to 2 weeks.
Homemade mini crunchy cookies
What you'll need:
90g butter or polyunsaturated margarine
30g runny honey
1 egg
1/2 teaspoon vanilla essence
125g self-raising flour
30g whole rolled oats
1 Weet-Bix (or equivalent)
10g canola oil
10g shredded coconut (optional)
1/2 teaspoon cinnamon (optional)
Step 1: Preheat oven to 180°C and grease a standard baking tray.
Step 2: Place butter/margarine and honey in blender, blend for one minute, then add in egg and blend until smooth.
Step 3: Add oats, Weet-Bix, oil, and cinnamon (if using) and blend.
Step 4: Add sultanas and coconut (if using) and mix through by hand.
Step 5: Scoop out walnut-sized balls of mix and place on baking tray.
Step 6: Cook for 10-15 minutes or until golden. Package up in eco-friendly paper, cellophane or bags.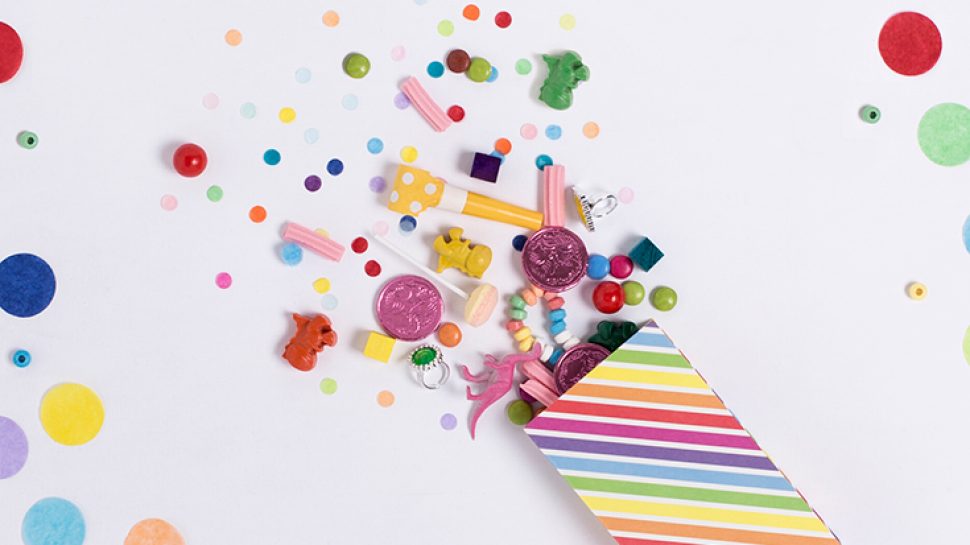 2. Homemade play dough
There's no denying all kids love play dough. The best thing is for parents, it's also cheap and easy to make at home. Before you start, get the little ones to help you with this pre-party activity, too (there's no cooking involved!).
What you'll need:
Flour
Salt
Water
Food colouring or washable paints
In a bowl, mix 1 cup of flour and half a cup of salt. Gradually stir in half a cup of water. If the mixture is too dry, keep adding small amounts of water. If it gets too sticky, just add some flour. Kneed it until the mixture is smooth.
Divide the dough into small balls and using your thumb, make a well in each one. Add different food colouring or washable paints to each well (about 5-10 drops) and knead the dough to mix the colour in. Careful, this part can get messy! Wash your hands between each ball, so you don't mix colours.
Package up the play dough in mini containers or snap lock bags to pop inside the party bag.
If time is of the essence, there's no harm in buying pre-made play dough sets, too. This Addo Dough Set comes with six pots of dough plus cutters and a tool.
3. Handmade fairy wands
Looking for a rainy-day activity that also doubles as the perfect party bag favour? Set aside some time for craft with the kids to make these sparkly fairy wands to go in each party bag.
What you'll need:
Wooden spoon
2 pieces of coloured paper
Glitter or glitter glue
PVA glue
Masking tape
Stapler/staples
Ribbon
Draw a large star on a coloured piece of paper. Match it up with another piece of paper and cut out the star so you have two exact stars. Paint PVA glue all over the stars and add coloured glitter. Shake the excess glitter off and wait for the glue to dry.
Grab the wooden spoon. Cut a long piece of ribbon and tie a knot or bow near the round part of the wooden spoon. Wrap the ribbon the whole length of the wooden spoon handle, tie it off at the end and cut the excess ribbon.
Using masking tape, secure 1 star to the spoon and do the same on the other side with the other matching star. Staple the stars together and voilà! A handmade wand that will keep little fairies entertained for hours.
4. Flower or vegetable seeds
Why not provide your little party guests with an eco-friendly thank you in their party bag? Head to your local hardware store or nursery to pick up some packets of flower or vegetable seeds to include as party favours.
Divide up the seeds and pop them in biodegradable packets or snap lock bags for each guest, accompanied by a handwritten thank you with growing instructions. Seeds are a beautiful way to show your appreciation and it means your guests can enjoy their parting gift for a long time after the event is over.
5. DIY T-shirt kits
Whether you include this as an activity on the day or provide the materials in the party bag for afterwards, a DIY customisable T-shirt kit is a great craft activity for kids of all ages. All you need are some low-cost, plain white T-shirts and some fabric paints and markers.
Little ones can unleash their inner artist with whatever designs they choose—or, to stick with the theme of the party, draw an outlined image on the T-shirts before you pop them in the party bag (like a rocket or a farm animal). Whatever you do, it's the perfect party favour that kids will use time and time again.
6. Friendship bracelets
Another great way to banish plastic from kids' party bags is to include a fun and creative activity that doubles as a memento from the special day. Friendship bracelets are great, as they're simple, inexpensive and require very few materials.
In a small bag or pouch, include 7 strands of different coloured yarn around 30cms long each and the instructions to make your own friendship bracelet at home. Or you could even set up 'friendship bracelet-making station' on the day!

Looking for the perfect kids' birthday gift?
Browse our selection of toys, books and gifts at the Australia Post Shop and enjoy free standard shipping on orders $30+.