Del Kathyrn Barton: Putting her stamp on the Archibald Prize centenary year
Like her signature whimsical style, Del Kathryn Barton's talent has also taken her to unexpected and wonderful places. Here, she talks about winning the Archibald Prize twice, having her art featured on an Australia Post stamp and her words of wisdom for aspiring artists.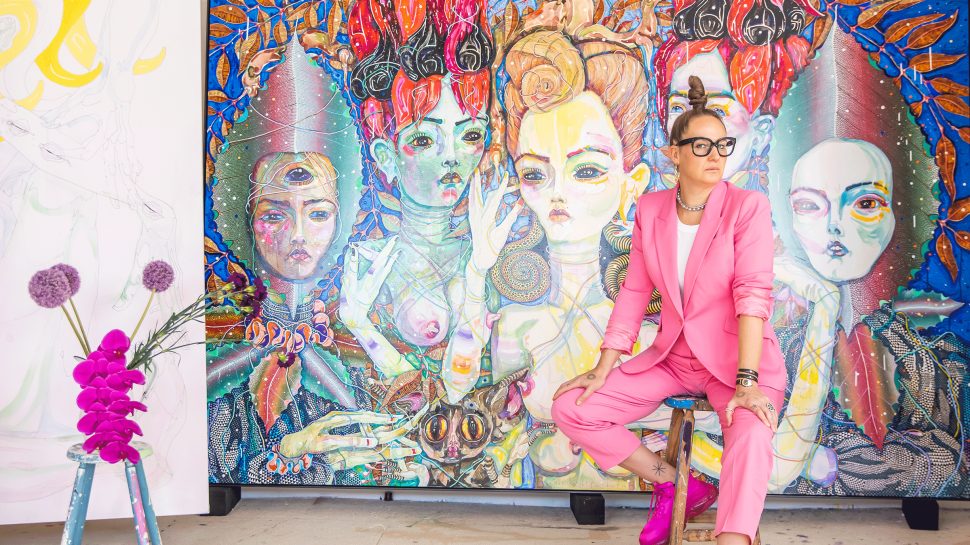 Any Australian artist worth their salt has heard of Del Kathyrn Barton. Not only is she among a handful of female artists to win the coveted Archibald Prize but she's also won it twice in the span of five years. 
First awarded in 1921, the Archibald Prize was established following a bequest from former Art Gallery trustee and founder of The Bulletin magazine, JF Archibald. The annual open competition is aimed at fostering portraiture, supporting artists and promoting the reputation of prominent and emerging Australian artists. 
The Archibald Prize celebrates turning 100 years in 2021, and its home, the Art Gallery of New South Wales, marks its 150th anniversary. To commemorate these dual milestones, Australia Post has released a stamp issue that presents three renowned Archibald Prize-winning portraits from across the decades. 
One of the three is Del's portrait of Australian actor Hugo Weaving, captured in her trademark vibrant, decorative style. Del is used to having her artwork exhibited in many esteemed art galleries but having it featured on a stamp thrills her to no end.
"It's so exciting!" she says. "I used to collect stamps as a girl and having my artwork on one is very romantic. I'm also very nostalgic about mail. I had a long-distance relationship at a young age and it revolved around writing love letters." 
"Letter writing is a wonderful connective tissue in our society. I think it'll always have an important place in society because it's really warm and humanising. I never receive handwritten letters now and I really miss that." 
We spoke to Del about the role art played in her childhood, what winning the Archibald Prize means to her and her tips for aspiring artists.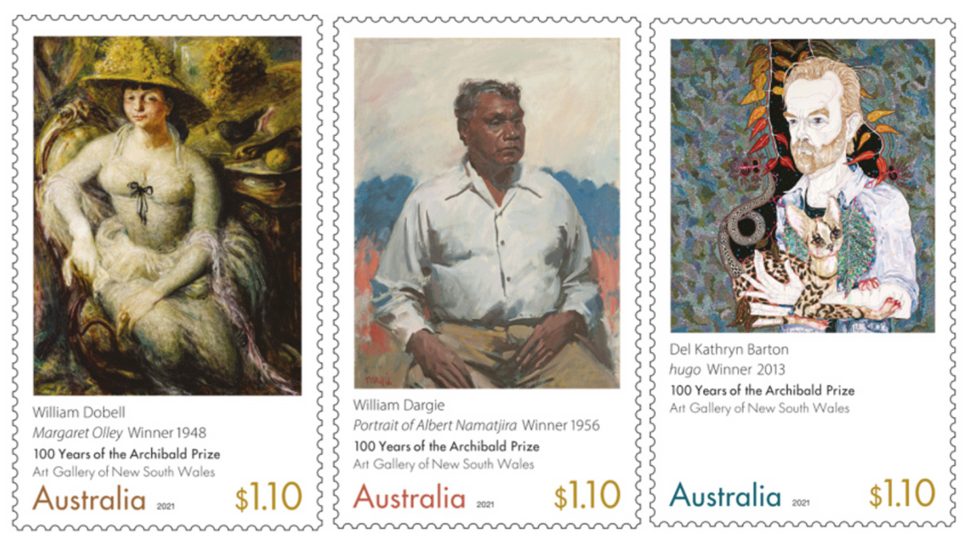 Give us a glimpse into your childhood. 
When I was seven, my dad took the bold move of buying a rundown, white ant-riddled house in East Kurrajong. We lived in tents and a makeshift shed for many years while dad, who has no building experience, tore down the old house by hand and slowly rebuilt it. It still wasn't finished by the time I left home at 17. 
Looking back I realise it was a fairly eccentric situation but also a really idyllic childhood. I ran wild in the bush, read literature and was in love with my horse. Apart from my challenges with mental health, I feel incredibly blessed for that childhood. 
You experienced depression and anxiety as a child. How did art help you through that time?
My depression went largely undiagnosed for a long time. I have a hypersensitivity to sensory experiences, and I lived in fear of them. I'd have hallucinations, hear voices and have terrifying body boundary confusions. There were definitely points where I felt I wouldn't make it to adulthood. 
My mum encouraged me to draw each time I had an episode and that helped bring me back to my body. I found engagement and calmness by just holding a crayon and focusing on the tension between that and the paper.  Over time, I slowly built a profound connection between the act of drawing and feeling calm, safe and embodied. Drawing by hand creates an inner alchemy that's rich and limitless. It's something that I feel is sometimes lost to children in this digital age. 

You had your first solo exhibition at age 23. Was that earlier than expected or a long time coming? 
Neither. It just happened. I was diagnosed with chronic fatigue in my third year of university and spent that year mostly drawing in bed. It was a hard time but I built a body of work that I planned to exhibit. Then our house burnt to the ground and we lost everything, including all my artwork. 
I moved back to Sydney and rented a studio space with a dozen other artists in Newtown. It was a formative time in my practice and young adulthood. So in many ways, the fire was a real gift. I held my first solo exhibition in an artist's run space about a year later. It was surprisingly a sell-out show. 
I think I sold about 50 works and ended up with about $7,000 in my pocket. Looking back, it wasn't a lot of money but I felt like the richest queen in the world! And I put all of it straight back into my creative practice. It was terrifying to share my work with an audience for the first time but I certainly found it very energising, humbling and rewarding.
Do you get creative blocks?
No, I don't. If anything, I suffer from being overstimulated and having too many ideas. I wish I had a hundred lifetimes just to get through them all! What I've also had in recent years - and the pandemic has definitely affected it -  is a slight sense of burnout. I'm a self-confessed workaholic. That's probably the closest I've gotten to a creative block.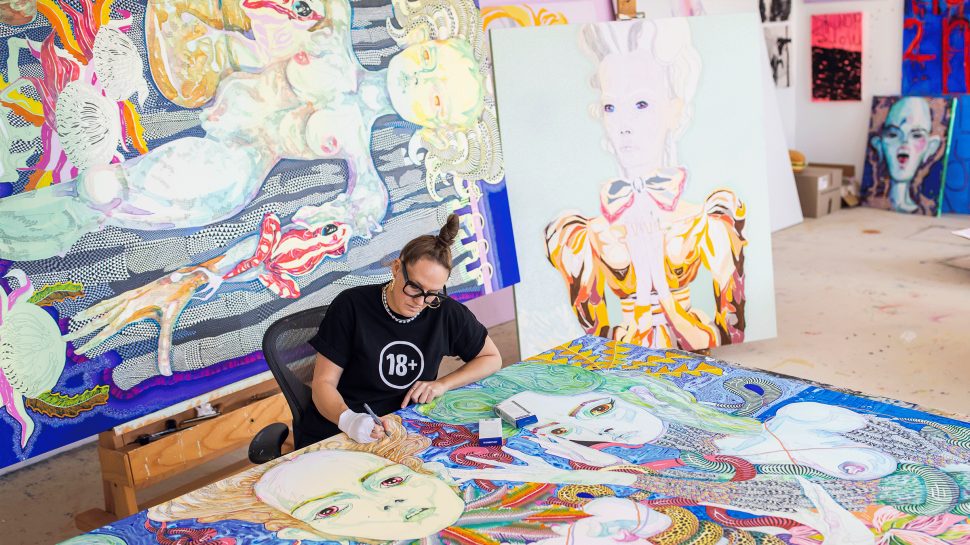 Share with us the experience of winning the Archibald Prize for the first and second time.
The first time was a significant experience. To be a young artist with your artwork in a museum of that calibre is life changing. It gives you the wildest paradigm shift in terms of what's possible for your work, practice and career.
Few women have won the Archibald Prize and the fact that I did with a self-portrait celebrating motherhood of all things was a game-changer for me. 
I was just so relieved to be selected as a finalist when I entered with my portrait of Hugo. I had really enjoyed my sittings with Hugo, who's an artist I've always admired. That experience was such a privilege. And when I got the call that I had won, I nearly passed out. 
What would you say to aspiring artists?
Being an artist isn't for everyone. It's relentlessly challenging. The only reason to pursue it is if you can't live without making art, like it's your lifeline. And if it is, then give it everything. Draw your energy from the relationship with your work rather than the world. Don't expect remuneration. Make work that's truthful to you. This is what will sustain you.
Main and second image credits: Anna Kucera and Artist Profile.